Description
Flavorpill + The MuseBox + I Rock I Roll + The Bell House NY are AUSTIN BFFs.
Proudly sponsored by HP: Everybody On.

Come and hang out with your best friends in Austin on March 16th, 12pm - 6pm @ Lipstick 24. Since passion inspires passion, we've rounded up a stellar lineup of some of our favorite pals to play music for you. Won't you join us?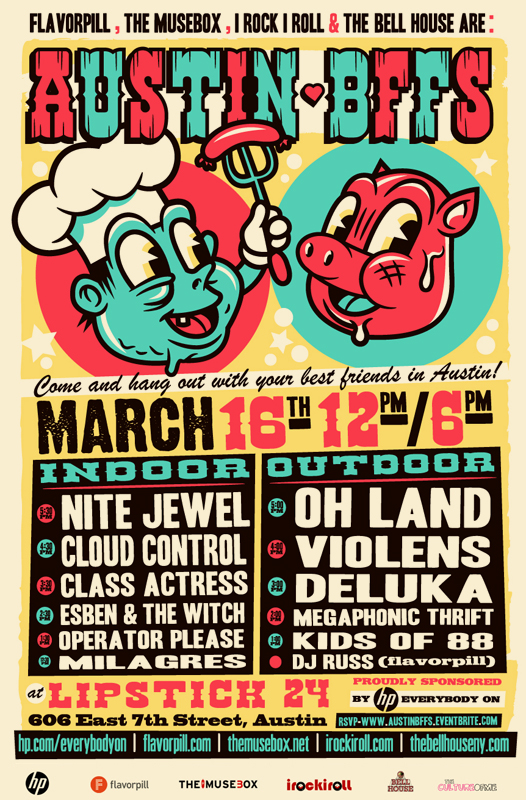 "Taking the stage with a drummer and an enormous music box on wheels, with drum pads sticking out of it and balloons on top, [Oh Land] sounded something like a lo-fi, Post-era Björk."-Flavorpill.
"Nite Jewel do what they do best, dredging new wave through a psychedelic wringer..."-Flavorpill
"UK trio Esben and the Witch create a dense, chilling, and spellbinding world within the layered sonics of their debut album."-Flavorpill
"Perky psych drone where Alister, Heidi, Jeremy and Ulrich woop and holler their little hearts out." - NME
"...something like the Arcade Fire as interpreted by the Old 97s..."--Flavorpill
"This Brooklyn trio's eighties-influenced snyth-pop recalls the best of New Order and Depeche Mode and yet still manages to seem completely fresh and innovative."-Flavorpill
"Not that new wave pop is a brand new thing, but somehow they make it seem fresh and to me that's the most important thing."- I Rock I Roll
- - - - - - - - - - - - - - - - - - - - - - - - - - - - - - - - - - - - - - - - - - - -
Additionally, Flavorpill's own DJ Russ will lay down some moody music between bands, with photos by The Culture Of Me!
Come party with us in Austin! We can't wait to see you. We'll bring the tunes, you bring yourself.
Wanna tweet about it? Chime in with #austinbffs
RSVPing does not guarantee entry.
*By registering to attend, you're signing up to receive Flavorpill, The Bell House and The MuseBox emails. Don't worry, they will be awesome! Entry to event is first come first served.