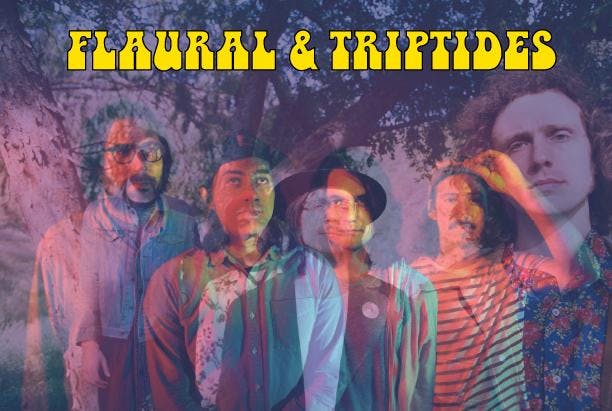 About this Event
8PM DOORS
Triptides is a psychedelic rock group led by multi-instrumentalist Glenn Brigman. It began as a series of home recorded tape machine experiments. As the music has grown and transformed, so has the project. As a musician and a producer, Brigman has always surrounded himself with other like minded musicians who have allowed him to perform his recording studio creations for audiences across the USA and Europe. From festival appearances at Desert Daze and Barcelona Psych fest to late night appearances on Last Call with Carson Daly and a West Coast tour with UK's Temples, the group has continued a strong pace and shows no signs of slowing down. The group released their latest record "Visitors" this summer to critical acclaim with AllMusic calling it "their best sounding record to date" and LA Record describes it as "an expansive expedition into the under current of the late sixties."
Triptides has always meant something different to everyone; to the surfer it's music to hit the beach to; to the 60's music enthusiast it's an attempt to create something groovy and psychedelic in the modern era without attempting to re-tread the same path; to some people it's just a sound that makes them feel something. Whatever your style is, Triptides will definitely make you FEEL. Isn't that what it's all about?
-------
It's rare that a band founded on pushing sonic boundaries is conscious of not alienating the listener. In the case of Denver-based rockers, Flaural, their music feels like the spoils of deep exploration, brought back down to earth for all to observe in traditional rock outfit form.
Flaural / ˈflôrəl / is the unified sum of four equal parts. The hypnotic pulse of Nick Berlin's kraut rock drum grooves crystalize as the backdrop atop which sprawls the band's ethereal art-pop-songwriting. Connor Birch's expansive synths and keys, the unique virtuosity and aggression of Noah Pfaff's guitar playing, and the resonant croon of Colin Johnson's vocals and driving bass lines all coalesce into experimental psych rock that warmly invites the uninitiated listener into the unknown.
Following a string of EPs — 2015's Thin King and 2016's Over Imaginary Cigarettes — Flaural's debut LP, appropriately titled Postponement, has been three years in the making. Over those three years, the band has endured the struggles of being an unsigned touring act while playing countless shows across the United States and experiencing both communal growth and personal loss. Early pieces of Postponement were initially recorded while touring through the Bay Area at the now defunct Animal Room Studio, but the album arrangements didn't begin to take form until the band settled back in Denver and linked up with close friend and producer / engineer James Barone (Beach House, Tennis). Over the course of the next year and a half, the band found pockets of time to finish the recordings. Time becoming a central theme of the album as a whole.
On March 27th, 2017, frontman Collin Johnson's father passed away after a long struggle with ALS. The album cover serves as an homage to his passing — an image resembling a clock with hands that read 3:27 — and the album's first single, "The Thinker," tells the story of his illness. "The Thinker" was originally written following his father's diagnosis, with Johnson singing, "Nobody likes when you're not well / Come up, come up, and feel better now." The song's lyrics were reworked after he passed, adding the line, "Unanswered questions still haunt me." The emotional track ends with a dark, hectic, instrumental frenzy of piercing baritone saxophone squeaks layered over sporadic, aggressive guitar and driving drums.
"'The Thinker' definitely set a tone for the album in the sense of hardship and having no way out but just dealing with the way things are," Johnson recalls. "Trying times have no grace and that manifested as a recurring theme through the rest of album." 
-------
Dedric Moore of Kansas City psych-electronic band Monta At Odds, while reading a Philip K. Dick short story about Martian cloud people coming to Earth for safety (and not receiving it), news broke that 'Mysterious Clouds' had formed on Mars. This coincidence (or was it a form of communication from the universe that shouldn't be neglected?) seemed too intense not to act upon. A new identify was formed – aptly titled Mysterious Clouds. Dedric walked through the haze, grabbed a guitar and a variety of fuzz pedals, and set the controls for interstellar travel. Illuminated by an emotion from beyond, he started writing songs about space, lost time, regret, panic, and nervous hope for the future of humanity.
Mysterious Clouds is a project that explores aspects of cosmic space music. The group was formed in 2015 and the music is composed by Kansas City, Kansas musician Dedric Moore with songwriting assistance from his brother Delaney Moore. Live performances feature a rotating cast of members, including Brian Hodes and Monta at Odds bandmates Aaron Osborne, Zach Bozich, Matthew Hayden, and Adam Davies. Jonathan Thatch of HMPH! and Mika Tayana have also played drums with the group as well. Mysterious Clouds was created to explore various forms of psychedelic music and the darker elements of nature with inspirations from 60's Italian cinema, 70's British TV action music, San Francisco hippie psychedelic rock, garage rock, progressive rock, experimental music, psych-pop, and post-punk. Mysterious Clouds have performed with Deerhoof, Mono, Crocodiles, Ancient River, Thor & Friends, The Octopus Project, Hibou, the Myrrors, Spaceface, Expo 70, and more.
Their first release, Vibrations Shake the Path on Haymaker Records, explores the classic 60's mono mix approach. The follow-up full-length Panic on the Noon Meridian was released on May 26, 2017 as a collaborative release between Haymaker Records and Lawrence, Kansas cassette tape label Whatever Forever and explores swirls of shoegaze rock, the space exploration of psychedelia, and the drone of ambient music. The group's latest EP, My Head is Going Round, features recording artist Taryn Blake Miller of Your Friend fame and is perfect for driving, relaxing on the beach, low settings on the treadmill, foggy basements, and basking in the sun.