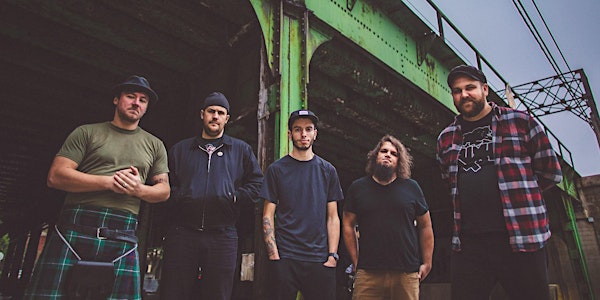 FLATFOOT 56 with SOMETHING TO DO at the LYRIC ROOM on OCTOBER 7th
Ages 21+
TOM JOHNSON PRODUCTIONS presents
GENRE: CELTIC PUNK
When and where
Location
Lyric Room 231 N Broadway Green Bay , WI 54303
About this event
TOM JOHNSON PRODUCTIONS presents
FLATFOOT 56 with SOMETHING TO DO at the LYRIC ROOM on OCTOBER 7th!
7:30pm Doors | 8:30pm Show
$14 ADV | $16 DOS - available to purchase at Keggers Bar, Rock n Roll Land, at the door the day of the show or on Eventbrite
$40 VIP TABLES AVAILABLE (this is an add-on item, all guests must have GA tickets to enter) includes: 1 private table, 2 stools, 4 free beer/seltzers
21+ EVENT
ABOUT THE BAND -
FLATFOOT 56 - Playing a positive-natured brand of hardcore-tinged Celtic punk, Flatfoot 56 has been unleashing itself upon America and the rest of the world for over 16 years now. Forming in 2000, the Chicago natives achieved nationwide attention with their first two label-backed records, 2006's Knuckles Up and 2007's Jungle of the Midwest Sea. These releases built on a heavy dose of previously established regional notoriety, helping the band gain steam early on.
While each record received its fair share of acclaim, the quintet exploded onto a new level with 2010's Black Thorn. Landing the band on a total of 9 Billboard Charts, Flatfoot 56 proved it could consistently reach an expanding audience while treading in a genre not often associated with widespread success. This success was advanced even further with song placements in the hit TV series "Sons of Anarchy" and the video game "Watchdogs".
After the success of "Blackthorn" Flatfoot hit the studio yet again in 2012 to record their Paper and plastic records backed "Toil" album. This album would further solidify the band as a consistent force to be reckoned with.
Frontman Tobin Bawinkel (vocals/guitar) is now set to lead Flatfoot 56 on in their furious march forward. Armed with his brother Kyle (bass), along with Eric McMahon (bagpipes/guitar), Brandon Good (mandolin/guitar/vocals) and Conrad Allsworth (Drums)
SOMETHING TO DO - A long lasting, great smelling rock & roll & ska band from Milwaukee USA.