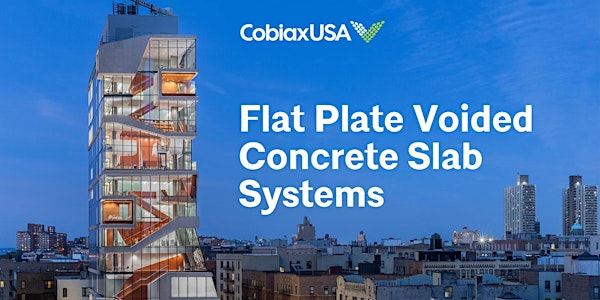 Flat Plate Voided Concrete Slab Systems
An AIA Detroit Sponsored Webinar (contact AIAD to get YOUR webinar featured!)
About this event
Brought to you by Cobiax USA
1 Health, Safety, Welfare (HSW) AIA Learning Unit will be provided by AIA Detroit
Description: Flat plate voided concrete slab systems, which have been used for many years in Europe and other parts of the world, are becoming increasingly popular in the U.S. due to the many inherent benefits. Such benefits include reduced weight, which results in economical longer spans without beams; reduced floor-to-floor heights; accelerated construction schedules; reduced seismic forces and inherent fire resistance that meets the fire-rating requirements in the International Building Code (IBC).
This presentation discusses how such systems can be designed using the provisions of ACI 318-19 for strength and serviceability and can satisfy the minimum requirements for vibration control and fire resistance. Several case studies are presented where these advantages were leveraged to provide economical solutions.
Learning Objectives:
1. Learn about the improved structural efficiency of bi-axially loaded voided flat plate slabs as compared to traditional solid slabs, and how that positively contributes to a building's performance and cost savings over its lifetime.
2. Discover the attributes that allow voided slabs to weigh as much as 30-35% less as compared to an equivalent traditional solid slab, greatly reducing the burden exerted on building foundations.
3. Learn about the environmental impact of voided slabs through the reduction CO2 by lowering cement usage as compared to conventional slabs,
4. Discover that the fire resistance of voided slabs, based on actual ASTM E-119 fire tests, is equivalent to- or better than- traditional slabs.
About the Speaker & Cobiax USA:
Mike Mota, Ph.D., P.E., SECB, F.ASCE, F.ACI, F.SEI is the Managing Director of Engineering for Cobiax USA Ins. Mike is a voting member of several ACI (318, 318B and 318W) and ASCE (7-16) committees.
Cobiax USA offers lightweight solutions with bi-axial reinforced, voided flat concrete slabs. Dead load reduction is achieved by concrete displacement.