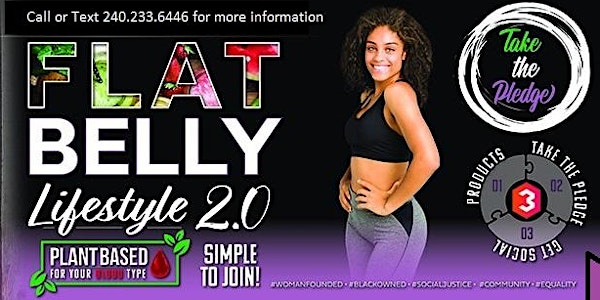 Flat Belly Lifestyle Challenge 21-Day Cleanse Detox
Break the addiction cycle of DEATH
About this event
Every year millions of people make a resolution to get healthier, lose weight and or do more exercise. I was told when you know better you do better. I had my Body scan ✅ done with the amazing Dr. Eric Prince and got my results!!!! Well, I have work to do to unclog my arteries!! I'm intentional about matching my inside with the outside! I will not exist in an unclean temple. I am a believer that our health is in our hands; you truly are what you eat. Dr. Prince is teaching healing and prevention, not managing our health issues and I am a sponge especially when I thought I was eating right for years. who knew that each blood type should eat differently?
Do you have a fatty liver?
Do you know your blood type?
Do you know what is going on inside your body?
Are you having minor symptom that are a trigger of a major issue later in life?
Did you know you are carrying at least 5-8 previous meals in your body?
Take the 21-day Cleanse challenge take the pledge and get on the road to a healthier future.
Phase 3
Phase three lasts for 21-days. This phase helps the body repair and renew. Not only will you look younger and feel better, but it allows your body to experience a biological age reversal. This phase is about losing the waste, not weight. For those who need weight loss, the results are often dramatic. If you are at your ideal weight, don't be afraid to lose more. You can add back weight and build muscle once the cleanse is over.
​There is also an optional 90-day post regimen for those who participate in phase three. This phase will allow your body to stay in the healing phase of age reversal. Our post-regimen focuses on eating for your blood type and properly combining your food. While we encourage a complete vegan plant-based lifestyle, the post regimen allows fish, pasture-raised poultry, and other cooked options.
In addition to that as a Certified Wellness and Juice Therapist I offer other juicing programs as an option. If you are in the Maryland area start with a Bio Health Scan. We need to know what shape our organs are in to work on preventing and reversing health crisis' and diseases
My next step is to eat the right foods for my blood type I started my spiritual 21 day cleanse of eating raw foods according to my blood 🩸 type and juicing to reverse the aging process to become my 21yr old self and not my chronological age of 59.
Get motivated to take your health to the next level. This is a webinar you don't want to miss. STAY TUNED………………
Flat Belly Challenge Zoom - Sunday 5 pm CST / 6 pm EST
EMAIL: BinkysVapes@gmail.com
SITE: https://binkysvapes.wakanna.com/
#healthyeating #eatingtolive #flatbellychallenge #cleanse