Sales Have Ended
Ticket sales have ended
Independence Weekend 2021 Join Us In #NewOrleans During "The Party With A Purpose" #EssenceFestival Friday July 1st - Sunday July 4th I'll Be Hosting 4 Special Themed Events With Live DJs, Violinist + More! Friday | July 1st | 8P-2A "Quiet Storm" R&B Brunch & Dinner Party Free W/RSVP, Click Here For Tickets: https://essencefestquietstormparty.eventbrite.com Saturday | July 2nd | 2P-9P "Flashback" 90's & Early 2000's Hip-Hop/R&B Day Party Free W/RSVP, Click Here For Tickets: https://essencefestflashback90sparty.eventbrite.com Sunday | July 4th | 2P-11P "Cocktails & Crawfish" Party 2 Hrs Of Open Bar + Complimentary Buffet While Supplies Last! Click Here For Tickets: https://essencefestcocktailsandcrawfishparty.eventbrite.com For Birthday Celebrations, Bottle Service Or Tickets To Our Exclusive All White Party With A Live Violinisit Performance Text: 917-232-2177 FOR EVENTS IN ATLANTA, CHARLOTTE NC, DALLAS TX, HOUSTON TX, LAS VEGAS, MIAMI, NEW JERSEY, NEW ORLEANS & NEW YORK + PUNTA CANA(Dominican Republic) SUBSCRIBE TO WWW.SmooveEvents.Com #SmooveEvents #EssenceFest #NOLA
Sales Have Ended
Ticket sales have ended
Independence Weekend 2021 Join Us In #NewOrleans During "The Party With A Purpose" #EssenceFestival Friday July 1st - Sunday July 4th I'll Be Hosting 4 Special Themed Events With Live DJs, Violinist + More! Friday | July 1st | 8P-2A "Quiet Storm" R&B Brunch & Dinner Party Free W/RSVP, Click Here For Tickets: https://essencefestquietstormparty.eventbrite.com Saturday | July 2nd | 2P-9P "Flashback" 90's & Early 2000's Hip-Hop/R&B Day Party Free W/RSVP, Click Here For Tickets: https://essencefestflashback90sparty.eventbrite.com Sunday | July 4th | 2P-11P "Cocktails & Crawfish" Party 2 Hrs Of Open Bar + Complimentary Buffet While Supplies Last! Click Here For Tickets: https://essencefestcocktailsandcrawfishparty.eventbrite.com For Birthday Celebrations, Bottle Service Or Tickets To Our Exclusive All White Party With A Live Violinisit Performance Text: 917-232-2177 FOR EVENTS IN ATLANTA, CHARLOTTE NC, DALLAS TX, HOUSTON TX, LAS VEGAS, MIAMI, NEW JERSEY, NEW ORLEANS & NEW YORK + PUNTA CANA(Dominican Republic) SUBSCRIBE TO WWW.SmooveEvents.Com #SmooveEvents #EssenceFest #NOLA
Flashback Is A Party Where The 80's Babies & Music Lovers Of Hip-Hop And R&B Can Come Together To Enjoy Classics With A Mix Of Today's Best!
About this event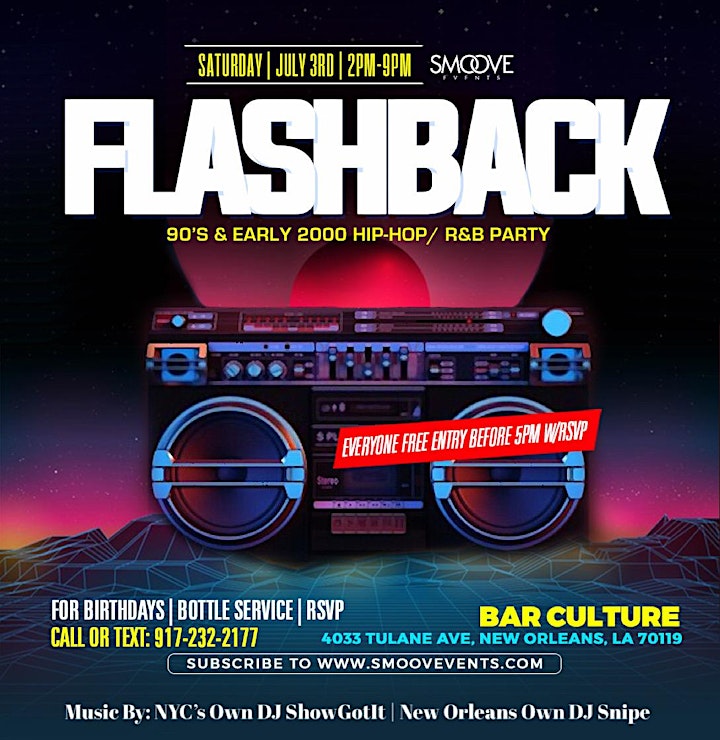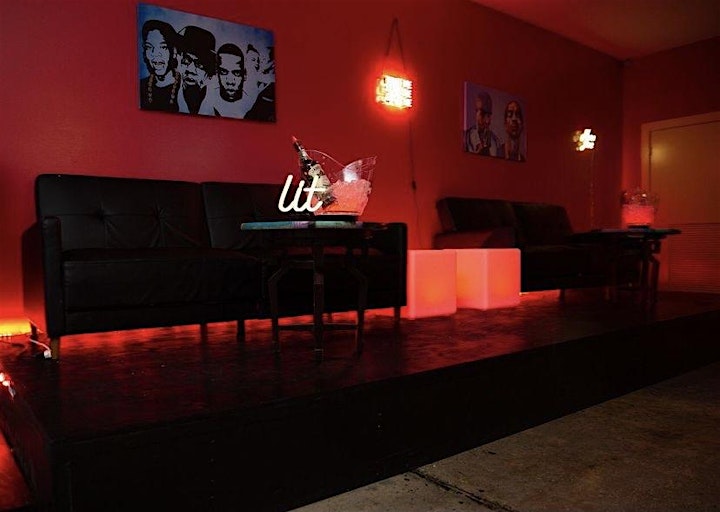 In Association With Culture Park
Saturday | July 3rd | 2:00PM-9:00PM
Smoove Events LLC
Presents
"Flashback"
90's & Early 2000's Hip-Hop & R&B Party
(With A 30% Mix Of Today's Music)
At
Bar Culture
4033 Tulane Ave, New Orleans, LA 70119
——————————————————
Food Will Be Available, Menu Will Include:
Chicken Wings
Fish Or Shrimp & Chips
Grilled Oysters
Crawfish Boil Bags
+ More
Special Guest DJs Confirmed!
Admission Fee:
Everyone Entry Free W/RSVP
$40 Express Entry + Complimentary Drink Ticket!
Birthday Guest Deal:
25% Discount Off The Purchase Of A $40 Express Entry + Complimentary Drink Ticket Using The Promo Code Given To You!
Bottle Service Starts At 3 For $360
NO REFUNDS WILL BE GRANTED FOR TICKETS OR TABLE ORDERS!
To Finalize A Birthday Celebration Or Secure A Section For Bottle Service
Call Or Text: 917-232-2177
For More Imformation Subscribe To WWW.SmooveEvents.Com
————————————————————
Join Us Sunday July 4th From 2PM-11PM For "Cocktails & Crawfish" Day Party
2 Hrs Of Open Bar + Complimentary Buffet While Supplies Last!
Click Here To Get Your Tickets ASAP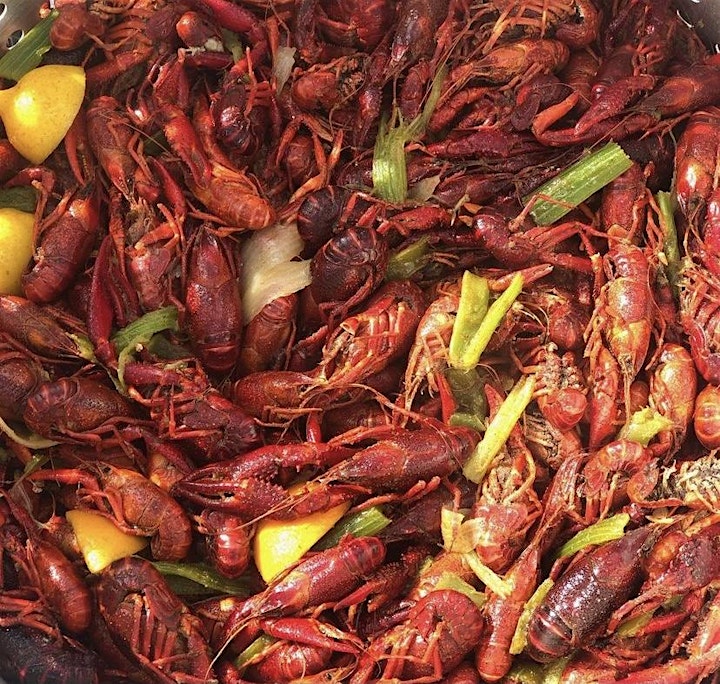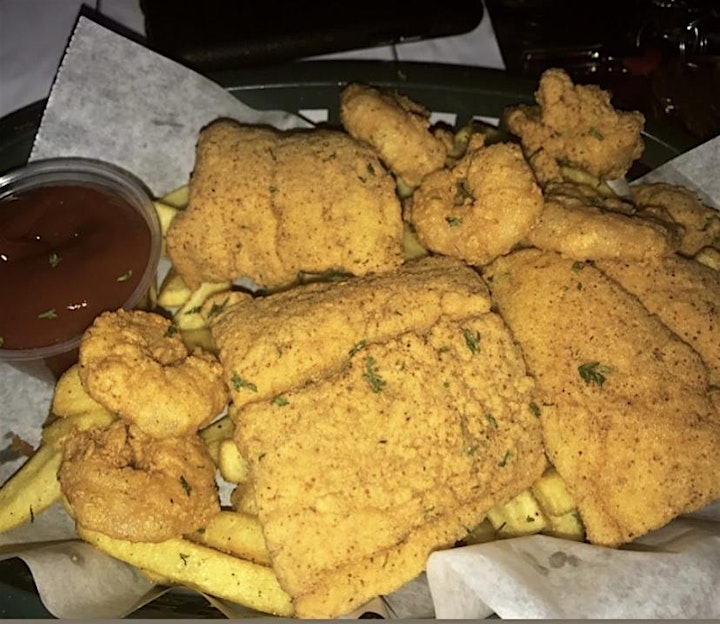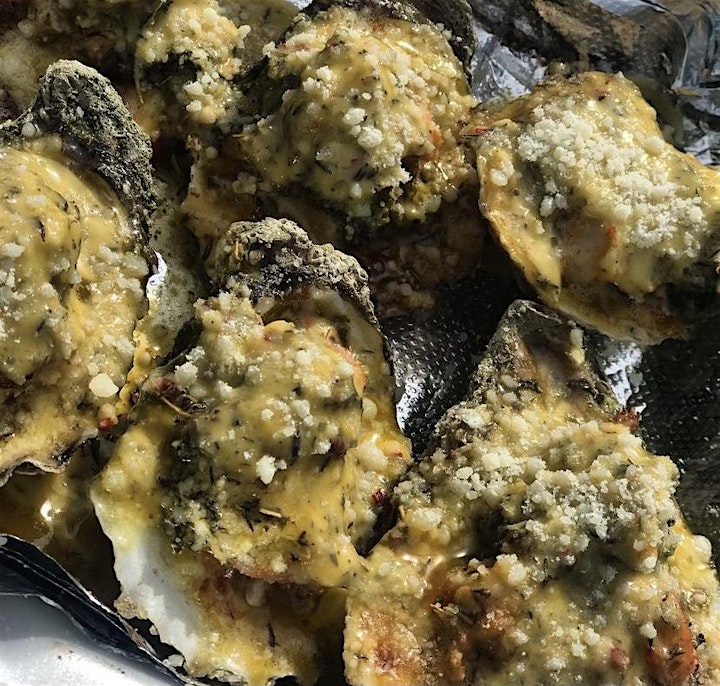 Organizer of Flashback: 90's & Early 2000's Hip Hop/R&B Party Essence Festival 2021