Location
Dolph Briscoe Center for American History
2300 Red River Street
Sid Richardson Hall, Unit 2
Austin, TX 78712
Current Exhibition / Main Gallery / August 26, 2021 - January 28, 2022
About this event
On August 6, 1945, the United States Army Air Forces dropped an atomic bomb over Hiroshima, Japan. A blinding flash of light was immediately followed by an enormous blast of heat and wind that destroyed almost everything within a mile radius. Three days later, the United States dropped another atomic bomb two miles north of downtown Nagasaki. By the end of 1945, 140,000 people had died in Hiroshima, a city of 330,000, while 74,000 had died in Nagasaki, a city of 260,000.
Over fifty amateur and professional Japanese photographers are known to have documented the immediate aftermath of the atomic bombings. The Anti-Nuclear Photographers' Movement of Japan (ANPM) collected many of the surviving images, which now make up the Hiroshima and Nagasaki Atomic Bomb Photographs Archive at the Briscoe Center. These images serve as a visual record of nuclear destruction, the horrific effects of radiation exposure, and the mass suffering that ensued.
With its compelling selection of these photographs, as well as ANPM photographer Tsuneo Enari's more recent photographs of artifacts from the bombings, Flash of Light, Wall of Fire forces us to confront the human and environmental costs of nuclear war.
Warning: some images in this exhibit show graphic human suffering. Visitor discretion is advised.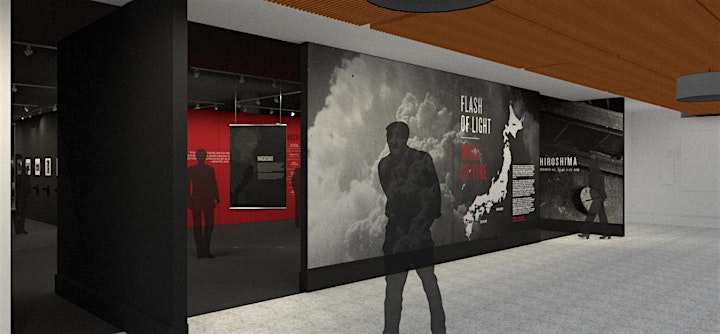 There is no free visitor parking on the main university campus. Visitors to the Briscoe Center are advised to park in the Manor Garage. No permit is required to park in the garage. Fees are calculated based on the amount of time you are in the garage.
There are two ADA spaces available in the LBJ Library parking lot. A disability license plate or disabled person identification placard is required at all times to park in ADA spaces.
Additional information on parking can be found here:
Please read the following policies before visiting, which were created to keep visitors and Briscoe Center staff safe. For more detailed policies, click here.
Please do not come to the Briscoe Center if you or someone in your household is sick or feels ill.
Masks are strongly recommended indoors regardless of vaccination status.
Please wash your hands well and often, and use our hand sanitizers where available.
Practice social distancing on site by following signs and Briscoe Center staff guidance. Stay six feet away from other visitors while in the galleries. Households may remain together; children must stay with adults at all times.
Please remember that no outside food or drinks are permitted inside the gallery, including water bottles.