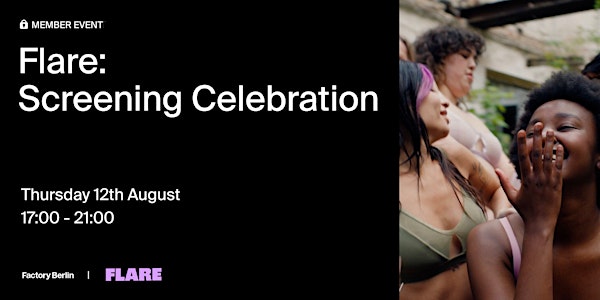 Flare - Screening
"FLARE" is an independent short film directed by Borbala Szelei about female bodies with an all woman-identifying crew.
When and where
Location
Factory Berlin Görlitzer Park Lohmühlenstraße 65 12435 Berlin Germany
About this event
Flare was created by a women-identifying crew, and twenty-two nationalities were represented in the team.
The mission of the short film is to help women feel normal and to support them in building a loving relationship with their physical selves. We capture the topic from a positive angle. By letting the body speak, we embrace its beauty, vulnerability, diversity and powerful sensuality.
The visuals are accompanied by the voice of the female body in the first person. We interviewed fifty women from all around the world from different races, ages, body types. We asked them, "if your body could talk, what would it say?". The voice of the female body was born from their answers. We worked with their thoughts, struggles and stories to keep the voice authentic.
Our goal is to break the taboos around female bodies, which limits the exposure of art created about the female body at its core. We show the body in its entirety as an act of resistance towards this societal, collective shame. Our motivation was freedom, wildness and raw beauty.
directed by Borbala Szelei