About this Event
Flapjack Jones & The Bender Brohs
Trapped for eternity slinging stacks and singing tunes. We play what Flapjack tells us to play. These guys really bring the heat and this promises to be another entertaining night of musical entertainment at Tellus360. Always bringing the community together through music and events you just wont get anywhere else in Lancaster PA.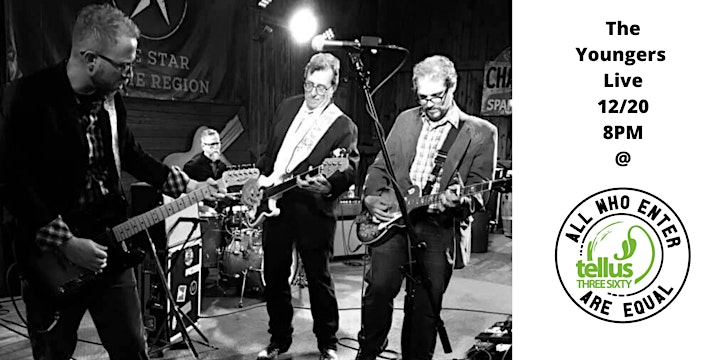 The Youngers
Hailing from southeastern Pennsylvania, The Youngers were founded in 1999 by Todd Notobartolo (vocals, guitar, lap steel, and mandolin) and Randy Krater (vocals, electric and upright bass). Joining them are bandmates Matt Thren (guitar) and Bruce Kissinger (drums). 2016's Picture of You is the third full-length release by the band, following 2005's Output and 2008's critically-acclaimed Heritage.
Heritage was recorded at the Cash Cabin in Tennessee and produced by John Carter Cash, son of country music legends Johnny Cash and June Carter. Heritage cracked the top 30 on the Americana Chart and featured an all-star lineup of guests including Laura Cash on fiddle, Ronnie McCoury (Del McCoury Band) on mandolin and pedal-steel legend Ralph Mooney.
The Youngers are no strangers to big festival stages, having performed at Delfest in Cumberland, MD and Musikfest in Bethlehem, PA, the nation's largest non-gated free live music festival. They have also shared stages with legends like the late Levon Helm at his famed "Midnight Ramble" and opened for Marty Stuart, Lee Rocker, David Allen Coe, and Wayne Hancock.
Their music has been featured on NPR, Sirius Radio, and Cowboy Jack Clement's Radio Show and the band has garnered glowing reviews by Vintage Guitar Magazine and the Philadelphia Inquirer.
In 2016, The Youngers released their highly anticipated follow-up to Heritage entitled Picture of You. The entirely fan-funded Picture of You project was recorded at the venerable Sound Emporium in Nashville, TN and engineered by Grammy®-award winner Chuck Turner. Thanks to their sizable network of fans, The Youngers raised over $20,000 to record Picture of You through an online KickStarter campaign.
The Youngers are poised to release their fourth full-length album in 2020, a rollicking journey through the band's stylistic influences tentatively entitled Nashville Again.
The Youngers' music is available on CD and digital download from the band's website: www.theyoungers.com
The Youngers are:
Todd Notobartolo - Vocals, Lap Steel, Guitars, Mandolin
Randy Krater - Basses, Vocals
Matt Thren - Guitars
Performers
Date and Time
Location
Refund Policy