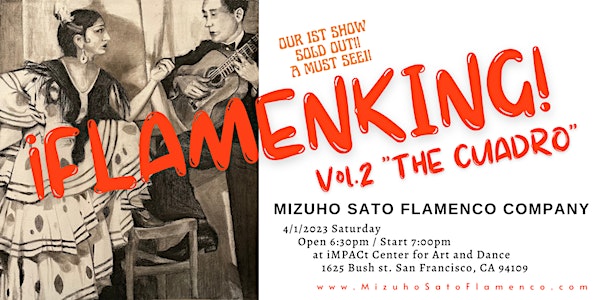 ¡FLAMENKING! Vol.2 "THE CUADRO" by Mizuho Sato Flamenco Company
¡FLAMENKING! Vol.2 "THE CUADRO" by Mizuho Sato Flamenco Company Sold Out Show in Bay Area! Live Flamenco dance & music, plus Spanish food
Date and time
Saturday, April 1 · 7 - 9pm PDT
Location
iMPACt Center for Art and Dance 1625 Bush Street San Francisco, CA 94109
About this event
We are flamenc@s, we are diverse, we are evolving, and WE ARE READY!
This time, LIVE STREAMING is available for $20 from this link! Purchase tickets now and log in on 4/1 7pm or afterwards ;)
https://www.tuneforte.com/Event/65a82099-4767-4273-a75d-bb4ef1c7dd02?fbclid=IwAR2TYenKQeYjlQdpP0nf3BiyIPvQ0GQEFgOo_0LIWA0fA1qBEN8ApCTrT-g
¡FLAMENKING! is our passion, our voice, our expression of life lead by Flamenco which is from Andalucia, Spain, with a twist of wherever we're from. We met in the US through the study of this artform, which we love to showcase the world that we are here and feeling all the emotions around us such as sadness, frustration, anger, despair, solitude, breakthrough, joy, happiness, and beyond. You must see the power of sharing all of them together to embrace life through Flamenco!
Mizuho Sato Flamenco is a brand new flamenco company based in San Francisco which includes so many immigrant dancers and musicians from all over the world which makes us very unique. Artistic director Mizuho Sato was born in Japan, trained as a classic ballet dancer since the age of 3, switched her career to flamenco at 18 while she was studying her major of Sociology in Sophia University in Japan. Mizuho is an award winner of Japanese Flamenco Association and Spanish Ambassador at the age of 20. Then she moved her base to Los Angeles in 2003. Since then she was featured in movies like "Puss in Boots" by Dreamworks, Los Angeles Flamenco documentary "KUMPANIA" by Katina Dunn, and has been teaching and performing at so many flamenco venues and festivals inside and outside of California. She was producing her student shows and workshops of Spanish artists every year in LA.
Mizuho relocated to the Bay Area in 2015 due to her husband's job. She was suffering under her husband's alcoholism and verbal abuse, so she decided to leave him in 2018. Then he passed away in March 2022. During this hard time, Flamenco was her savior of life. Flamenco kept her motivated and healed her constantly. Throughout this tough time, she was still teaching kids and adults and continued performing nonstop.
After COVID lockdown and frustrating zoom lessons, it took us over a year to prepare for this recital. It is very emotional that we're finally here to present the world how strong and resilient we are, and how much joy, laughter, and dedication we create when we're together.
Flamenco is alive in Bay Area, and we're a brand new flamenco company in San Francisco directed by Mizuho Sato who is now more determined and on fire than ever to serve the community. She went through lots of tough time and now she knows that it works to heal people tremendously by the power of healing that Flamenco has, Flamencura. Now she wants to spread the magic to the audience and the community of Bay Area.
Come witness and be a part of this huge celebration of life!
THIS IS OUR SECOND SHOW after the full capacity SOLD OUT SHOW on 1/28/23!!
Let's get ¡FLAMENKING!
Artistic Direction / Choreography / Dress Design / Planning : Mizuho Sato
Guitar : Jesse Torre
Cante : Felix de Lola
Percussion : Melissa Cruz
Dance : Mizuho Sato Flamenco Company
Mizuho Sato Flamenco Official Website https://www.mizuhosatoflamenco.com/
Mizuho Sato on Instagram https://www.instagram.com/mizuhosato888/
Mizuho Sato Facebook https://www.facebook.com/mizuho.sato1/
Mizuho Sato Flamenco Facebook Page https://www.facebook.com/mizuhoflamenco
Mizuho Sato on TikTok https://www.tiktok.com/@mizuhosato888?lang=en