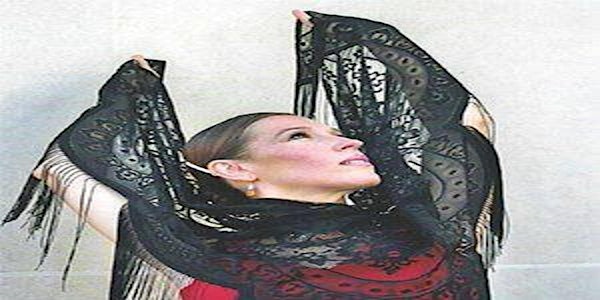 Flamenco Show with Tapas & Wine
When and where
Location
at Zlock Performing Arts Center 275 Swamp Road Newtown, PA 18940
Description
Suspiro Flamenco Show
Come and enjoy live music, Spanish guitar, and the acclaimed Flamenco dancer, Liliana Ruiz. Ticket includes a reception after the show with a glass of wine and tapas.

Your ticket purchase will help thousands of children and adults in Bucks County get programs and services they need, provided by YWCA Bucks County.
Suspiro Flamenco are: (Blane Bostock, Flamenco guitar; Donna Bostock, percussion & others; Grayson Zuher-Spanish classical guitar, Racquel Diaz-violin, and Flamenco dancer Liliana Ruiz).
Liliana Ruiz-Flamenco Dancer
Acclaimed performer Liliana Ruiz was raised in Mexico City in a Spanish culture-based home. She started dancing classical ballet and performing arts at the age of six. Shortly thereafter, she began Classical Spanish dance and Flamenco, and has been actively performing ever since. Her notable dancing credits include performances with Placido Domingo, Julio Iglesias and Benitez Carrasco, among others; and performances in local venues such as the Kimmel Center with Peter Nero and the Philly Pops, and the Suzanne Roberts and Wilma Theaters. Ms. Ruiz also founded the dance company Suspiro Flamenco, which has performed in festivals and celebrations throughout the Philadelphia area, and has choreographed musical plays and participated in the Philadelphia Fringe Festival on several occasions. Ruiz performs internationally with La Revancha. Recently, she danced and choreographed Carmen with The Philadelphia Virtuosi Chamber Orchestra.
Blane Bostock-Guitarrist
World-class guitarist Blane Bostock has studied with luminaries such as Dennis Sandole, author of Guitar Lore and teacher of virtuosos John Coltrane, George Benson and Pat Martino. Over the course of his long and storied career, Mr. Bostock has performed in small groups, big bands, jazz ensembles and rock, soul, disco and country bands. He appeared as a soloist with Latin legend Johnny Pacheco at the Allentown Symphony and Annenberg Center in A Night of Latin Classics, featuring arrangements commissioned for the concert by artists such as Reuben Gonzales and Bebo Valdes. In the spring of 2018 Blane, in collaboration with Liliana Ruiz, Donna Bostock, Yajaira Paredes Productions, La Fábrica and other area performers, presented Azul: Picasso's Blue Period with Live Flamenco Music and Dance at the Uptown Knauer Performing Arts Center and other venues.
Donna Bostock-Rhythm
Donna Bostock has spent the last 24 years immersed in Afro-Caribbean culture; studying percussion and dance, while integrating that knowledge into performance and education. Ms. Bostock, currently a working freelance musician in percussion and upright bass, arranger/composer and music educator/director at The Philadelphia School and Academy of the New Church, has co-founded groups such as Ellas y Amigos, The Molly Blooms, Trickster Sister, and The Bostock Band. Donna has organized and participated in study programs in Cuba, Puerto Rico, Bolivia, Spain and Brazil in order to expand her capacity to perform and disseminate her specialization: Afro-World Rhythms and music. Her most recent creative endeavors include providing the foundation for the rhythm section on multiple instruments for Suspiro Flamenco.
Grayson Zuber-Classical Guitarrist
Attended Temple's Boyer College of Music earning an MA in Theory with a classical guitar concentration. Grayson is a highly proficient guitarist who has performed at the Bryn Athyn Cathedral, with exquisitely performed Brazilian classical and other works on a regular basis for many years.
Shows, entertainment, special events, and Flamenco classes available

- Flamenco performances - Classical Spanish Dance - Jotas Aragonesas,

- Muñeiras, Jotas Gallegas & Asturianas, Latin Fushion and more!
Visit: suspiroflamenco.com or call 215-718-5626 to book an event.