Description
Bay Area Flamenco Festival presents Flamenco Guitar Workshop with Juan Campallo
Guitarist Juan Campallo started playing for his brother and sister, dancers Rafael and Adela Campallo, performing all over Spain, touring the world from Tokyo to New York and appearing in Festivals such as the Bienal de Sevilla and Mont-de-Marsan. He has also accompanied many other acclaimed dancers such as Mercedes de Córdoba, Antonio Molina "El Choro", Pastora Galván, Juana Amaya, Antonio Canales, Javier Barón, and Merche Esmeralda. In 2007 he was awarded the prestigious "Bordón Minero" in the Festival de la Unión as most promising young guitarist and was soon asked to present a solo guitar concert in the Bienal de Sevilla and other important flamenco festivals in Spain. He has composed the music for many important productions such as El Choro's "Aviso bayles de gitanos" and Canales' "Una moneda de dos caras". His playing balances traditional flamenco and newer forms and reflects his great technical ability as well as his emotional depth.
LEVELS:
Level one is advanced beginner to intermediate
Level two is intermediate to advanced flamenco guitarists
SCHEDULE: Sunday Feb. 3
Level One 10:00am - 11:30am (1.5 hrs $45, drop in $55 @ door)
Level Two 12 noon - 1:30pm (1.5 hrs $45, drop in $55 @ door)
VIDEOS:
https://www.youtube.com/watch?v=9yEanpeQVnU
For info on all Festival events and workshops click here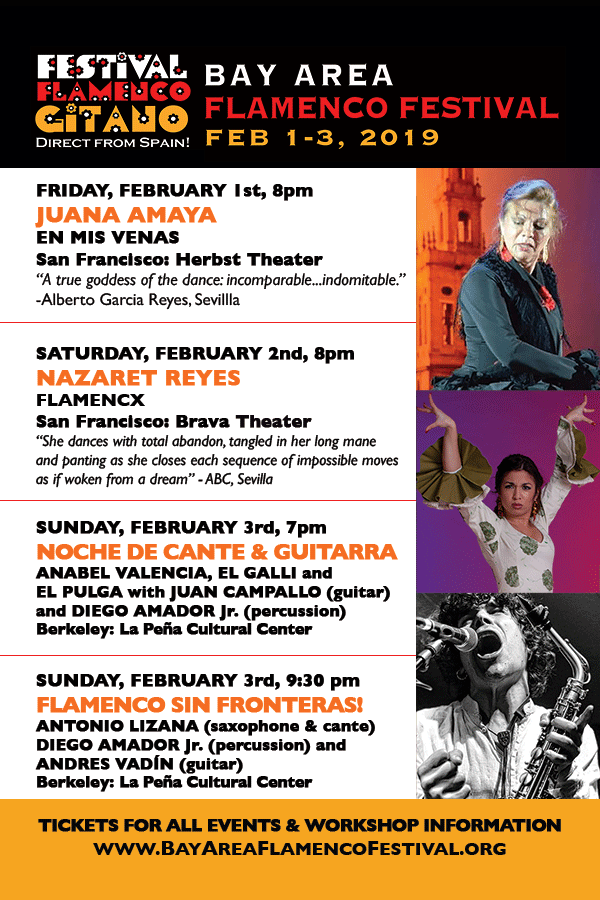 Organizer of Flamenco Guitar Workshop: JUAN CAMPALLO
Founded in 2005, Bay Area Flamenco produces numerous events, film screenings, lecture/demos, workshops and master classes throughout the year, including the annual Bay Area Flamenco Festival/Festival Flamenco Gitano, now in its 15th year. The 
BAY AREA FLAMENCO FESTIVAL 
has grown into a popular and vital annual Bay Area cultural event. Celebrating Spanish Gypsy music and dance as a living culture and a legacy of world stature, the Festival has presented some of the most important figures in the history of flamenco such as Manuel Agujetas, Farruquito, Manuela Carrasco, Angelita Vargas as well 

as prodigies from today's generation of artists. 



"The San Francisco Bay Area has become a major U.S. conduit for Spain's greatest flamenco artists. Over the past decade no one has done more to build bridges between Andalusia and the Bay Area than Nina Menendez and the organization she founded and directs: Bay Area Flamenco." (KQED, The California Report)
Serving as a bridge between our local community and the flamenco community in Spain, we foster cultural exchange opportunities that allow our community of outstanding local flamenco artists and the region's large number of student and apprentice flamenco practitioners to interact in meaningful ways with master artists and tradition-bearers from Spain's flamenco communities, creating a context for sharing cultural traditions and experiencing flamenco in a genuinely interactive and spontaneous environment.
Artistic Director Nina Menéndez's unique curatorial vision distinguishes the work of BAF and its particular focus on grassroots flamenco from the Gitano communities of Spain. Our programming aims to increase awareness of the culture, traditions and history of the Gypsy/Romani people of Spain, and to illustrate the way music and dance traditions are key to cultural resistance, serving as a vessel for the transmission of cultural identity and oral history across the generations.
"These artists are bringing the Gitano essence of flamenco into the 21st century,"
 explains Festival director Nina Menéndez. 
"They have an ease for improvisation that comes from living the art as a part of everyday life. No choreography is required, only an intimate connection among the dancers and musicians who interact freely on the basis of a shared legacy and an insatiable hunger to find the spark of 'duende' that transforms the mundane into the sublime."