Flamenco Dance Workshop: Carmen Ledsema, Direct from Spain! 4-day Workshop in Santa Cruz

Monday, October 13, 2014 at 7:00 PM

-

Thursday, October 16, 2014 at 9:00 PM (PDT)
Event Details
CARMEN LEDESMA teaches in Santa Cruz for the first time ever!
FOUR DAY WORKSHOP 
Monday, October 13 - Thursday, October 16
BULERIAS ROMANCE: Dancing to the Cante. With special guest singer JOSE MENDEZ
The Bay Area Flamenco Festival is proud to present workshops taught by Carmen Ledesma who is widely recognized as one of the best flamenco dance teachers in Andalucía today. José Méndez is one of the most sought-after singers for Gypsy flamenco dance in Spain. The Bay Area Flamenco Festival is proud to present these workshops in partnership with Flamenco Romántico, Santa Cruz. 
CARMEN LEDESMA
Carmen Ledesma represents Sevilla's legacy of female dancers from Pastora Imperio and Matilde Coral to the grassroots pueblo-style dancers of Moron, Utrera and Lebrija. Ledesma's first teacher was Enrique el Cojo, one of the founders of Seville's unique style of flamenco dance. And her maestro Pepe Ríos (from Morón de la Frontera, nephew of Diego del Gastor) was a major influence. In the early years of her career, she worked with Antonio Gades at Spain's National Ballet. In 1983 she was awarded the prestigious Juana la Macarrona prize for dance at Cordoba's National Flamenco Arts Awards. She later went on to work with such greats as Mario Maya and El Farruco and toured both Spain and France with guitarist Pedro Bacán's legendary group "The Pinini Clan," where she danced alongside Concha Vargas.

JOSÉ MÉNDEZ

José Méndez was born into the legendary Méndez clan of Gypsy flamenco singers from Jerez de la Frontera, Spain. A direct descendant of La Paquera, he is the grandson of the festero "El Pili" and a cousin of Bay Area favorite, Kina Méndez. A member of Cristina Hoyo's company for many years, José Méndez has specialized in singing for dancers. He is also an outstanding soloist with a voice that echoes La Paquera.
BULERIAS ROMANCE
Carmen Ledesma with José Méndez: "Dancing to the Cante" 
DATES:  Mon, Tues, Weds, Thurs; October 13-16
TIME: 7pm-9pm

NEW PRICES!:
All 4 days (8 hrs) $185
Three days only (6 hours) $150
Two days only (4 hours) $110
Drop in (2hrs) $60 
* PRIVATE CLASSES: $90 hr. (call to arrange)

WORKSHOP LOCATION:
Flamenco Romantico Studio
1007 Hidden Valley Road 
Soquel, CA 95073

MORE INFORMATION:
flamencoromantico@gmail.com
(831) 216-6072  
MARIANNA MEJIA
DIRECTIONS TO FLAMENCO ROMÁNTICO STUDIOS
From Hwy 1, take the 41st St. exit (Soquel)
Go north on 41st St. and turn left onto Soquel Drive
Turn right onto N. Rodeo Gulch Rd.
Turn left onto Hidden Valley Rd. (watch out for cars coming down the one lane road. They have the right of way)
Studio driveway is at the top of the road.  Follow driveway sharply down to the left to the studio building.
Have questions about Flamenco Dance Workshop: Carmen Ledsema, Direct from Spain! 4-day Workshop in Santa Cruz?
Contact BAY AREA FLAMENCO
When & Where

Flamenco Romantico Studios
1007 Hidden Valley Rd
Soquel, CA 95073


Monday, October 13, 2014 at 7:00 PM

-

Thursday, October 16, 2014 at 9:00 PM (PDT)
Add to my calendar
Organizer
Founded in 2005, the 
BAY AREA FLAMENCO FESTIVAL 
has grown into a popular and vital annual Bay Area cultural event. Celebrating Spanish Gypsy music and dance as a living culture and a legacy of world stature, the Festival has presented some of the most important figures in the history of flamenco as well as prodigies form today's generation of artists. Artistic director Nina Menéndez's unique curatorial vision distinguishes the Bay Area Flamenco Festival/Festival Flamenco Gitano and its particular focus on grassroots flamenco from the Gypsy communities of Spain.
"These artists are bringing the Gitano essence of flamenco into the 21st century," explains Festival director Nina Menéndez. "They have an ease for improvisation that comes from living the art as a part of everyday life. No choreography is required, only an intimate connection among the dancers and musicians who interact freely on the basis of a shared legacy and an insatiable hunger to find the spark of 'duende' that transforms the mundane into the sublime."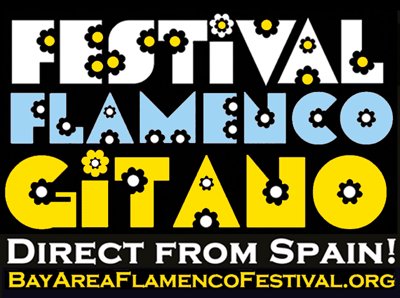 Flamenco Dance Workshop: Carmen Ledsema, Direct from Spain! 4-day Workshop in Santa Cruz