Description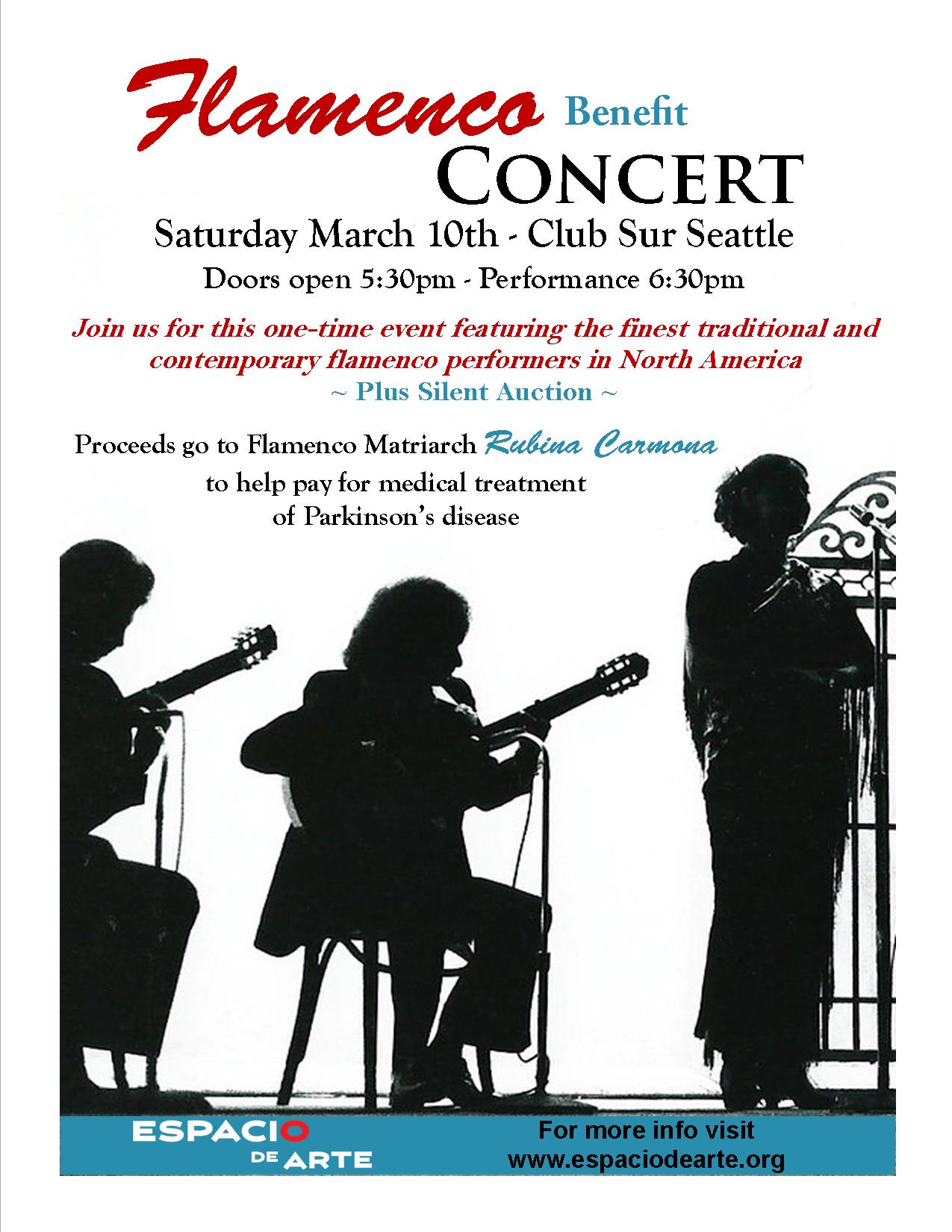 The time has come to show our support for Seattle's Flamenco matriarch and force of nature Rubina Carmona. She has been battling Parkinson's Disease now for over five years and certain elements are aggressively pushing back against her resolve. She needs our help to raise funds for her costly medical procedure that promises to help her regain mobility for the next several years. The procedure, as is this community crowd-sourced fundraising event, are of the utmost importance to her. Please join us for this one-time only limited seating special event featuring the finest traditional and contemporary flamenco performers in North America.
Those that are unable to attend the event can still make a donation on the eventbrite site. Just click on tickets, scroll down and enter your donation amount. THANK YOU!
Rubina Carmona has been performing and teaching flamenco with her guitarist husband, Marcos Carmona, since the late 1960's. She lived and worked professionally in Spain for nearly four years during the 1970's and in Los Angeles until 1988, upon relocating to Seattle. In 1996 Rubina and Marcos founded "Flamenco Arts Northwest" FANW as a means to help fund the growth of the flamenco arts in the Pacific Northwest. Rubina emphasizes the importance of the gypsy style of flamenco dance and the integration of song and dance, as well as the phenomenon of flamenco as one of the earliest and still evolving "world music" styles. Although retired from dance performance, she continues teaching and performing as a singer.
Rubina's dedication and contribution to the art of flamenco, the Seattle-area performing arts community and previously in L.A., numerous institutions of learning, and upon the lives of countless students, aficionados, and professionals is undeniable. While raising her children and being a stellar partner to Marcos Carmona, she has embodied the pursuit of expressive and artistic determination.
Silent auction - Included in the evening's festivities will be a silent auction offering various services, gift certificates, gift baskets, artwork, jewelry and much more! Cash and Credit Cards accepted.
Proceeds from this event will go to Rubina to help pay for her medical treatments for Parkinson's disease.
In the event that the tickets are not SOLD OUT, they will be available to purchase at the door, at an increased price. We advise that you purchase your tickets in advance to secure admission.
DOORS OPEN for dinner and cocktails at 5:30pm. Make your table reservations in advance only if you have General Tickets! Those with Premium Tickets already have their tables reserved.
Club Sur (206) 607-4929. Club Sur will call back that you have a reserved table under your name.
FLAMENCO PERFORMANCE 6:30-8:30pm, includes intermission
SILENT AUCTION WILL CLOSE AFTER INTERMISSION
JUERGA 9:00-9:30pm.