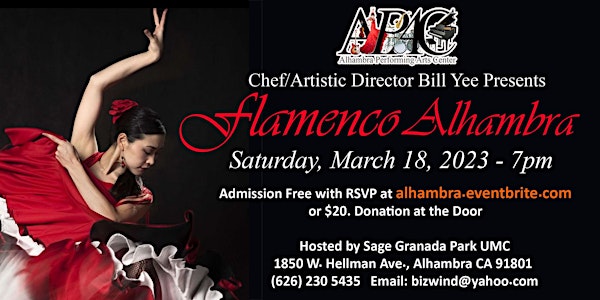 Flamenco Alhambra
Featuring Legendary Inesita and Troupe
When and where
Location
Sage Granada Park United Methodist Church 1850 West Hellman Avenue Alhambra, CA 91803
About this event
Alhambra Performing Arts Center presents:
The 14th Anniversary Performance of Flamenco Alhambra featuring world renown Spanish dancer Inesita and troupe to a packed and highly enthusiastic house. She has been dancing for over 80 years, appeared in Bob Hope's "Here Comes the Girls" movie in the early 50's, TV shows, major concerts and almost every type of venue worldwide. Don't miss this spectacular & inspiring performance!
Free appetizers by ACF Chef Ryan Lin will be served.
Admission is free with RSVP via Eventbrite or $20 donation at intermission.
To be added on the RSVP list for entrance, state number of tickets, provide each guest members' name, and a phone number.
For assistance, contact Artistic Director Bill Yee at (626) 230-5435 or email bizwind@yahoo.com.