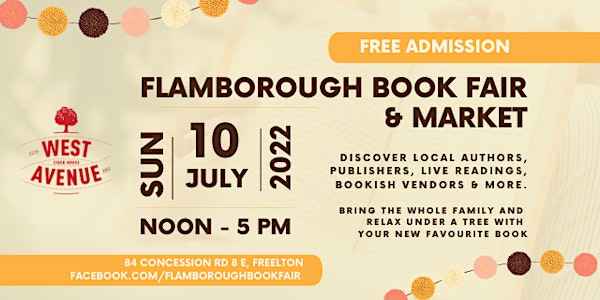 Flamborough Book Fair and Market
Location
West Avenue Cider House
84 Concession Road 8 East
Hamilton, ON L8B 1N7
Canada
Discover Canadian Authors, Publishers, enjoy live readings, bookish vendors and enter to win a gift basket of goodies. Bring the family!
About this event
Welcome to the first annual Flamborough Book Fair and Market!
This year we find ourselves fabulous grounds of West Avenue Cider House, in Freelton. Our event will be held Sunday, July 10, from 12 - 5 PM
This fun and relaxing day will give you the chance to meet local authors, get signed copies of their books and so much more. We will be hosting some readings, question and answer periods with author and publishers, and doing a draw for a fantastic gift basket filled with goodies.
Enjoy the grounds of this lovely location with your new favourite book, some wonderful snacks and a cider.
Books for every single age range! We are making sure that we have a great selection of Adult, Children and YA authors, so everyone in the family can participate and find their favourite new author.
Please share this exciting event and join our Facebook Page https://www.facebook.com/FlamboroughBookFair to get details of all the wonderful authors signing up.
Limited Author and Vendor spots still available. Please fill out the form if you are interested in additional details.
https://forms.gle/keiuVdZePAgWPaGXA