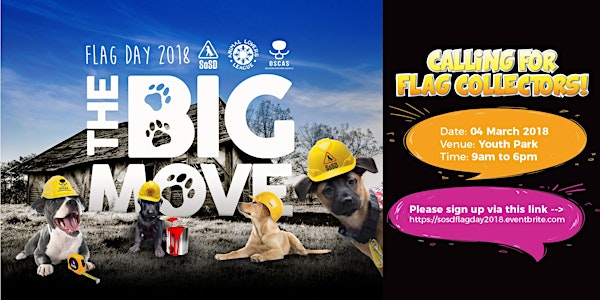 Flag Day 2018 - SOSD, ALL, OSCAS
When and where
Location
Scape Youth Park Singapore, 238165 Singapore
Description
Flag Day 2018 will be supporting 3 Animal Welfare Group in Singapore! SOSD, Animal Lovers League and Oasis Second Chance Animal Shelter.
SOSD is a volunteer-run organisation dedicated to the welfare of Singapore's many street dogs. We vehemently oppose the culling of stray animals and believe that there is a more humane way to manage this problem. Our dog shelter exists to rescue, rehabilitate and rehome strays to give them a second chance at life. If you're an animal lover with a great passion for our canine friends, there are plenty of ways you can participate and help give these beautiful creatures a chance to find their forever home.

For more Info: https://sosd.org.sg/
Animal Lovers League (ALL) is a registered charity and home to about 700 dogs and cats, and the animals under their care consist of vagrant strays, abandoned, traumatised, abused and rescued animals. ALL is strictly no-kill.
ALL aims to encourage the public to adopt instead of buying animals, and endeavour to rejoin the animals at ALL with loving and committed families.

For more Info: http://www.animalloversleague.com/
Oasis Second Chance Animal Shelter (OSCAS) is a charity and non-profit dog shelter in Pasir Ris that has been in existence since 2006. All the dogs in the shelter are mongrels rescued from the streets or from being culled.
A total of more than 110 mongrels currently call this shelter home and needless to say, it can only be sustained with help from trusty volunteers and kind donations or sponsorships.
For more info: https://www.oscas.sg/
Flag Day plays a vital role in ensuring these organisations have sufficient funding for its operation and upcoming shelter relocation. Do come with your friends & family to join us for this fundraising event!