FLACC 2020: EL GRITO
7th Annual Festival of Latin American Contemporary Choreographers - FLACC2020 - Miércoles de 'EL GRITO'
Refund Policy
Contact the organizer to request a refund.
Eventbrite's fee is nonrefundable.
About this event
FLACC 2020: ¡EL GRITO!
***Español abajo.***
Talks, panels, discussions, and presentations
www.flaccdanza.org
Featuring 12 resistant, queer, indigenous, international choreographers of the Latinx diaspora raising their voices towards collective liberation every Wednesday 9/16-11/18.
Every Wednesday on Zoom and Facebook Live, 4 PM PST, 6 PM CST, 7 PM EST. RSVP for exclusive access to Q&A's and important updates on the Festival
FLACC 2020's featured dance makers are responding to the curatorial theme "El Grito" with a contemporary and emergent act of solidarity during a global pandemic. "El Grito" (The Scream) is referring to a historically rooted demonstration that takes place every year on September 16th, marking Mexican Independence Day. El Grito originally took place in 1810, when Father Miguel Hidalgo urged the people to revolt against Spanish rule in Dolores, Mexico with a call and response speech that included crying out the names of revolutionaries that led to their liberation. The call and response of El Grito (call the name... respond "¡VIVA!") is used all over Latin America as a way to bring the people together for social change.
What do you live for, cry for, or fight for?
Víva qué? Víva quien? Víva por qué?
Who has moved you toward liberation?
How does El Grito exist in your body?
In it's 7th rendition, FLACC continues to act as a premier resource for the contemporary arts sector by pushing for narratives and personal stories that are not easy to find in contemporary dance representation. Dancers out of work and greatly impacted by shelter-in-place mandates of COVID 19 need your support and solidarity to spread the word, donate and put FLACC on your calendar in a crucial time when we need to reimagine a dignified and just society for us all. Let us reinvent reality together.
Second generation Chicana and queer Artistic Director, Liz Duran Boubion(US/MX) has curated 9 consecutive weeks of virtual dance performances, conversations and lecture demonstrations by prominent members of the international Latinx dance community putting Indigeneity, Afro-Latinidad, Queer Latinx Performance, Immigrant worker rights and Colorism in Latin America at the forefront of the pre-election dance festival every Wednesday.
Scroll down for FLACC 2020 El Grito calendar below.
Donations are tax deductible. www.flaccdanza.org
Photo header: Violeta Luna/ photo credit: Yvonne Portra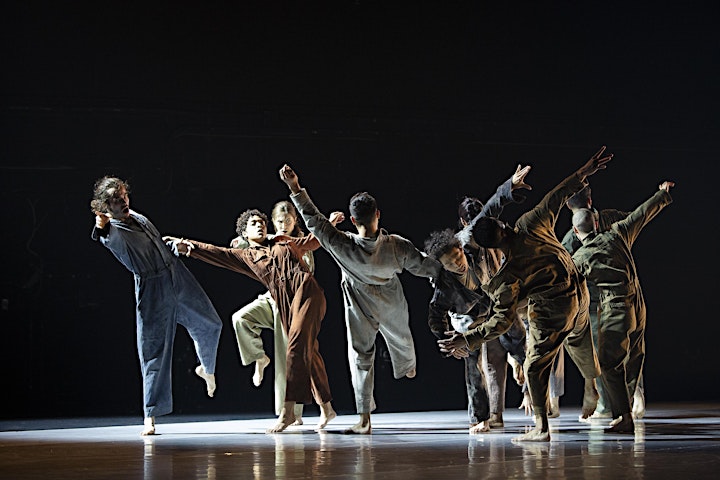 ALL EVENTS EVERY WEDNESDAY!
(Please register separately for each event you choose to attend.)
4PM PST / 6PM CST / 7PM EST.
FLACC 2020: EL GRITO CALENDAR
1) September 16. Latinx/Indigenous intersections - Rodrigo Esteva/Dance Monks(MX/US). A talk on El Grito de Dolores and the history that led up to that moment, beginning with the Spanish Conquer of Mexico. Inspired by the work of Leon Portilla, one of the foremost historians of Mexico who focused on history as seen from an indigenous perspective.Moderator: Arturo Mendez(MX/US).
2) September 23. Latinx LGBTQ intersections Tyler Rivera(PR/US). Showing of "valIDity" (11 min award-winning trio) followed by a Q&A with the dancers. Moderator: Eric Garcia(US/Cuba)
*note there is no event on Nov. 4th after election day.
3) September 30. Dismantling White Supremacy - Miguel Gutierrez(US/Colombia). Are You For Sale? A conversation with Foundation CEO(TBA). Looking at the ethics of money and art-making.
4) October. 7. Panel on Colorism, Afro-Latinidad and Dance - Rosie Herrera(US/Cuba), Yndira Perea/Wangari Danza (Colombia). Moderator, Dr. Melissa Blanco Borelli(US/Cuba/Colombia) Dance Scholar from University of Maryland.
5) October 14. First Generation Chicanx and the Politics of belonging - Victor Quijada/Rubberband Dance Group(Montreal/MX). From early LA B-Boy to Canada's concert dance sector. Viewing of Victor's most recent solo choreography. "Trenzado". Moderator: Dr. Juan Manuel Aldape Muñoz(MX/US).
6) October 21. Premiere: "Fire in the Mountain/ Fuego en la Montaña - Dance Monks/ Rodrigo Esteva(MX/US) & Mirah Moriarty Esteva(US), focused on our sacred relationship to Nature and dance as a medium for interdimensional communication. Followed by Q & A with filmmaker, Eric Koziol.
7) October 28. Decolonizing the Performing Body: Somatics and Choreographic Inquiry. Rosana Barragán(Colombia/EUA)- Decolonizing the Body- Somatics and movement experience. Catherine Marie Davalos(US/MX) - Moving, Feeling Generating: A Site for Chicana/o/x Resistance- lecture-demonstration chronology of work.
8) November 11. Mexican Migrant perspectives in Theater and Dance - Q & A to follow.Dr. Juan Manuel Aldape Muñoz/Patas Secas(MX/US). How the Pandemic is effecting immigrant workers in meat factories. Violeta Luna(MX/US) Presenting excerpts of her piece Sanct-u-are. Responding to "sanctuary city", shelter for immigrants and an expression for the unsafe.
9) November 18. Dance theater for the female body politic within an oppressive regime - Liz Duran Boubion(US/MX) with Andreina Maldonado(Venezuela/US), and members of the Piñata Dance Collective.
___________________________________________________________________
FLACC is fiscally sponsored by Dancers' Group. Funding and support provided by: San Francisco Arts Commission, Zellerbach Family Foundation, San Francisco Grants for The Arts, Dancers' Group CA$H dance award, community partners, and generous ndividuals.
Donations are tax-deductible. Click here to donate on flipcause! Or view www.flaccdanza.org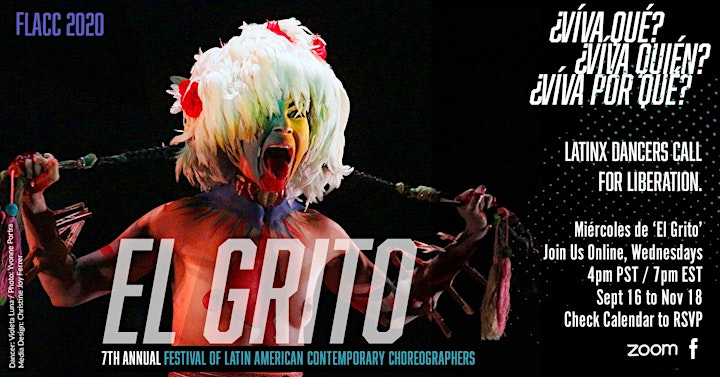 FLACC 2020: ¡EL GRITO! (en Español)
Charlas, paneles, debates y presentaciones- www.flaccdanza.org
Presentando 12 coreógrafos internacionales resilentes, queer, indígenas de la diáspora Latinx que elevan sus voces hacia la liberación colectiva todos los miércoles del 16/Sep al 18/Nov.
Todos los miércoles en Zoom y Facebook Live, 4 p. M. PST, 6 p. M. CST, 7 p. M. EST. Confirme su asistencia para el acceso exclusivo a las sessiones de preguntas y a actualizaciones importantes sobre el festival.
Les artistas de FLACC 2020 están respondiendo al tema curatorial: "El Grito" con un acto de solidaridad contemporáneo y emergente durante una pandemia global. "El Grito" se refiere a una manifestación históricamente arraigada que se realiza todos los años el 16 de septiembre, con motivo del Día de la Independencia de México. El Grito tuvo lugar originalmente en 1810, cuando el padre Miguel Hidalgo instó a la gente a rebelarse contra el dominio español en Dolores, México, con un discurso de llamada y respuesta que incluyó gritar los nombres de los revolucionarios que llevaron a su liberación. El Grito y sus "¡VIVAS!" se utiliza en toda América Latina como una forma de unir a la gente para el cambio social.
¿Por qué vives, por qué lloras o luchas?
¿Víva qué? ¿Víva quién? ¿Víva por qué?
¿Quién te ha movido hacia la liberación?
¿Cómo existe El Grito en tu cuerpo?
En su séptima versión, FLACC continúa actuando como un recurso principal para el sector de las artes contemporáneas al buscar narrativas de historias personales que no son fáciles de encontrar en la representación de danza contemporánea. El sector de la Daza ha sido muy afectado por los mandatos de cuarentena de COVID-19 y necesitan tu apoyo y solidaridad para correr la voz, donar y poner FLACC en su calendario en un momento crucial en el que necesitamos reimaginar una sociedad digna y justa para todas y todos. Reinventemos la realidad juntos.
La directora artística Liz Duran Boubion (US / MX) -chicana, queer, migrante segunda generación-, ha curado 9 semanas consecutivas de presentaciones de danza virtual, conversaciones y conferencias a cargo de miembros prominentes de la comunidad Latinx internacional de danza , poniendo las voces Indígenas, Afro-Latinxs, Queer, así como los derechos de los trabajadores migrantes y el colorismo en América Latina a la vanguardia del festival de danza durante esta epoca electoral, todos los miércoles.
Abajo encontrará el calendario FLACC 2020 El Grito.
Las donaciones son deducibles de impuestos. www.flaccdanza.org
Encabezado de la foto: Rosie Herrera / Crédito: Adam Reign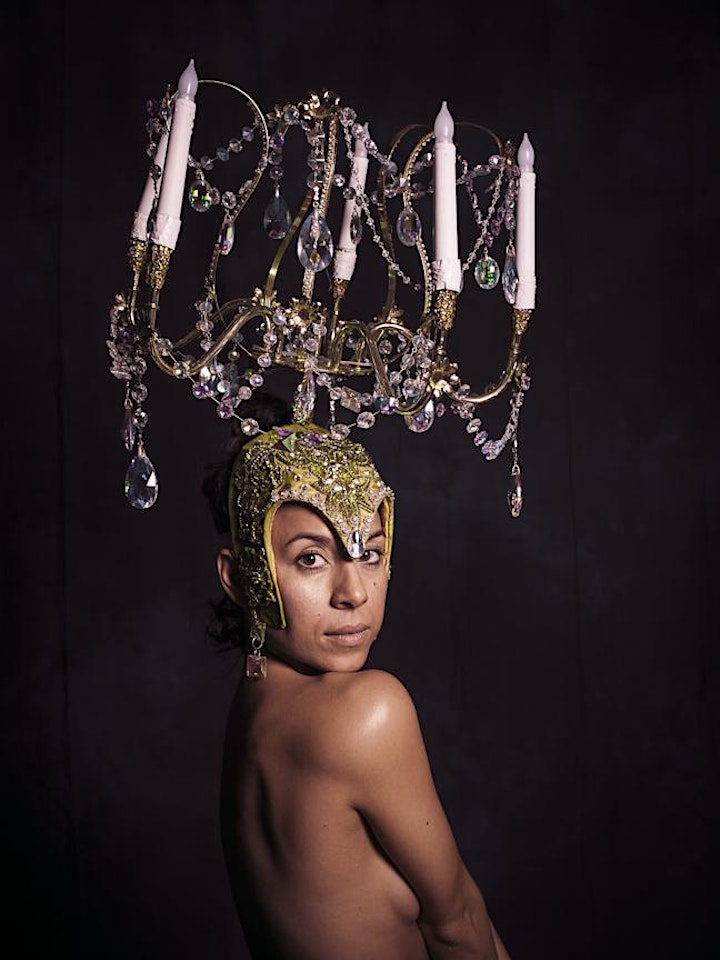 FLACC 2020, Calendario de actividades:
(Regístrese por separado para cada evento al que elija asistir).
1. 16 de Septiembre. Intersecciones Latinx/Indígenas - Rodrigo Esteva / Dance Monks (MX / USA) Una charla sobre el Grito de Dolores y la historia que llevó a ese momento iniciando con la Conquista de México. Inspirado por 'La Visión de los Vencidos', basada en sus estudios del historiador mexicano Miguel León Portilla, que se centró en la historia vista desde una perspectiva indígena. Moderador: Arturo Mendez(MX/EUA).
2. 23 de Septiembre. Intersecciones Latinx LGBTQ - Tyler Rivera (PR/USA). Viendo "valIDity" (trío galardonado de 11 minutos) seguido por preguntas y respuestas con les bailarines. Moderador, Eric García (EUA/Cuba)
3. 30 de Septiembre. Desmantelando la Supremacía Blanca - Miguel Gutiérrez (EUA/Colombia). ¿Estás en venta? Observando la ética del dinero y la creación de arte.
4. 7 de Octubre. Panel sobre Colorismo, Afro-Latinidad y Danza - Rosie Herrera (EUA/Cuba), Yndira Perea / Wangari Danza (Colombia). Moderadora, Dra. Melissa Blanco Borelli (EUA/ Colombia/Cuba), académica de baile de la Universidad de Maryland.
5. 14 de Octubre. Chicanx de primera generación, la política de la pertenencia - Victor Quijada / Rubberband Dance Group (Canadá/MX). Desde los inicios de B-Boy en LA hasta el sector de conciertos de danza de Montreal, Canadá. Visualización de la coreografía en solitario más reciente de Victor. "Trenzado". Moderador: Dr. Juan Manuel Aldape Muñoz (MX / US).
6. 21 de Octubre. Premiere de "Fuego en la Montaña" - Dance Monks / Rodrigo Esteva (MX / USA) & Mirah Moriarty Esteva (USA) Película de Sanza sobre Inmigración con el cineasta Eric Koziol, seguido de preguntas y respuestas.
7. 28 de Octubre Descolonizando el Cuerpo Escénico: Indagación en la Somática Coreográfica A). Rosana Barragán(Colombia/EUA)- Descolonizando el cuerpo - Experiencia somática y de movimiento. CatherineMarie Davalos(EUA/MX) - Moverse, Sensación de Generar: Un sitio para la resistencia Chicana / o / x- demostración cronología del trabajo.
8. 11 de Noviembre. Perspectivas de migrantes Mexicanes en el teatro y la danza Preguntas y respuestas a seguir. con Dr. Juan Manuel Aldape Muñoz / Patas Secas (MX/EUA). Cómo está afectando la pandemia a trabajadores migrantes en las fábricas de carne. Violeta Luna (MX/EUA) Presenta extractos de su pieza Sanct-u-are. Respondiendo a la "ciudad santuario", refugio para inmigrantes y una expresión para la gente vulnerable.
9. 18 de Noviembre. Danza teatral para las políticas del cuerpo femenino dentro de un régimen opresivo - Liz Duran Boubion (EUA/ MX) con Andreina Maldonado (Venezuela / EUA), y miembros del Colectivo Piñata Dance.
*Nota: No tendremos un show el 4 de Noviembre por ser el día después de la elección.
FLACC está patrocinado fiscalmente por "Dancers' Group". Financiamiento y apoyo proporcionado por: Comisión de Artes de San Francisco, Fundación de la Familia Zellerbach, Subsidios para las Artes de San Francisco, Premio de baile CA$H de "Dancers' Group", socios comunitarios e individuos generosos.
Las donaciones son deducibles de impuestos. Para donar visite www.flaccdanza.org