FL Class "G" Statewide Firearms License Annual Re-Certification

Weekly Event - Every Monday Friday & Sunday: 10:00 AM to 2:00 PM (EST)
Event Details
Get Trained.  Be Prepared.  Feel Confident.  Win.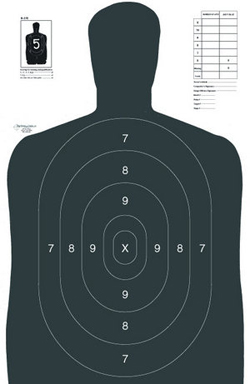 Florida Class "G" Statewide Firearms License Training & Certification
The State of Florida requires that each Class "G" Statewide Firearms License licensee re-certify 4 hours annually for EACH firearm that he or she is qualified with.
**NOTE:  Pursuant to a change in Florida law 493 FSS, it is no longer necessary for a student to shoot the full 144 rounds (3 48-round courses) provided that the student passes on their first or second 48-round course attempt.
Additionally, this class is appropriate for the licensee who wishes to qualify with a different action or caliber of firearm.
PREREQUISITES:   Class "G" Statewide Firearms License (active OR expired.)  
EQUIPMENT REQUIREMENTS
1. Semi-automatic Pistol or Revolver - chambered in one of the following calibers: .380acp, .38, or 9mm.
2. Magazines or Speedloaders - if using a semi-automatic, bring a MINIMUM of two (2) magazines. If using a revolver, bring a minimum of 3 speed loaders. It is recommende that students have magazine holder/pouches or speed-loader holders.
3. Holster with STURDY belt - The holster must have the ability to be securely fastened to the belt. A duty rig, if available, is preferred.
4. Eye Protection, Ear Protection and Baseball Style Cap - Sunglasses may be worn in conjunction with a baseball cap with the bill worn forward. Safety glasses must be of the wrap around type or employ side panels. If wearing prescription glasses, they must be covered with safety glasses unless they meet the above requirements. Ear plugs or ear muffs (preferred), and a baseball cap with bill to deflect ejected brass must also be worn.
5. Appropriate Clothing - Students should bring appropriate clothing to participate in the classroom portion of the training. Students should bring appropriate clothing to participate in the range exercises consistent with prevailing weather conditions. Range exercises will be conducted in inclement weather unless a safety hazard exists. NOTE: Shorts, sandals or flip-flops are NOT range-appropriate.
6. Note-Taking Material - Pen, pencil, and paper to take notes with in the classroom and on the range. A jumbo permanent marker for use on the range.
CLASS TUITION: $99.00 
Tuition includes all classroom material. 
Class tuition will be collected prior to the start of the class.
** AGENCY AND GROUP DISCOUNTS AVAILABLE **
Firearms may be rented for $25 each.
Where

On-Sight Tactical Training Institute
25300 Bernwood Drive
Suite 3
Bonita Springs, FL 34135


Weekly Event - Every Monday Friday & Sunday: 10:00 AM to 2:00 PM (EST)
Add to my calendar
Organizer
On-Sight Tactical Training Institute
On-Sight Tactical Training Institute delivers a full spectrum of specialized civilian defensive and law-enforcement tactical firearms training programs. Each course offered is tailored specifically to individual skill levels, and can be customized to meet personal goals.
For the novice, On-Sight offers NRA and non-NRA certification programs designed to introduce safe gun handling and basic marksmanship concepts while fostering an appreciation for defensive and sport shooting. For the proficient individual, On-Sight delivers advanced courses that integrate situational tactics with motor-skill reinforcement (MSR) exercises purposely designed to bring the student to a new level of both competitive and defensive preparedness.
In addition to an extensive array of firearms training programs, On-Sight also offers defensive tactics certification and re-certification curriculums for private security and law enforcement personnel in TASER, OCAP (Oleoresin Capsicum Aerosol Projector or 'pepper' spray), tactical baton and tactical handcuffing disciplines. Less-than-lethal defensive programs are also offered for civilians in TASER, OCAP, baton and kubaton.
On-Sight Tactical Training Institute's cadre of instructors includes currently-serving and former law-enforcement, military and public safety personnel. All of our trainers are certified in their respective fields and possess extensive real-world situational and command experience.
Contact our offices at (239) 247-5585 Visit http://www.ostti.com today for more information about our programs or our instructors, or call us at (239) 247-5585 to speak with a training specialist. 
FL Class "G" Statewide Firearms License Annual Re-Certification