Fixed Income 2017: Charting a New Course

Wednesday, January 25, 2017 from 11:00 AM to 6:30 PM (EST)
Event Details

The turbulence and aftermath of the financial crisis cast fixed income markets into uncharted waters. Traditional methodologies are providing stability, while innovative solutions are ushering in change. The resulting confluence will require banks, investors, and service providers to chart a new course as they seek to maintain balance and harmony in the financial markets' most diverse ecosystem.

11:00 am – 11:45 am – Registration & Networking

11:45 – 11:55 am – Welcome – Randy MacDonald, President & COO, TABB Group

11:55 – 12:15 pm – Opening Remarks – Anthony Perrotta, CEO, TABB Group

12:15 pm – 1:00 pm – Transparency: Panacea, Problem or Paranoia?
As illiquidity and the possibility of extreme volatility rise, regulators are increasingly mandating transparency regimes. While the market embraces the overall notion of transparency and price discovery as critical elements of risk transfer, the jury is out on the benefits of real-time pre-and post-trade pricing. What are the impacts of real-time transparency on market participants and market liquidity? Will increased mandates create a more robust trading environment, negatively alter the business of risk transfer, or simply create a lot of debate?
Panelists:
Susan Estes, Co-Founder & CEO, OpenDoor Trading LLC
Ryan Primmer, Global Head of Quantitative Systematic Trading, KCG
Christopher B. Stone, Vice President Corporate Debt, Transparency Services, FINRA International
James Wallin, SVP, AllianceBernstein
Jonathan (J.B.) Wakefield, Vice President and Global Head of Sales for U.S. Treasuries, Nasdaq
Moderator:
Terry Roche, Principal, Head of FinTech Practice, TABB Group
1:00 pm – 1:45 pm – Armchair: Charting a New Course
Investors and dealers are confronted with assessing, adapting, and moving forward in a fixed income world that is increasingly dynamic and challenging. TABB brings together thought leaders from both communities to discuss innovative trading solutions.
Speakers:
Gibson Smith, Ex-Chief Investment Officer, Janus Fixed Income
Thomas Thees, Head of Fixed Income & Head of DirectPool, CastleOak Securities, L.P.
Moderator:
Anthony Perrotta, CEO, TABB Group

1:45 pm – 2:30 pm – The Right Stuff: Are Foreign Exchange Markets the Structural Template?
As the OTC fixed income market evolves, market participants often default to the equities market as a template for change. Interestingly, the FX market may be a more appropriate case study. Trading in currency markets has evolved significantly over the last decade, and the experience of trial and error presents the fixed income market with a valuable roadmap for the future.
Panelists:
Ryan Sheftel, Global Head of Fixed Income, Global Trading Systems
Daniel Swasbrook, Head of Distribution for FX, Rates and Credit – Americas, UBS
Michael O'Brien, CFA, VP, Director of Global Trading, EatonVance Management
Moderator:
Monica Summerville, Senior Analyst, TABB Group
2:30 – 3:00 pm – Networking Break

3:00 pm – 3:45 pm – Voice-driven Execution: Standing Ground or Finding New Footing?
Electronification of OTC markets is steadily rising, driven by needs to become more efficient, reduce costs, comply with new regulatory standards, and scale businesses. Despite this trend, more than half of investor-initiated fixed income notional volume is executed utilizing voice-driven execution services or chat protocols. How is technology changing the voice-driven landscape? What does the future hold for those market participants who rely on the most intimate form of risk transfer?
Panelists:
Shawn Bernardo, CEO, tpSEF, Tullett Prebon
Matthew DeCicco, Vice President, Senior US Interest Rates Derivatives Trader, BlackRock
Amy Koch Flynn, CFA, Managing Director, Global Head of Fixed Income Trading, Standish
Billy Hult, President, Tradeweb Markets
David Parker, Head of Sales and Facilitation, MTS Markets International, Inc.
Moderator:
Andy Nybo, Managing Director, TABB Group
3:45 – 4:30 pm – Fireside Chat with Former Senator Dodd
Hear Senator (D) Christopher Dodd's view on the importance of maintaining Dodd-Frank and the dangers in repealing it.
Moderated by: Anthony Perrotta, CEO, TABB Group

4:30 pm – 5:15 pm – Shaking Off the Regulatory Burden: Tools for the New Market Structure
Increased regulation continues as a central theme in the capital markets, highlighted by MiFID II in Europe. New obligations for pre- and post-trade transparency, trade reporting, audit trails, and settlement processes will require buy-side desks to adopt new, enhanced tools and technology. This exclusive panel of buy-side traders and technology providers will discuss how best to navigate these market structure changes and how greater adoption of OMS platforms can help fulfill regulatory requirements and may drive more corporate bond electronic trading.
Panelists:
Constantinos Antoniades, Head of Liquidnet Fixed Income, Liquidnet
John Adam, Global Head of Client and Product Strategy, Portware
Jeffrey Maron, Managing Director, IHS Markit
Louis Rosato, Director, Investment Operations, BlackRock
Moderator:
Dayle Scher, Senior Analyst, TABB Group
5:15 pm – Closing Remarks

5:30 pm - Cocktail Reception
Sponsors: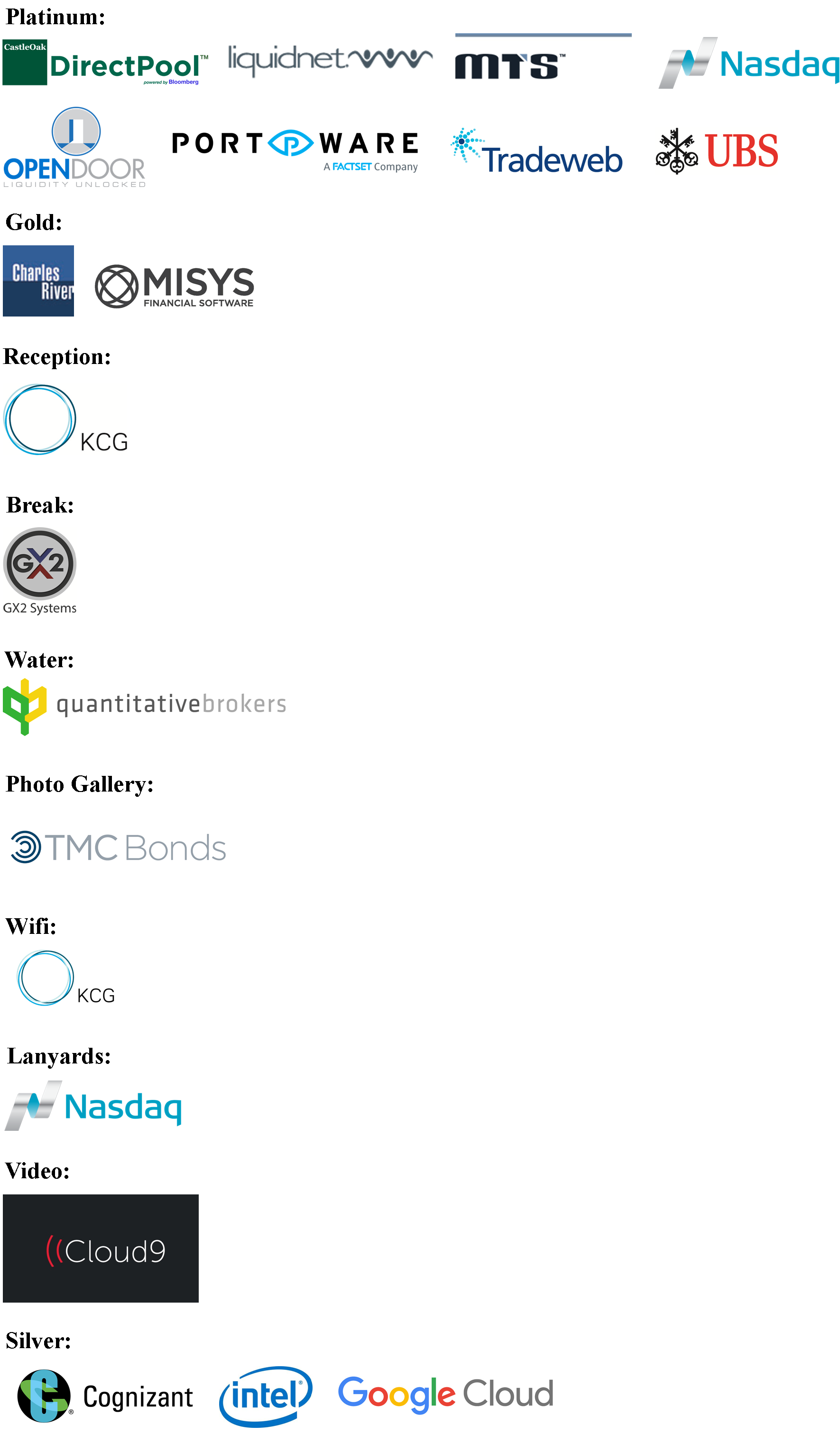 Save
Save
When & Where

The TimesCenter
242 West 41st Street
New York, NY 10036


Wednesday, January 25, 2017 from 11:00 AM to 6:30 PM (EST)
Add to my calendar
Fixed Income 2017: Charting a New Course