Fixed Income 2016: The BIG Fix

Thursday, January 28, 2016 from 12:00 PM to 5:30 PM (EST)
Event Details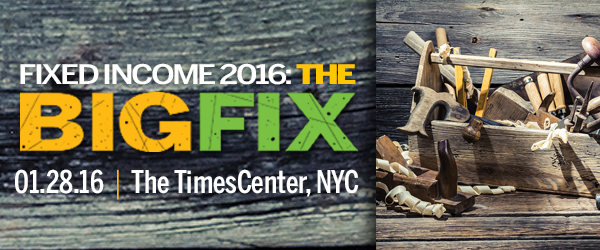 OTC fixed income markets rambled on for decades; the model for progressing, executing, and processing information and trades remained virtually unchanged. As the markets prospered, the adage "If it ain't broke, don't fix it" ruled the day. In the wake of the financial crisis, however, the traditional market structure is finding itself challenged by a variety of catalysts, and the call for change is omnipresent. The status quo is besieged on all sides by pressures it no longer can resist. The time has arrived to fix a market that is demonstrating signs of breaking down, and collaboration among participants will be critical. 
12 pm - 12:45 pm – Registration & Networking
12:45 pm – Welcome - Brien Henderson, Partner, Managing Director, Sales and Marketing, TABB Group

1 pm - Opening Address & A Look at the Fixed Income Practice 2016 - Anthony Perrotta, Partner, Global Head of Research and Consulting, TABB Group
1:15 pm – 2 pm – Metamorphic Market: Transformation in U.S. Treasury Trading 
We'll assess the changes that are reshaping the manner in which risk is transferred and hedged in this critically important bond market and examine the ways key characteristics of modernization – technology, automation and velocity – are complementing disclosed relationships to bring about a new paradigm.
Speakers:
Matthew F. Andresen, Co-CEO, Headlands Global Markets
Susan Estes, President & CEO, OpenDoor Trading LLC

Jim Greco, CEO & Co-Founder,

Direct Match

Ryan Sheftel, Global Head of Fixed Income, GTS
 Moderated by: Matt Simon, Principal, Head of Consulting and Advisory Services, TABB Group
2 pm – 2:30 pm - Fireside Chat:

David Cushing, Senior Managing Director, Partner, and Director Trading and Market Strategies, Wellington Management Company, LLC
Steven A. Zamsky, Managing Director, Global Head of Credit, Morgan Stanley
Anthony Perrotta, Partner, Global Head of Research and Consulting, TABB Group
2:30 pm – 3:15 pm - The Network Effect: Unlocking Liquidity? 
As regulatory and market forces alter the liquidity landscape and erode the traditional model, alternative mechanisms for search, discovery and intermediation of risk are on the rise. Connecting asset owners is key to moving capital around the market. Exchanges, SEFs, ECNs, ATSs, and single-dealer platforms are leveraging technology to connect market participants. Can these new platforms develop beyond an efficiency tool and fundamentally enhance liquidity? 
Speakers:
Zack Ellison, CFA, Director, U.S. Public Fixed Income, Sun Life Investment Management
Constantinos Antoniades, Head of Liquidnet Fixed Income,  Liquidnet
Chris Bruner, Managing Director, Head of U.S. Credit Product, Tradeweb
Bill Vulpis, Head of KCG BondPoint
Mark Monahan, CEO, MTS Markets International
Moderated by: Callie Bost, Analyst, TABB Group

3:15 – 3:45 pm - Networking Break
3:45 pm – 4:30 pm – Bridging the Divide: Liquidity Alternatives 
As fixed income markets expand and become increasingly challenged, traditional investment vehicles are being complemented by alternative products, giving investors options for managing beta and generating alpha. We'll delve into the relentless growth of fixed income ETFs, and determine whether all that glitters is gold.
Speakers:
Josh C. Barrickman, CFA, Principal, Senior Portfolio Manager and Head of Bond Indexing Americas, The Vangard Group
Philip Cichlar, MBA, Senior ETF Sales Trader, Jane Street
Krishna Memani, Chief Investment Officer, OppenheimerFunds
Rob Haddad, Vice President, Evaluated Services, Interactive Data
Jean-Paul Sursock, Director, Fixed Income Portfolio Management Group,  Blackrock
 Moderated by: Radi Khasawneh, Analyst, TABB Group
4:30 pm – 5:15 pm – Fixed Income Exoskeleton: Empowering the Market 
The balance of power in the fixed income market has shifted. As the drive to connect market participants accelerates, asset owners require the tools necessary to manage risk transfer. Are buy-side firms prepared for the changing environment? What tools are needed to allow them to emerge unscathed as the paradigm shifts?
Speakers:
Ted Bragg, Managing Director, ICAP Americas
James Kramer, Head of Fixed Income Trading, North America, State Street Global Advisors
Nicolas Masso, Head of Credit Execution Services – Americas, UBS Investment Bank 
James Switzer, Head of Credit Trading, AllianceBernstein
Michael P. O'Brien, CFA, Director of Global Trading, Eaton Vance Management

 Moderated by: Terry Roche, Principal, Head of FinTech Research, TABB Group
5:15 pm – Closing Remarks - Anthony Perrotta, Partner, Global Head of Research and Consulting, TABB Group

5:30 pm - Cocktail Reception
 Sponsors: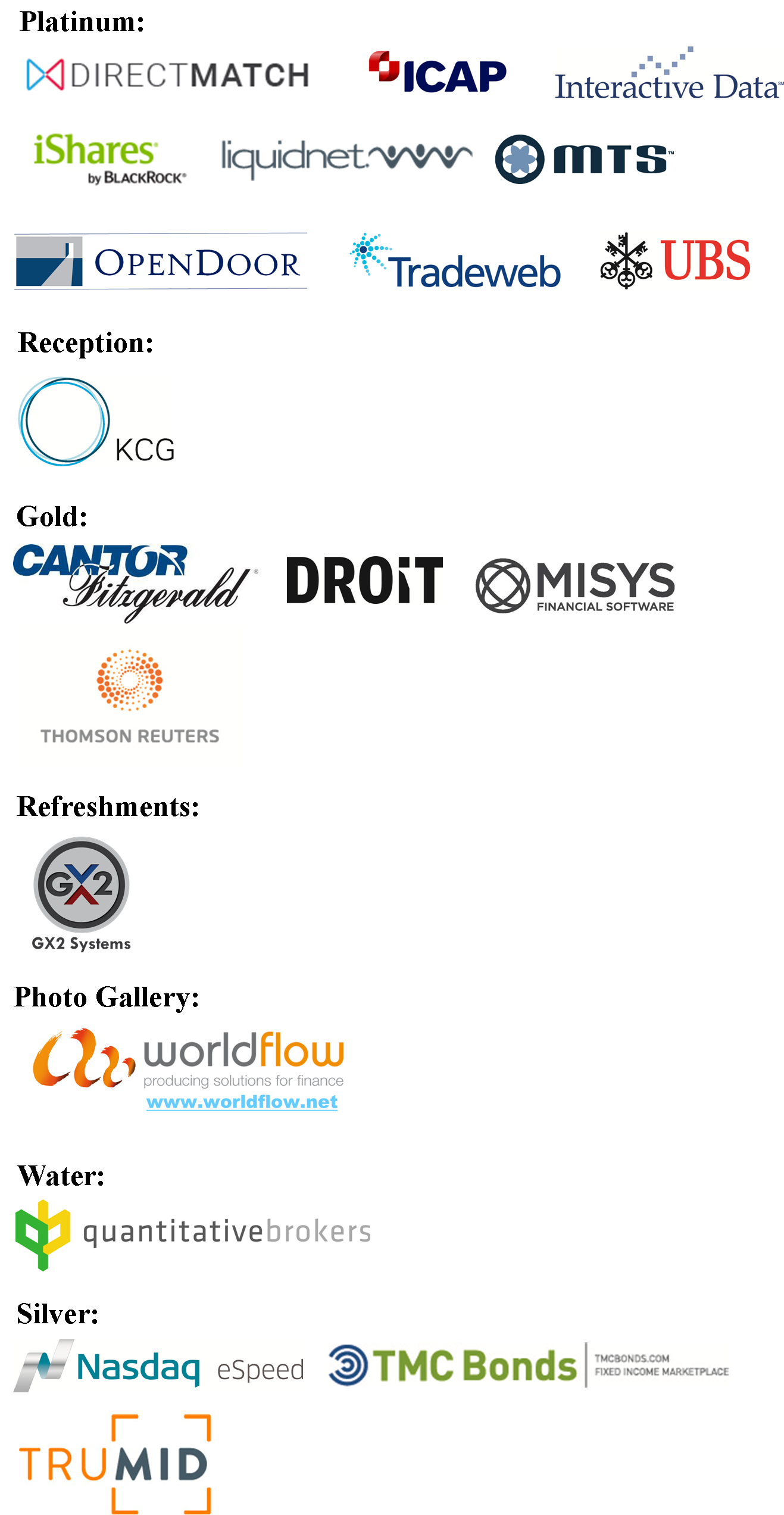 When & Where

The TimesCenter
242 West 41st Street
New York, NY 10036


Thursday, January 28, 2016 from 12:00 PM to 5:30 PM (EST)
Add to my calendar