Fixed Income 2013: Liquidity, Products, Platforms

Wednesday, January 30, 2013 from 1:00 PM to 5:00 PM (EST)
Event Details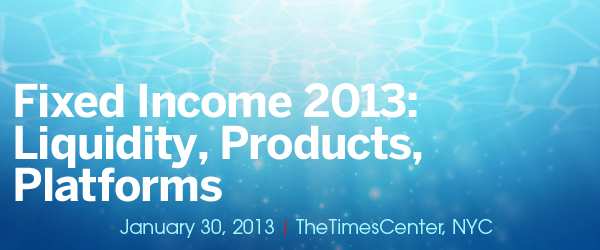 New products, new liquidity providers, new business models, new platforms – the fixed income universe is changing as banks de-leverage and the buy side exercises more control over how it sources liquidity. Learn more about changes in the fixed income cash and derivative markets as the industry adjusts and innovates in response to regulation and a long-term low interest rate environment under QE. 
12 pm - 1 pm – Registration & Networking
1 pm – Opening Remarks, Will Rhode, Principal, Director of Fixed Income, TABB Group
1:15 pm – 2 pm – Liquidity in Derivatives
We look at why SEFS are different from other markets and how technology will help attract liquidity. 
Moderated by: Adam Sussman, Partner, Director of Research, TABB Group
Panelists:
Robert P. Burke, Head of Global OTC Clearing, Bank of America Merrill Lynch
Ron Levi, Chief Operating Officer,  GFI Group
Joe Stewart, Managing Director, Head of Cross Asset & Hedge Fund Sales, Americas, UBS Investment Group
George Harrington, CFA, Global Head of Fixed Income, Bloomberg
Mike O'Brien, CFA, Vice President, Director of Global Trading, Eaton Vance

2 pm – 2:45 pm – Special Armchair Conversation
Lee Olesky, CEO, Tradeweb with Bruce Richards, Co-Founder and CEO, Marathon Asset Management  
2:45 pm – 3:30 pm - Liquidity in Cash
Basel III/QE is forcing banks out of the principal business. How will buy-side firms source liquidity in the secondary markets when the primary party ends, and how will they manage risk when interest rate volatility returns?
Moderated by: Will Rhode, Principal, Director of Fixed Income, TABB Group
Panelists:
Jack Hattem, Managing Director and Senior Portfolio Manager, BlackRock
Rick McVey, CEO, MarketAxess
Dwayne Middleton, CFA, Executive Director, Head of US Fixed Income Trading,   Morgan Stanley Investment Management
Robert G. Smith III, President & Chief Investment Officer, Sage Advisory Services Ltd.
Dan White, Founder, Chairman & Chief Architect, InterDealer Information Systems
3:30 - 4 pm - Networking Break
4 pm – 4:45 pm – Product Innovation
We discuss the futurization of swaps, the prospect for fixed income ETFs as an alternative to CDSs, and other innovative trends likely to arise as a result of evolving regulation.
Moderated by: Henry Chien, Analyst, TABB Group
Panelists:
Peter Barsoom, COO, ICE
Isaac Chang, Global Head of Fixed Income, GETCO
Nathan Ondyak, US Head of Product, SwapClear, LCH.Clearnet
Sam Priyadarshi, Head, Fixed Income Derivatives, Vanguard
Sean Tully, Managing Director - Interest Rate Products, CME Group
4:45 pm – 5:15 pm -  Keynote -
CFTC Commissioner Scott O'Malia

5:15 pm – Closing Remarks
Larry Tabb, Founder & CEO, TABB Group
5:30 pm - Cocktail Reception

Sponsored By: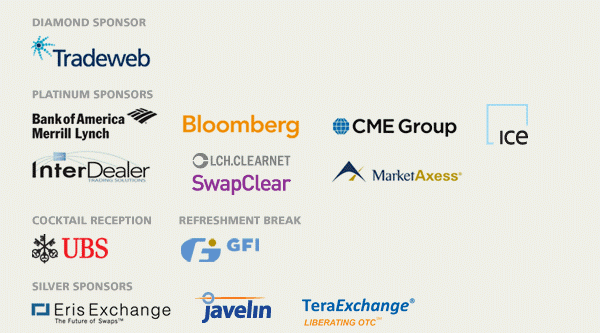 Have questions about Fixed Income 2013: Liquidity, Products, Platforms?
Contact TabbFORUM
When & Where

TheTimesCenter
242 West 41st Street
New York
New York, NY 10036


Wednesday, January 30, 2013 from 1:00 PM to 5:00 PM (EST)
Add to my calendar
Fixed Income 2013: Liquidity, Products, Platforms