Fixed Full-Arch Implant Solutions for the Edentulous Patient - March 8, 201...
Description
Schedule:
8:30 REGISTRATION
9:00 am to 12:00 pm COURSE BEGINS
12:00 pm - 1:00 pm LUNCH PROVIDED
1:00 pm - 4:00 pm COURSE CONTINUES WITH HANDS-ON WORKSHOP
CE Hours: 6
AGD Subject Code: 610

Course Description:
"Fixed Full Arch Implant Solutions for the Edentulous Patient"
Presented by Dr. Nadim Z. Baba, DMD, MSD, FACP
This full-day course is designed to simplify the treatment planning and protocol of the fixed full-arch prosthesis. Learn about all aspects of the full-arch implant surgical-prosthetic protocols, including a new approach that does not require the need for screws or cement. Begin by understanding the basic surgical planning, indications, and treatment planning of the fixed attachment system. The topics of provisionalization, final prosthesis design and material selection, prosthesis removal and maintenance will also be covered. Clinicians who utilize the fixed attachment protocol will benefit from the simplicity of the system with less chair time and more comfort for the patient.
Learning Objectives:
Understand the pros and cons of removable vs. fixed implant restorations

Identify the indications and limitations of the fixed attachment system

Understand the protocol and procedure for immediate load cases, conversion from removable to fixed restorations and options for salvaging failed screw retained cases

Learn how to determine the quantity and position of implants for the best outcome

Maintenance and follow-up guidelines
Format:
Lecture & Hands-On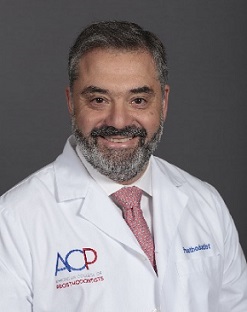 Speaker Bio:
Nadim Z. Baba, DMD, MSD, FACP
Dr. Baba received his DMD degree from the University of Montreal in 1996. He completed a Certificate in Advanced Graduate Studies in Prosthodontics and a Masters degree in Restorative Sciences in Prosthodontics from Boston University School of Dentistry in 1999. Dr. Baba serves as a Professor in the Advanced Education program in Prosthodontics at Loma Linda University School of Dentistry and maintains a part-time private practice in Glendale, CA. He is currently the President of the American College of Prosthodontists and an active member of various professional organizations and a Diplomate of the American Board of Prosthodontics and a Fellow of the American College of Prosthodontists and the Academy of Prosthodontics. He is also the Associate Editor for the Aesthetics/Prosthetics/Restorative section at the Journal of Dental Traumatology and a reviewer for the Journal of Prosthodontics and the Journal of Prosthetic Dentistry.
Dr. Baba has received several honors and awards including: The David J. Baraban Award from Boston University, the Claude R. Baker Faculty award for Excellence in Teaching Predoctoral Fixed prosthodontics in 2009 from the AAFP, and the California dental Association Arthur A. Dugoni Faculty award in 2010.
He is the author of numerous publications and has recently published a book entitled "Restoration of Endodontically treated teeth: evidence based diagnosis and treatment Planning" and has lectured nationally and internationally.



Cancellation Policy:
In the event that a registrant needs to cancel, please email education@zestdent.com at least 30 days prior to the course date to receive a full refund. Cancellations received less than 30 days, but more than 15 days prior to the course date will receive a 50% refund. No refunds are provided after this date. Failure to attend the meeting without written notification will not qualify for a refund.