Sales Have Ended
Registrations are closed
Thanks for your registration! We look forward to seeing you there!
Sales Have Ended
Registrations are closed
Thanks for your registration! We look forward to seeing you there!
Description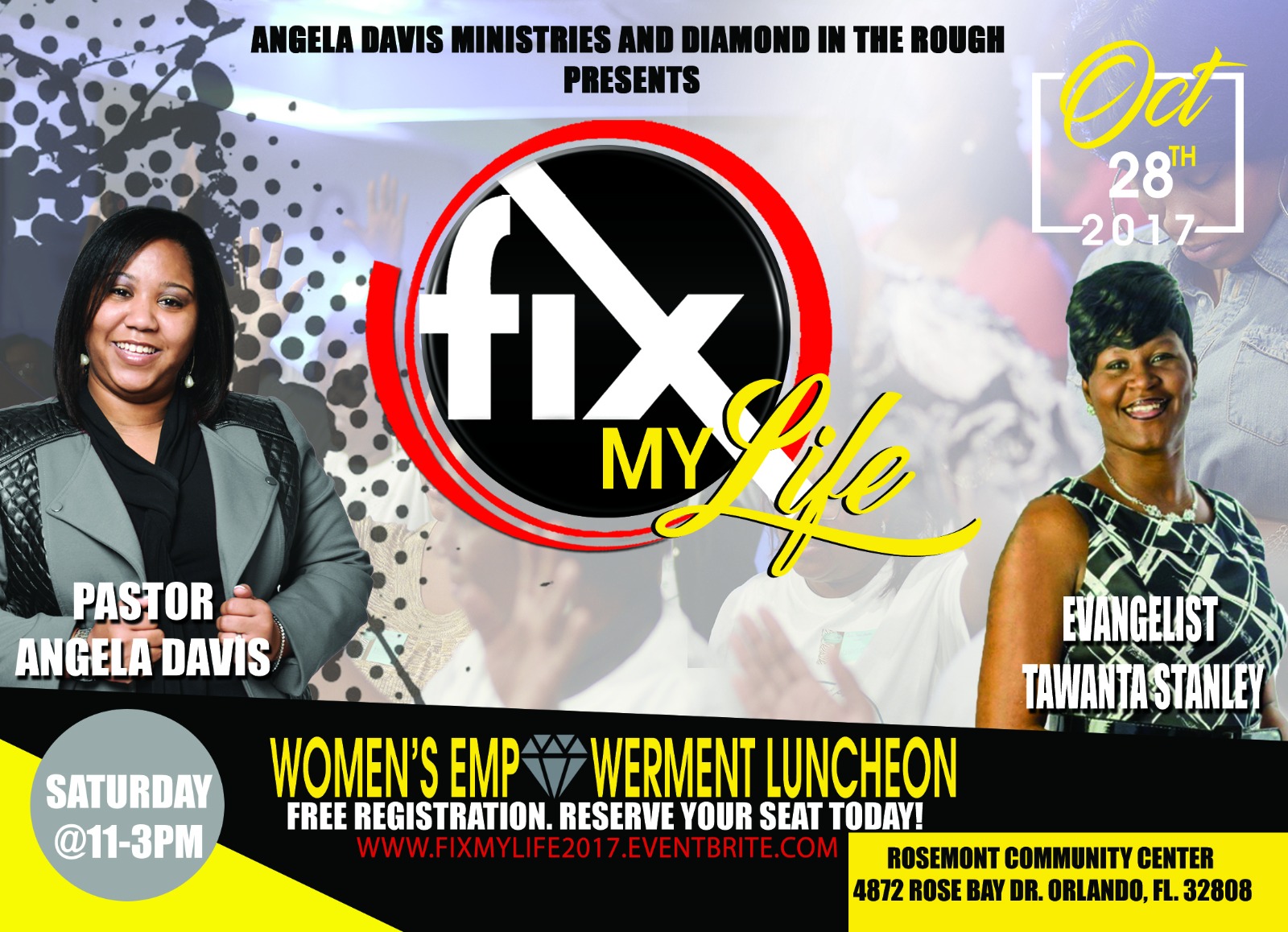 Do you feel stuck? Do you want a breakthrough to the next level of your life? Are you tired of the emotional roller coasters? Do you struggle with knowing your true identity and purpose in life? This luncheon was created just for you. Pastor Angela Davis, Visionary and Founder of "Angela Davis Ministries" has a heartbeat to transform lives through practical teachings, real-life experiences, intercession, and deliverance. The purpose of this "Fix My Life Women's Empowerment Luncheon" is to empower, equip, and inspire women to deal with the troubled areas of their lives such as; insecurity, low self-esteem, abuse, or shame that stems from past traumatic moments that have caused them to become broken in their finances, relationships, businesses, families, and more. This time around we are excited about partnering with Evangelist Tawanta Stanley, Visionary and Founder of "Diamond In The Rough". Our mission is to bring healing, breakthrough and deliverance in the secret areas that stop us from being overcomers. As a women we go through so much, take so many hits, and carry so many loads, that we often times forget our true worth trying to hold on to the broken pieces of our lives. You are that diamond in the rough that just needs someone to help you shine again, smile again, and help learn to love again. Our assignment is to walk you through the process of polishing your diamond. You will have the opportunity to be apart of live interactive breakthrough moments that will leave you inspired and empowered to SHINE!!!! Not only that, but this is your chance to network with other women, build lasting relationships, and become a greater you. Come out and experience this powerful God encounter! This event is one that you don't want to miss. FREE FOOD!!!!! FREE ADMISSION!!!! SEATS ARE LIMITED, SO DON'T WAIT!!!!!! REGISTER TODAY!!!!!!!
If assistance is needed with finding childcare please email us your request to angeladavisministries@gmail.com