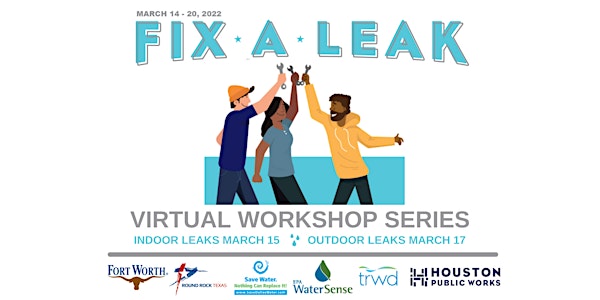 Fix-a-Leak Week Workshop Two - Outdoor Leaks
Learn how to identify and repair minor outdoor/irrigation leaks at a Fix-a-Leak Week virtual workshop.
About this event
March 14-20 is EPA WaterSense Fix-a-Leak Week!
Join the cities of Dallas, Fort Worth, Houston and the Tarrant Regional Water District at 6 p.m. March 17 to learn how to identify and repair minor plumbing leaks.
Virtual Workshop Two will cover outdoor/irrigation plumbing leaks with tips and tricks to help you save water and money all year long. The workshop will include video clips, presentations and plenty of time for questions.
Sign up today and you'll receive the link in an email a few days before the event.
According to WaterSense, an irrigation system with a leak 1/32nd of an inch in diameter (about the thickness of a dime) can waste about 6,300 gallons of water per month.
If you need help, hire an irrigation professional certified by a WaterSense labeled program to inspect it for you. These professionals have passed a certification program focused on water efficiency. They will not only help you detect and correct leaks in the system, but also maximize its efficiency.