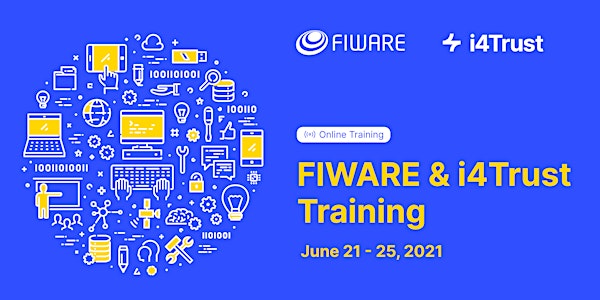 FIWARE & i4Trust Training
Provide necessary technical know-how by FIWARE & i4Trust experts to unleash the potential of data sharing.
About this event
FIWARE provides a curated framework of open source components that can be combined and mixed with 3rd party components to build platforms easing the development of smart solutions following a Digital Twin approach.
The core part of this virtual training camp, running June 21-24 from 15:30 to 18:30, will equip you with the necessary skills to develop smart solutions powered by FIWARE. It will introduce the basis of Digital Twin programming using NGSI-LD (the simple yet powerful open standard API enabling to publish and access digital twin data) combined with common smart data models. In addition, it will cover how you can leverage FIWARE technologies to implement the rest of the functions typically required when architecting a complete smart solution: Identity and Access Management (IAM) functions to secure access to digital twin data and functions enabling the interface with IoT and 3rd systems, or the connection with different tools for processing and monitoring current and historical big data. Running this core part of the training camp, you will be in a privileged position to obtain a FIWARE expert certification!
Extending this core part, the virtual training camp adds introductory and deep-dive sessions on how FIWARE and iSHARE technologies, brought together under the umbrella of the i4Trust initiative, can be combined to provide the means for the creation of data spaces in which multiple organizations can exchange digital twin data in a trusted and efficient manner, collaborating in the creation of innovative services based on data sharing. In addition, SMEs and Digital Innovation Hubs (DIHs) that go through this complete training and are located in countries eligible under Horizon 2020 will be equipped with the necessary know-how to apply to the recently launched i4Trust Open Call!
Monday 21, 09:00 - 10:30: Introduction to i4Trust
Basics for development of smart solutions following a Digital Twin approach
Monday 21: 15:30 - 18:30: Digital Twin programming primer: NGSI-LD basics / Smart Data Models
Tuesday 22: 15:30 - 18:30: Advanced NGSI-LD programming
— Interfacing with IoT devices and 3rd systems using NGSI-LD agents
— Processing of historical information
Thursday 24: 15:30 - 18:30 : Components for Identity and Access Management IAM
FIWARE/iSHARE components for the creation of i4Trust Data Spaces
Friday 25 15:30 - 18:30 :
— Advanced IAM (Identity and Access Management) in Data Spaces: introduction to iSHARE Satellite services (FIWARE / iSHARE)
— i4Trust Marketplace services (FIWARE / iSHARE)
— Bringing the pieces together / detailed walkthrough reference example (FIWARE / iSHARE)