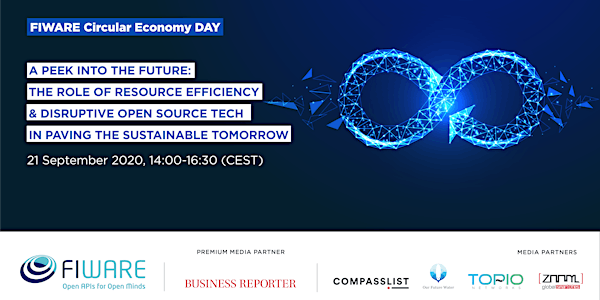 FIWARE Circular Economy DAY
A Peek Into the Future: the Role of Resource Efficiency and Disruptive Open Source Tech in Paving the Sustainable Tomorrow
About this event
Scroll down for the preliminary agenda
Over the past years, a circular approach to sustainable development has attracted interest among economists and policymakers. In general, the concept tends to refer to a new way of creating value, and ultimately prosperity, through extending product lifespan and relocating waste from the end of the supply chain to the beginning. In fact, by using resources in a far better way by using them more than once. As much as possible, everything is reused, remanufactured, or as a last resort, recycled back into a raw material or used as a source of energy. Over time, governments are encouraging their local ecosystem to adopt circular economy principles that would lead to higher resource efficiency and less waste. At the global level, the Sustainable Development Goals include many related ambitions.
The FIWARE Community fully endorses the SDGs and is working hard to help deliver them with game-changing Open Source approaches and solutions that attempt to move away from the current linear's global economic model. Here at FIWARE, we believe that inclusive circular economies will be services and intelligence-based digital solutions, it will be a driver of innovation, competitiveness, economic growth, jobs, more secure materials and sustainability.
To showcase the ways in which the FIWARE Community members are fostering this alternative economic approach and supporting the transition towards an inclusive, equitable circular economy and enabling its full potential, this free virtual experience brings together private and public businesses, and developers operating at different levels in the Circular Economy fields to discuss how Open Source technology is helping create a circular economy with new and future recycling technologies, closed-loop materials recovery solutions, industry regulations and strategies to collect and reuse E-Waste.
The FIWARE Circular Economy DAY will feature outstanding keynote and specialist speeches from experts in the field, as well as real-life use cases coming from across the world highlighting how sustainability can be driven, cross-industry, with an unprecedented Open Source approach. Join the voices that will discuss the latest recycling technology, materials recovery solutions, green electronics, sustainable materials, non-toxic substitutes, and end-of-life strategies, as well as trade options and business models that are helping to reduce the environmental impact of all forms of consumer and industrial E-Waste.
THE AGENDA
14:00 - 14:05 — Welcome and Introduction by FIWARE Foundation
14:05 - 14:15 — Moderator's Brief Overview and Intro (Prof. Sally Eaves, Official Member, Forbes Technology Council, Emergent Technology CTO, Global Strategy Advisor - Blockchain AI FinTech)
14:15-14:30 — Keynote Speech: Circular Economy and Inclusive and Sustainable Industrial Development (Nilgün Tas, Deputy Director, Department of Environment and Chief, Industrial Resource Efficiency Division at the United Nations Industrial Development Organization - UNIDO)
14:30-14:45 — Keynote Speech:´ Transitioning to a sustainable world: the role of digitalisation and emerging technologies (Jered Floyd, Technology Strategist in Red Hat's CTO Office)
14:45 - 15:00 — Keynote Speech: Japan's Society 5.0 and What it Means for Sustainable Economic Growth and Society's Well-being (Yasunori Mochizuki, NEC Fellow, NEC Corporation)
15:00-15:10 — Specialist Speech: A Climate-Resilient Circular Future (Robert Brears, Founder of Our Future Water and Author of Urban Water Security, The Green Economy and the Water-Energy-Food Nexus)
15:10-15:20 — Specialist Speech: Towards a Circular Economy for More Resilient Food Systems (Dr. Amani Alfarra, Ph.D (Water and Resources Officer, UN's Food and Agriculture Organization - FAO)
15:20-15:30 — Specialist Speech: Circular Economy as a Future-Proof Strategy (Andrea Orsag, Co-Founder and Partner, MissionC)
15:40-15:50 — Use Case: Food waste reduction in school restaurants: Leveraging FIWARE enablers and data models to build interoperable solutions (Maxime Mularz, Founder, Hostabee)
15:50-16:00 — Use Case: Waste4Think: A Circular Economy approach for Smart Waste Management (Dario Pellegrino, Researcher, Research & Innovation Unit, Engineering Ingegneria Informatica S.p.A.)
16:00-16:10 — Use Case: Monitoring Cattle Welfare Directly to the Consumers' Table: the Benefits for Sustainable Markets (Ana Bugueiro, R&D Project Manager, Sensowave)
16:10-16:20 — Q&A
16:20-16:30— Closing Remarks from Ulrich Ahle (CEO, FIWARE Foundation) and Cristina Brandtstetter (CMO, FIWARE Foundation)