Description
Ever wondered what it's like to live and work remotely or on the move? What skills do you need in order to do it?
We've gathered some seasoned working travelers and experts to chat about digital nomadism, working while traveling and the different approaches and tools that will assist certain travel styles and businesses.
Join us on August 27th from 6:00 PM - 8:00 PM at Second Shift for this exclusive event where we'll kick back and discuss life as a digital freelancer, adventurer and entrepreneur.
About The Panelists:
B

randon F. Johnson
Brandon F. Johnson is a Screenwriter & Author from Chicago. Working in concept development alongside Executive Producers in film and television, brands and companies leveraging multiple entertainment-focused endeavors, and new businesses looking to evolve entertainment software, Brandon helps numerous entities align their growth goals with innovative audience experiences and storytelling strategies.
Over the last four years on Fiverr, Brandon has cultivated a Fiverr PRO profile that helps diverse and inclusive voices from all over the world shape their stories and develop original, unique ideas that feel genuine and authentic across a wealth of mediums.
As our culture moves closer to a ubiquitous level of pervasive cinematic entertainment, Brandon's goal is to help ideas from unique voices create more room to grow and prosper.
Jane Scudder
Jane Scudder is a leadership coach, facilitator, speaker, and corporate anthropologist. She supports individuals and groups make progress on positive, sustainable growth and change.
Jane is the founder of The New Exec, a leadership development firm that supports organizations and professionals through a mix of corporate anthropology, human behavior science, and advanced coaching methods. Grounded in empathy, intuition, and observation, her work focuses on enhancing leadership, executive presence, communication, emotional intelligence, and overall effectiveness.
Along with 1:1 coaching she builds and delivers original workshop programs, facilitates team building and difficult conversations, and delivers keynote speeches. Jane has supported leaders and individual contributors at Fortune List organizations, start-ups, and nonprofits from a range of industries and across five continents. She has supported multiple political candidates making first time runs for office on topics including confidence and public speaking, and served as Adjunct Faculty in the Quinlan School of Business at Loyola University Chicago for nearly two years.
Jane frequently contributes to well-known outlets on personal and professional development; she has been featured in Forbes, Fast Company, Fortune, Essence, Working Mother, Huffington Post, and more.
Prior to running The New Exec full-time, Jane worked in marketing and brand management for a decade at Fortune List companies and start-ups. She launched major products and campaigns, led a cross-functional team in support of a $3 billion banking acquisition, and launched and led a global Culture organization.
She holds a BA in Anthropology and Sociology from the University of Virginia. She is a Certified Professional Co-Active Coach (CPCC) and a graduate of the Co-Active Training Institute (formerly the Coaches Training Institute). She has coached hundreds of leaders and spoken to and trained nearly 5,000 adult learners across the globe. Jane will earn her Professional Certified Coach (PCC) credentials from the International Coach Federation (ICF) in Summer 2019.
Nicole Vasquez
Nicole Vasquez, MBA, believes that a certain kind of magic occurs when people of all different backgrounds come together to share information and ideas: they experience the power of perspective.
As a serial entrepreneur, Nicole has built companies and communities with the shared mission of supporting, promoting, and connecting people to the resources, opportunities, and networks that can help them reach their personal or professional goals.
Nicole was named one of the "35 Under 35 Making an Impact in Chicago," won the 46th Ward Innovator Award, the RedEye Chicago Big Idea Award for Community, and was a Professional Fellow through the U.S. Department of State traveling to Europe to speak about entrepreneurship, building collaborative communities, and owning coworking spaces.
Her current roles include: Co-Founder and Chief Community Officer of Deskpass (named one of Chicago's "50 on Fire" companies), Co-Founder of Second Shift (named 'Chicago's Best Coworking Space in 2017), and Founder of The Shift, a social impact program company empowering people with the skills to create and maintain safe, respectful, and inclusive environments and communities.
When she's not geeking out about coworking and community building, she travels, writes, and learns about the world through observations and conversations with people.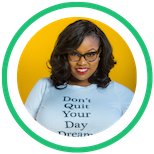 Ashley Kirkwood
Ashley Kirkwood is an award-winning speaker, author, and attorney who left her $300,000 job to be a full-time entrepreneur in 2018. Now, in addition to running her law firm, Mobile General Counsel, Ashley travels the world as a sought-after professional speaker and TV legal analyst. Ashley has completed more than 50 professional speaking engagements and more than 100 engagements throughout her career. Her podcast, Speak Your Way To Cash, focuses on how you can turn your passion into a profitable speaking business. During her seminar, Speak Your Way To Cash, you'll learn how to make your first $50,000 as a professional speaker and how you can start pitching for paid speaking engagements and media opportunities!
Partners: