Description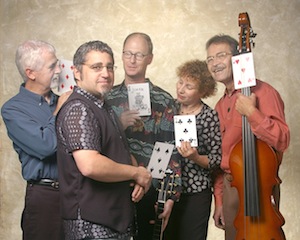 Fiveplay is a Bay Area-based band of long-time musical compatriots. They formed with the idea of playing original music that nourishes both mind and heart; melodic modern jazz to be enjoyed by everyone, whether you're an experienced jazz listener or you're hearing jazz for the first time. Featuring Laura Klein (piano), Tony Corman (guitar), Dave Tidball (woodwinds), Paul Smith (bass), and Musically Minded teacher Alan Hall (drums). For more info and audio/video samples, check them out at their website, www.fiveplayjazz.com.
Bios
A bit about the band members.
Laura Klein (piano/composer): Laura grew up in New York City, and studied music at SUNY Buffalo and at the Berklee College of Music. Along with Tony Corman, she formed the three-horned band Triceratops, which featured their original compositions. Laura has performed with her own trios (including the great drummers Joe Hunt and Benny Barth), in a duo setting with vibraphonist Ted Wolff, vocalists Jenny Ferris and Ed Reed, Rudy SalviniBig Band, John Dankworth and the San Francisco Symphony, and many others.
Tony Corman (guitar/composer): Tony comes from the Boston area. He graduated from the Berklee College of Music with a B.A. in saxophone performance. He appeared and recorded with Full Faith and Credit big band, the Contemporary Jazz Orchestra, Bay Area Jazz Composer's Orchestra, and Celia Malheiros. He played on, and was an arranger/composer for the recordings Triceratops, Three Tenors No Opera, and vocalist Jenny Ferris's Day In, Day Out. He switched to playing guitar in 2002 (owing to focal dystonia), and since then has been playing with his own trio, Crotty, Corman and Phipps, and composing and arranging for big bands.
Dave Tidball (woodwinds/composer): Born in Cardiff, Wales, Dave played and recorded in London with Turning Point. Upon moving to Boston, MA, he formed the group Minotaur, which featured his own compositions. Since relocating to the Bay Area, he has played and recorded with Triceratops, Three Tenors No Opera, the great vocalist Paula West, and his own trio, Threedom. Dave teaches music in the Oakland public schools and has a busy freelance playing schedule.
Alan Hall (drums): Alan grew up in San Jose, and spent some time in Boston, playing and teaching at the Berklee College of Music. Highlights of Alan's extensive resume include performing and recording with Eddie Harris, Paul McCandless, Billy Childs, Kenny Werner, Triceratops, Rebecca Parris, and many others. Recently Alan has been playing with Cirque du Soleil in NYC. He teaches at the JazzSchool in Berkeley, CA, and gives clinics and workshops at festivals, colleges and music stores throughout North America.
Paul Smith (bass): Paul has been playing professionally since his teens. In 1970, he joined the acclaimed Moacir Santos group, where he met his future wife, percussionist and vocalist Sheila Smith. Paul and Sheila had a group for many years, and recorded four CD's together. Paul has performed and recorded with Mark Levine, Willie Bobo, and numerous other artists. He currently records and tours nationally with Dan Hicks.
The Back Story
Tony: Let me tell you how it all started: Spring 1977: I got my first glimpse of Laura in Latin American music class at Berklee College of Music. Fast-forward to the end of the summer, we run into each other on Mass Ave near Symphony Hall. I tell her "We could make beautiful music together." (Really.) She puts together a session, and I think "This girl has got a "sound"! But, it's more than that: it's love.
Laura: I knew it must be love when I'm playing a dismal dive way out in the sticks, and Tony shows up there to see me! A few weeks later, we play our first gig together. There's a fight in the club, the cops show up, we have to flee out the back door, in the chaos I lose one of my shoes, and I've never so much fun! I know we're meant for each other.
Tony: Zoom ahead a few years. I come home from rehearsing with John Horner's American Dream Jazz Band and tell Laura "There's this drummer…" Alan might have been out of his teens by then. I'm not sure, but the metric fluidity, huge ears, understanding of form, and the humor, all were completely arrived.
Laura: Meanwhile, I play a casual-the band is terrible, but I'm knocked out by their amazing singer, Emily Norman. I persuade her to quit, and Tony and I and form our own quintet, Spiral Dance, with Emily and Alan. We do unusual arrangements of standards, and our own originals, gigging around Boston and New England.
Tony: A few years later Laura comes home from a rehearsal, saying "There was this sax player there…" She starts playing in Dave Tidball's band Minotaur, four horns, Dave's original music. I go to one of their concerts and our boy sounds rather amazing, lyrical, agile. He even plays soprano sax in tune – impressive!
Tony: Now it's 1984-Laura and I get married and move to the Bay Area. Alan and Dave follow out to the West Coast soon after, so we put together Triceratops, the three-horned jazz sextet, playing all original music by Dave, Laura and me. Several years of gigs, concerts, festivals and a CD ensue. Somewhere in there, I play with Paul Smith, and tell Laura "There's this bass player…this guy Knows Things."
Laura: Some years later: Tony's switched from woodwinds to guitar, and he and I have been writing lots of music. We've both been doing other projects, but we want to get back to playing our originals. So, we put together successor to Triceratops: FivePlay, with Dave, Alan, and Paul. And now we've recorded our first CD-we hope there will be more coming soon!
REVIEWS
"FivePlay Jazz Quintet is a must for jazz lovers. Don't miss it."
—Don Sechelski, The Muse's Muse
"They are charting a fresh path in the land of jazz that will be sure to attract a following."
—O's Place Jazz Magazine
"This is one of the best quintets I've listened to this year, and they get an unequivocal MOST HIGHLY RECOMMENDED, with an "EQ" (energy quotient) rating of 4.97."
—Dick Metcalf, Improvijazzation Nation