About this Event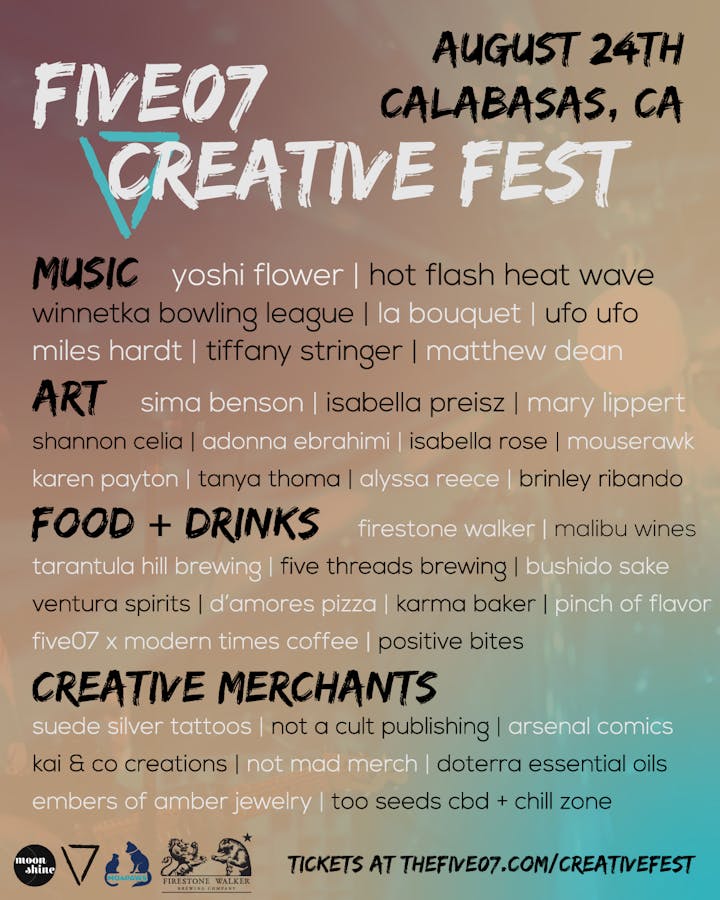 The inaugural Five07 Creative Fest happening in Calabasas at King Gillette Ranch on August 24th! This event will feature many of the top musicians, artists, craft alcohol makers, and other creatives currently rising out of SoCal. It will be a celebration of creativity and especially focus on the community aspect of bringing thousands of people together.
Five07 began as a social space + coffee bar early 2018. It quickly developed into much more than just a coffee shop, aided by our live music every Saturday evening. We saw how, after the fires and Borderline Shooting, creativity and music was able to strengthen the community and build up empathy and love.
Our goal with this festival is to take those same values and expand them to the greater SoCal community, celebrating those creatives who are positively impacting the world. All musicians and artists exhibited in the Revolution-inspired pop-up hail from Southern California are on the cusp of a national spotlight.
Headlined by Yoshi Flower, Hot Flash Heat Wave, Winnetka Bowling League, and more!
Art exhibits featuring Sima Benson, Mary Lippert, and dozens more!
General Admission tickets | $50
Lineup subject to change