About this Event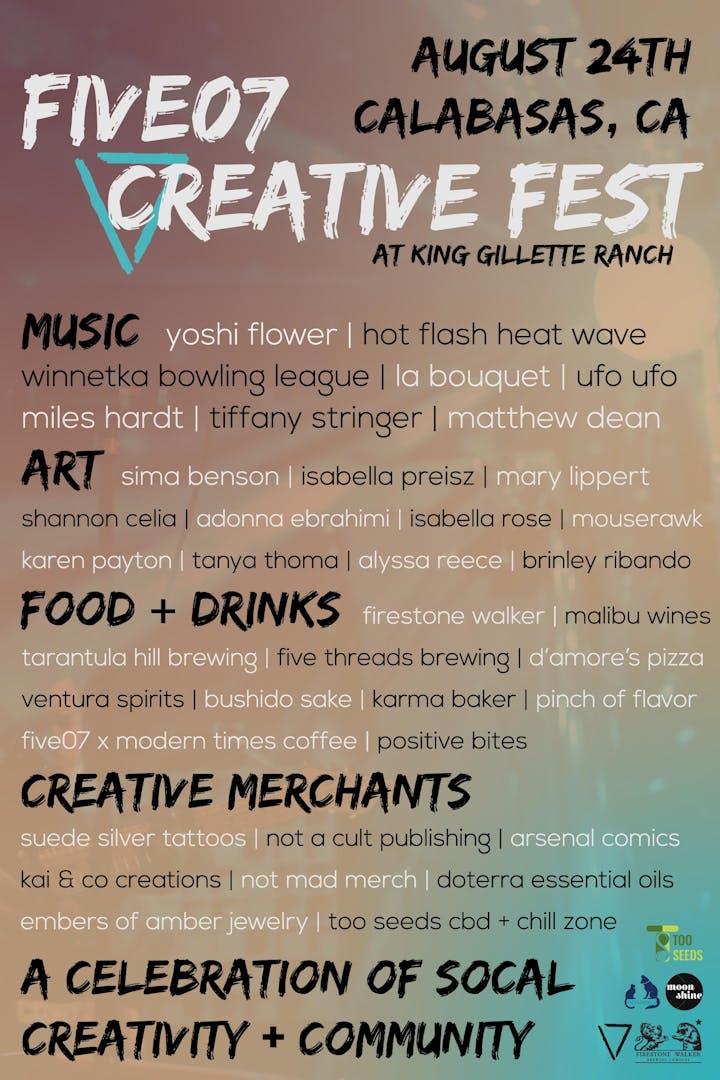 The inaugural Five07 Creative Fest happening in Calabasas at King Gillette Ranch on August 24th! This event will feature many of the top musicians, artists, craft alcohol makers, and other creatives currently rising out of SoCal. It will be a celebration of creativity and especially focus on the community aspect of bringing thousands of people together.
Headlined by Yoshi Flower fresh off his Lollapalooza performance bringing dance r+b infused music that makes you want to rave.
Hot Flash Heat Wave, Winnetka Bowling League, La Bouquet, and ufo ufo represent the best that California Alt Rock has to offer
Art exhibits featuring Sima Benson, Mary Lippert, and dozens more! Plus live mural painting from Sima, Mouserawk, and Adonna Ebrahimi.
Beer gardens sponsored by Firestone Walker, also featuring Tarantula Hill Brewing, Malibu Wines, and Ventura Spirits.
Get a tattoo from acclaimed artist Suede Silver. Check out recent releases from the best SoCal book and comic providers. See the creativity sprouting up in our backyard while celebrating the community around you!
General Admission tickets | $50
Lineup subject to change