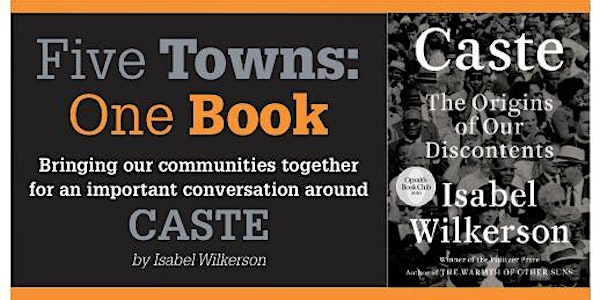 Five Towns, One Book: Conversations about Caste
Five Towns: One Book. Bringing our communities together for important conversations around Caste, by Isabel Wilkerson.
Refund Policy
Contact the organizer to request a refund.
Eventbrite's fee is nonrefundable.
About this event
FIVE TOWNS: ONE BOOK. Bringing our communities together for important conversations around Caste: The Origins of Our Discontents, by Isabel Wilkerson.
Featuring a virtual visit and discussion with the author, Ms. Wilkerson, on April 25th 4-5pm, in addition to four facilitated talks that dive deeper into the themes of the book.
Caste was published in August 2020 to critical acclaim and became a #1 New York Times Bestseller. The book examines the unspoken caste system that has shaped our country and shows how our lives continue to be defined by a hierarchy of human divisions and rankings. What is the history of caste in America? How does caste differ from race or class? How is this hierarchy experienced by real people in today's life? What are the effects of caste in our own backyards? These questions and more will be explored in this series of events as we join in community to learn together.
April 8th 7-8pm , Chapter 8: Jim Crow & Nazi Germany
Discuss how the Third Reich sent Nazi bureaucrats to study American policies for race purity, segregation, eugenics and the oppression of blacks for the blueprint for the Holocaust. Facilitated by Rabbi Jeffrey Sirkman, Larchmont Temple and Reverend Dr. William Crawford, formerly of Larchmont Avenue Church.
April 17th 4-5pm, Chapter 11: White America (**Event closed due to capacity)
Discuss the role of White Americans in the caste hierarchy and how and why they act against their own interests in keeping the system afloat. Facilitated by Cyndi Carnaghi-Collins of the People's Institute for Survival and Beyond and Tonia Spence, LCSW & MSED
**APRIL 25th 4-5pm, ISABEL WILKERSON **
Join us in conversation with acclaimed author Isabel Wilkerson as she discusses her book Caste: The Origins of Our Discontents. Moderated by Reverend Dierdra Gray Clark. ** This is the only day/time that Ms Wilkerson will appear **
April 28th 1-2pm, Chapter 6: How We Measure Humanity (**Limited capacity)
Discuss how caste and race were invented to maintain systems of power by ascribing a different level of value to people depending on their invented "racial" group. Facilitated by Juontel White, DEI and Social Impact Strategist and Maria Tan, Equity educator, facilitator and consultant.
May 3rd 7-8pm, Chapter 31: Personal Connection and Change (**Limited capacity)
As a community we will ask why Ms. Wilkerson closes her book with the HEART as the "final frontier"? What actions can we take together to dismantle America's caste system? Facilitated by Lori Rotskoff, Cultural historian, teacher, author and Juontel White, DEI and Social Impact Strategist.
Sponsored by CURE (The Coalition for Understanding Racism through Education) in partnership with our five community libraries: Harrison, Larchmont, Mamaroneck, New Rochelle, and Rye.
Copies of Caste are available via your local Library. Place a hold via the Westchester Library Systems' online catalog or download the ebook via Overdrive. Contact your local Library for assistance (links above).
Isabel Wilkerson, winner of the Pulitzer Prize and the National Humanities Medal, is the author of the critically acclaimed, New York Times bestsellers The Warmth of Other Suns, and Caste: The Origins of Our Discontents. Oprah Winfrey chose Caste as her 2020 Summer/Fall book club selection, declaring it "the most important book" she had ever selected. Ms. Wilkerson won the Pulitzer Prize for her deeply humane narrative writing while serving as Chicago Bureau Chief of The New York Times in 1994, making her the first black woman in the history of American journalism to win a Pulitzer Prize and the first African American to win for individual reporting.
Facilitator bios here.
Recording of this event is not permitted. For more information on this Speaker please visit prhspeakers.com