Description
Five selfish reasons to work reproducibly
---
Abstract
Prof. Florian Markowetz will tell us about five selfish reasons to work reproducibly.
Further reading: Genome Biology (2015) 16:274
Who should come?
Anyone interested in reproducible research practices.


---
Agenda
15.45 - Registration
16.00 - 16.45 - Talk by Florian Markowetz
16.45 - 17.00 - Q&A
17.00 - Drinks reception


This seminar is part of the series "Future Forward: Science in the Open Era" organised by TU Delft Library.

Note that this event will be recorded and the recording will be made publicly available after the event.
---
About the speaker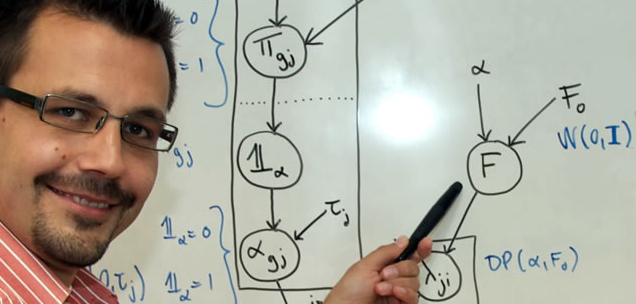 Florian Markowetz is a Senior Group Leader at the Cancer Research UK Cambridge Institute. He is a Royal Society Wolfson Research Merit Award holder and received a CRUK Future Leader in Cancer Research prize. He holds degrees in Mathematics (Dipl. math.) and Philosophy (M.A.) from the University of Heidelberg and a Dr. rer. nat. (PhD equivalent) in Computational Biology from Free University Berlin, for which he was awarded an Otto-Hahn Medal by the Max Planck Society. His group at the CRUK Cambridge Institute combines computational work on cancer evolution and image analysis of the tumour tissue with experimental work on understanding key cancer mechanisms like the estrogen receptor.
---


About "
Future Forward: Science in the Open Era"

seminar series

Most likely you would have heard something about Open Science. But….

What does it really mean in practice?
What are the implications of Open Science, in particular for applied research?
Are there any real benefits of practising Open Science?
And should all research be open?... What about commercial collaborations? What about privacy considerations? What about scientific competition?
The aim of these seminars is to facilitate discussion, give the floor to opposing views and learn from each other. Everyone is welcome: proponents, enthusiasts, sceptics and outspoken opponents. Controversy is allowed (and welcome!).

So… join us every second month to listen to an inspiring speaker on the topic, and participate in a lively discussion afterwards.