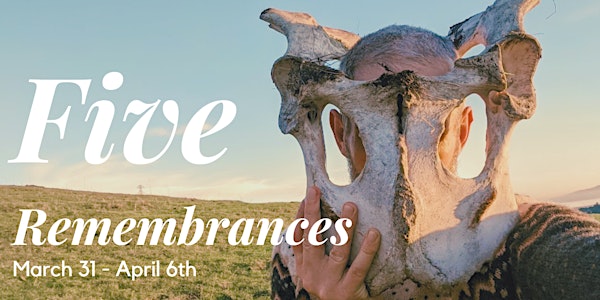 Five Remembrances
Buddhism has a long tradition of reflecting on and confronting our notions about existential questions like death and loss.
Date and time
March 31 · 5pm - April 6 · 1pm MST
Location
Dharma Treasure Retreat Center at Cochise Stronghold 2126 W. Windancer Trail Cochise, AZ 85606
Refund Policy
Contact the organizer to request a refund.
Eventbrite's fee is nonrefundable.
About this event
5 days 20 hours

Mobile eTicket
I am of the nature to grow old. There is no way to escape growing old.
I am of the nature to have ill health. There is no way to escape having ill health.
I am of the nature to die. There is no way to escape death.All that is dear to me and everyone I love are of the nature to change. There is no way to escape being separated from them.
My actions are my only true belongings. I cannot escape the consequences of my actions. My actions are the ground upon which I stand.
Upajjhatthana Sutta
What happens if we start to get real about our intoxication with life, youth, health, and, even, all that we love? To live the constant arising and passing away of life on this planet – to embody impermanence? To work with this moment, our actions in this moment, as all that we ever really have…
This retreat aims to deepen our practice and knowledge of the 5 Remembrances, first found in the Upajjhatthana Sutta ("Subjects for Contemplation"), as foundational understandings of Buddhist teachings. We will explore developing such a practice as a way to delve into the finitude of all things – to grow, understand, and expand our sense of self, the world, and our place in it.
Practitioners are invited to this retreat whatever their familiarity with Buddhism or the 5 Remembrances, as long as they are curious about exploring what such common sense, but relatively radical, understandings might have to teach us - as a touchstone towards consciously realizing life and death.
The retreat aims to pragmatically work with the 5 Remembrances through various practices - meditative, embodied, creative - to build resilience in our collective and solo use of them.
There are beings who are intoxicated with a (typical) healthy person's intoxication with health. Because of that intoxication with health, they conduct themselves in a bad way in body…in speech…and in mind.
Upajjhatthana Sutta
About the Retreat
The retreat will take place in the beautiful surroundings of the Dharma Treasure - Stronghold Retreat in the canyon of the Cochise Stronghold, Dragoon Mountains.
During the retreat, we will not use phones and internet, and you will be able to maximize the amount of time each day that you spend meditating, walking, and working creatively while at the same time participating in a community of practitioners and receiving support from teachers. Processes for intentional dialogue will be utilized.
The retreat is offered on Dana (a Pali word meaning generosity), which means the registration prices are at cost and don't include the cost of the teachings. Julie and Henrik will teach on Dana in an effort to make retreat as accessible as possible.
If you'd like to attend, but the costs of this retreat prohibit you from attending, full and partial scholarships can be applied for at Open Dharma Foundation.
There will be plenty of opportunities to meditate, but this is not a silent retreat.
This is a bring your own food retreat. You will have access to a private or shared kitchen.
Schedule
6:00 am Practise meditation/ yoga/ contemplation
8:00 am Breakfast
9:00 am Morning session
12:00 pm Lunch & Hike
2:00 pm After-noon session
4:00 pm Dinner / tea
6:00 pm Practise meditation/ yoga/ contemplation
7:30 pm Dharma chat
The schedule is subject to change
About Dharma Treasure Retreat Center
Dharma Treasure is a non-profit retreat center located in the Dragoon Mountains of southeast Arizona. This wilderness retreat has long been considered sacred — first by the Chiricahua Apaches and later by hundreds of meditators grateful to practice in this quiet canyon. While being the birthplace of TMI, the Mind Illuminated method, the retreat center welcomes spiritual sojourners from all traditions, while providing support aimed at spiritual awakening, rooted in the teachings of the Buddha.
Cochise Stronghold, the specific site where Dharma Treasure is located within the Dragoons, is a magnificent natural wonder. Granite peaks rise to the east, south and west, spotted with chromatic, lichen-covered boulders, precariously balanced rocks, and charismatic formations that take on a life of their own. An evergreen juniper and oak forest grows in the valley, providing shelter for abundant wildlife including javelina, deer, and hundreds of species of birds. A seasonal stream flows from mountain top pools down through the canyon. Sharing a border with the Coronado National Forest, the retreat center is surrounded by hiking and horse trails that snake up into the mountains for miles.
The retreat center is located 90 minutes from the Tucson Airport, 45 minutes from Benson and Willcox, and 20 minutes from the small village of Sunsites. While remote, we are part of a close-knit rural community.
The Teachers
Julie Regalado has a background in dance and education in formal and non-formal learning environments for people of all ages. Her recent work has been in exploring the role of embodied awareness practices in fostering awareness of relationality - the interdependence of human and non-human. Introduced to Buddhist teachings as a teenager, with an eclectic familial approach to spirituality, she has been meditating, informed by various traditions, for over 10 years and has made a life exploring the meaning of right-action and right-speech in the lived experience.
Henrik A. Norberg has meditated in the mountains of Sri Lanka, the jungle of Thailand, and led forest monks on Tudong in the Mountains of Norway. He is a cave yogi, wanderer, and mind explorer interested in early Buddhism and samadhi practices, and is a certified TMI/ Mind Illuminated instructor. His current location can be found at https://arannagato.com/