FIVARS Festival of International Virtual & Augmented Reality Stories
FIVARS is the world's leading festival dedicated to discovering the world's best new content made for VR, AR, and other immersive media.
About this event

"FIVARS is the most cutting-edge storytelling festival in the world" - Huffington Post
The 9th FIVARS Festival of International Virtual & Augmented Reality Stories, is a browser-based immersive virtual festival featuring 360 video projects from around the globe online February 21st through the 28th 2022 with additional private in-person showcases for interactive content (this will be a separate ticket option made available to online ticket holders by appointment only until supplies last).
Immersive festival featuring Virtual Reality, 360 Film and Dome Experiences in browser-based immersive theater--available on desktop, mobile, tablet or in VR headset
In-person interactive content (by appointment only in select cities, stay tuned for more information)
Talks & Panels with content creators and industry experts from around the world

The one-of-a-kind hybrid (physical & online) event will showcase a curated selection of the finest new immersive narrative experiences from around the world, including many world premieres. If you have been wondering what this "Metaverse" thing is all about, you can find out right now, and you don't need to login to any social media account to do it you just need a ticket and your email.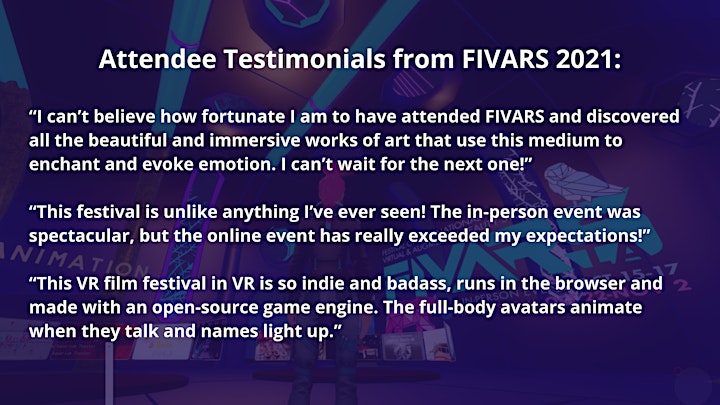 This special hybrid event features multiple ways to experience the festival.
ONLINE EXPERIENCE PASSPORT (Main ticket type - February 21st to 28th 2022):
Experience International Immersive Stories From Your Desktop, Mobile Browser, or VR Headset from anywhere in the world. Our critically acclaimed, custom-built 3D web-based festival features all of our immersive video selections, in addition to special live-performance virtual events and moderated speaker sessions.
You will be able to walk around in your customized avatar, talk with others in realtime and enjoy 4K video content in full 360 video. - You do not need a VR headset for this, though the experience is definitely enhanced if you have any method of viewing 3D content.
*The online event is not supported by portable iOS devices
Please take note from this list of browsers (and their version numbers) that support WebGL, the technology that powers an event like this .
Also to determine whether you graphics card/computer are new enough to support WebGL, consider whether they could handle a 3D game from the past 8 years.
In-Person Tickets
These tickets are by appointment only. In-Person tickets are organized by BLOCKS. Please take note of the DAY and TIME your ticket is valid for. This is a terrific opportunity to try out interactive exhibitions that will not be available online. These tickets will be sold separately on a first-come first-served basis after you have purchased the online ticket. Once you have purchased your online ticket you will recieve further details about in-person times and locations.
*In-Person Ticket also includes Online Experience Passport
"My lens into the 360 medium has been indelibly shaped by the curatorial vision of the major film festivals, which has had a very specific threshold for storytelling & form. It's refreshing to see something distinctly different with the curation of FIVARS."
- Kent Bye, Voices of VR
Visit https://fivars.net for official selections and additional information or a look back at past events.
Organizer of FIVARS Festival of International Virtual & Augmented Reality Stories