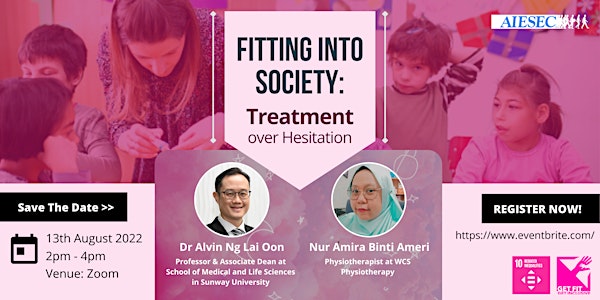 Fitting Into Society: Treatment over Hesitation
Join our speakers in this live webinar to understand more about the special needs community in Malaysia, and how we can support them❕❗️
About this event
In Malaysia, people with disabilities experience significant stigmas and barriers in accessing basic services, like health, education, and employment. Most parents of special needs children often hesitate in providing special education for their children due to factors such as unwillingness to expose their child to the public, lack of easy access to special needs education, etc.
Join us now in this 2-hour webinar to learn more about the types of learning disabilities and their treatments. We aim to heighten public understanding of the importance of special needs treatments, to give these children an opportunity to be a better version of themselves, as well as exert hope for a future of independent living.
Our Speakers
Dr Alvin Ng Lai Oon
Dr Alvin is a Professor & Associate Dean (International) at the School of Medical and Life Sciences at Sunway University. He will focus on introducing the common types of disabilities and their treatment methods. Participants can expect to understand more about SNC from a professional scientific perspective.
Puan Nur Amira Binti Ameri
Puan Amira is a Physiotherapist at WCS Physiotherapy. She will be covering several topics including the function of physiotherapy in special needs, as well as an experience-sharing session about her knowledge and experiences on handling special needs.
QnA session
We will have a QnA session during the webinar. If you have any questions that are burning your mind, feel free to put your questions here for the speakers to answer!
>> https://forms.gle/nZbbgHfsVf6VyWEm9
Register now! Let us do our part in creating a more inclusive society for the special needs community in Malaysia.
💛 No participation fee is required
🧡 Certificate of Participation will be emailed to you after the webinar