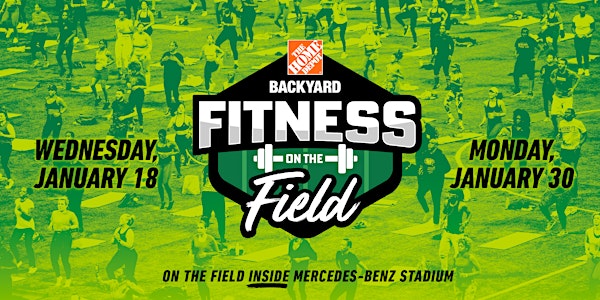 Fitness on the Field '23
Fitness is back! Join us as we kick off the season with sweat, fun, and friends on the field INSIDE Mercedes-Benz Stadium!
When and where
Location
Mercedes-Benz Stadium Field 1 AMB Drive Northwest Atlanta, GA 30313-1501
About this event
NEXT CLASS:
Monday, January 30:
*Gates open at 5pm* Please Enter at GATE 1 off of Northside Dr.

💪 Class 1: Standing Sculpting Abs and Core with Guru of Abs
6pm-6:45pm
Get ready to crush your core with this ab blasting workout!

🔥 Class 2: Maxx Out Fitness Class with DP
7pm-8pm
Turn-up for the Maxx Out HIIT workout! We can't wait to see you there!
*No Entry after 7:40pm*
➡️ Follow along with us on Instagram @thdbackyard
🚗 FREE Parking is available inside The Home Depot Backyard on a first-come, first-serve basis (get there early!) Additional parking will be available for $10 (Orange DeckRed Deck
Rideshare: Guests are encouraged to arrive at the Vine City MARTA Station and use the crosswalk or pedestrian bridge to walk across Northside Drive to Gate 1.
MARTA: The preferred station for arrival and departure is the Vine City Station. This station will drop you off just across the street from Gate 1 at Mercedes-Benz Stadium. Use the crosswalk or pedestrian bridge at Northside Drive
DISCLAIMER
By attending the event, you consent to being photographed, filmed and/or otherwise recorded, and to any use, in any and all media, throughout the universe in perpetuity, of my name, voice, image and likeness, for any purpose whatsoever, without compensation, and you hereby release StadCo, its parent, successors, assigns and licensees from liability on account of such usage.
By participating in this Experience, you agree that The Home Depot Backyard may use any personal information or data you provide (including without limitation my name and email address) in accordance with our Privacy Policy, available at https://thehomedepotbackyard.com/privacy-policy/.
Thank you to everyone that came out!
Wednesday, January 18:
*Gates open at 5pm* Please Enter at GATE 1 off of Northside Dr.

🏃‍♂️Class 1: Full Body Bootcamp with Royal Physique
6pm-6:45pm
Let's Work! Come and experience this full-body workout. This class is suitable for all ages and modifications for all capabilities.

🧘‍♂️ Class 2: Hip Hop Yoga with Jaimee Ratliff
7pm-8pm
IF DEEPAK AND TUPAC CREATED A YOGA CLASS TOGETHER, THIS WOULD BE IT...
Led by certified yoga teacher (RYT-200) Jaimee Ratliff this Hip-Hop Yoga class is an inspiring flow for all levels, set to your favorite Hip Hop + R&B tunes. Sweat will drip as you power your way through a series of postures to lengthen, strengthen and tone muscles. Come prepared to have fun, get playful, build community, and move to the beat however feels right for you.
Please bring your own yoga mat, a small towel for sweat, and water!
*No Entry after 7:40pm*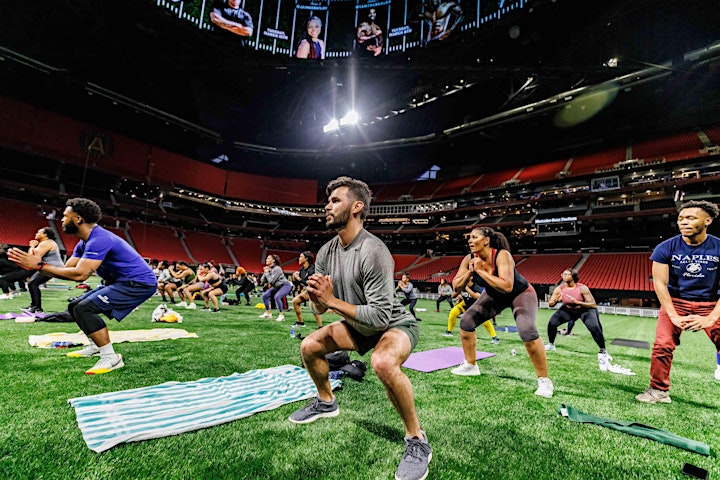 Frequently asked questions
WHAT CAN I BRING INTO GATE 1? ARE THERE ITEM RESTRICTIONS?
WHAT IS THE MINIMUM AGE TO ATTEND?
HOW MANY TICKETS CAN I REQUEST?
WILL CONCESSIONS BE AVAILABLE?
HOW CAN I CONTACT THE ORGANIZER WITH ANY QUESTIONS?