Fit Karate-ka Elements Class

Tuesday, February 7, 2012 from 7:15 PM to 8:00 PM (CST)
Event Details
Ready to Try Something New?
The Fit Karate-ka Class introduces the basic punches, kicks and blocks of Isshinryu karate. Designed for adults who are new to martial arts or fitness, the course introduces just a couple new concepts each week. The class itself, however, will be fast-paced and you will keep moving. When you complete the class, you can easily transition into a traditional martial arts course (and we'll have a coupon for you if you decide to do so) or kick boxing class.
The class will be held from 7:15 to 8 p.m. on Tuesdays, Feb. 7 through March 13, at Annie's Om Towne Fitness, 14 W. Downer, Suite A (upstairs and to the right) in Aurora, IL.

The fee for the six-week class is $27.37, if you register in advance through Eventbrite. The fee is $35.00, if you choose to pay with cash or check the first day of class.

Class goals:
Try a new form of exercise and way of moving your body

Feel stronger (and possibly a little bad-ass) after each class

Have fun and meet other adults who are also new to martial arts or fitness
This class is for you, if:

You're overweight and you believe there is a skinny person deep inside you. (And you also strongly believe that skinny person has anger issues that need to be addressed.)
You commute for a half hour or more each day and then spend 9-10 hours parked behind a computer. By the time you get home, you're so tired you have to lie down on the couch to watch Glee.
For reasons you can't quite explain, step aerobics classes really, really irritate you.

You just want to try something new and outside your comfort zone, but you also don't want to feel like everyone else is staring at the new girl/guy.
About the Instructor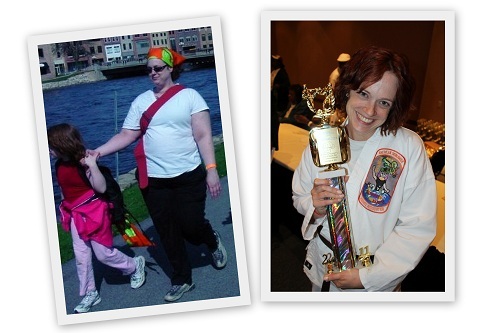 Stacy Strunk brings a fitness-oriented approach to teaching martial arts. A Black Belt, Stacy started karate in 2007 under the instruction of Master Keith Smith. Four years later and more than 100 pounds lighter, she has participated in dozens of karate tournaments across the country, dragging her children and best friend, who is also in competitive karate, along with her.
You can read about Stacy and BFF Teri's tournament adventures on their blog www.fat-karate-ka.com.
When & Where
14 W Downer Pl
Aurora, IL 60506


Tuesday, February 7, 2012 from 7:15 PM to 8:00 PM (CST)
Add to my calendar