Description
We are hosting our first Biennial Stakeholder Forum on 5 March 2019.
Experts representing our key stakeholders will explore topics relating to our food regulation system and will take a look into the future of food regulation, food safety and food science.
The one day event will be followed by a cocktail reception.
Not to missed by anyone with an interest in our food regulation system, places are limited.
Speakers:
​

Ms Melanie Fisher
Forum Faciliator
Melanie is a Partner at Schumann & Fisher and former Executive Director of the Sir Roland Wilson Foundation, an Australian National University endowed fund offering PhD scholarships to high potential Australian Public Service employees.
Up until June 2014, Melanie was the Deputy Chief Executive Officer at FSANZ and spent ten happy years as a member of the FSANZ executive team. Prior to that her career had included working in a Minister's Office, time as the Executive Officer to the Secretary of a department, a number of years as the Deputy Executive Director of scientific research agency, and work in policy, program and human resource areas in several Australian Public Service agencies.
Melanie's academic training is in psychology and public policy and she has held an Adjunct Professor position in the School of Government and Business at the University of Canberra for the last six years.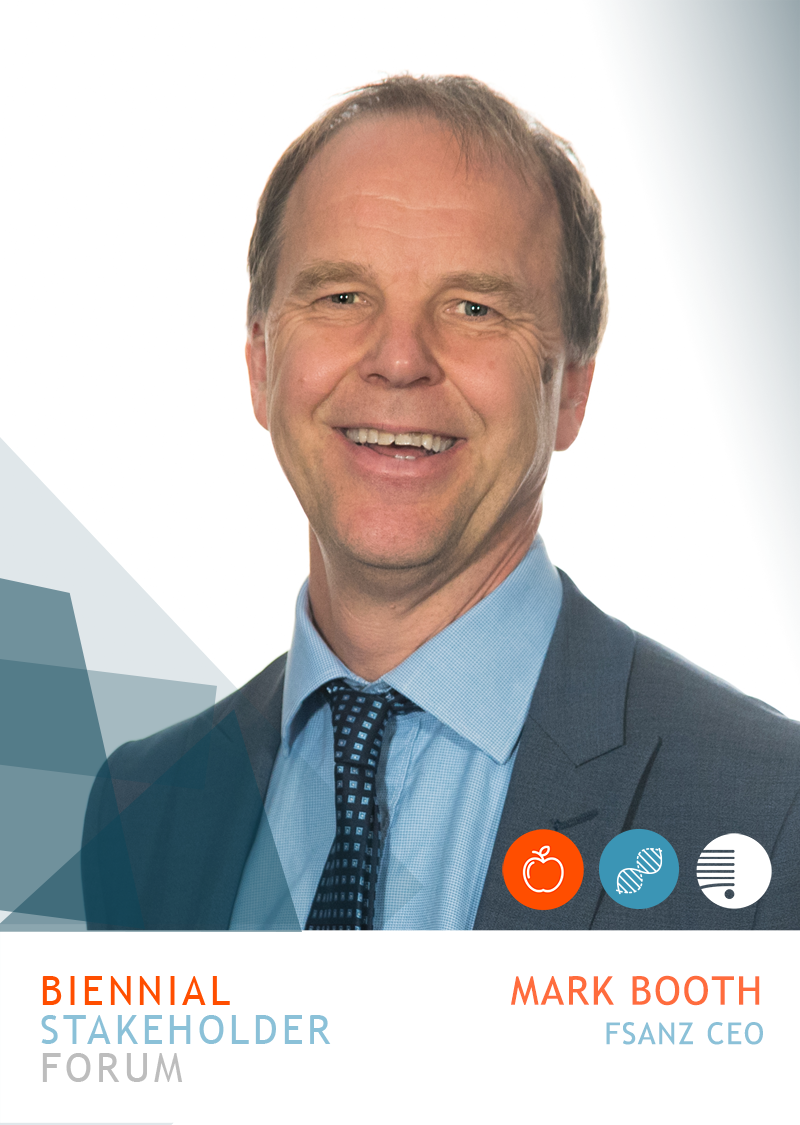 Mr Mark Booth
FSANZ Chief Executive Officer
Mark Booth is the Chief Executive Officer of Food Standards Australia New Zealand (FSANZ) - a bi-national government agency that develops and administers the Australia New Zealand Food Standards Code as well as undertaking a number of other food related activities.
Prior to joining FSANZ in early 2017 Mark had a career predominantly in the health sector looking at strategic policy issues. He has worked in the public, private and academic sectors in the UK, New Zealand, Australia and the USA. Mark was a 2006/7 Harkness Fellow in Health policy and was also a policy advisor to Ministers of Health in New Zealand.
Mark's original background was as in health economics and he has post graduate qualifications in economics, public administration and public health.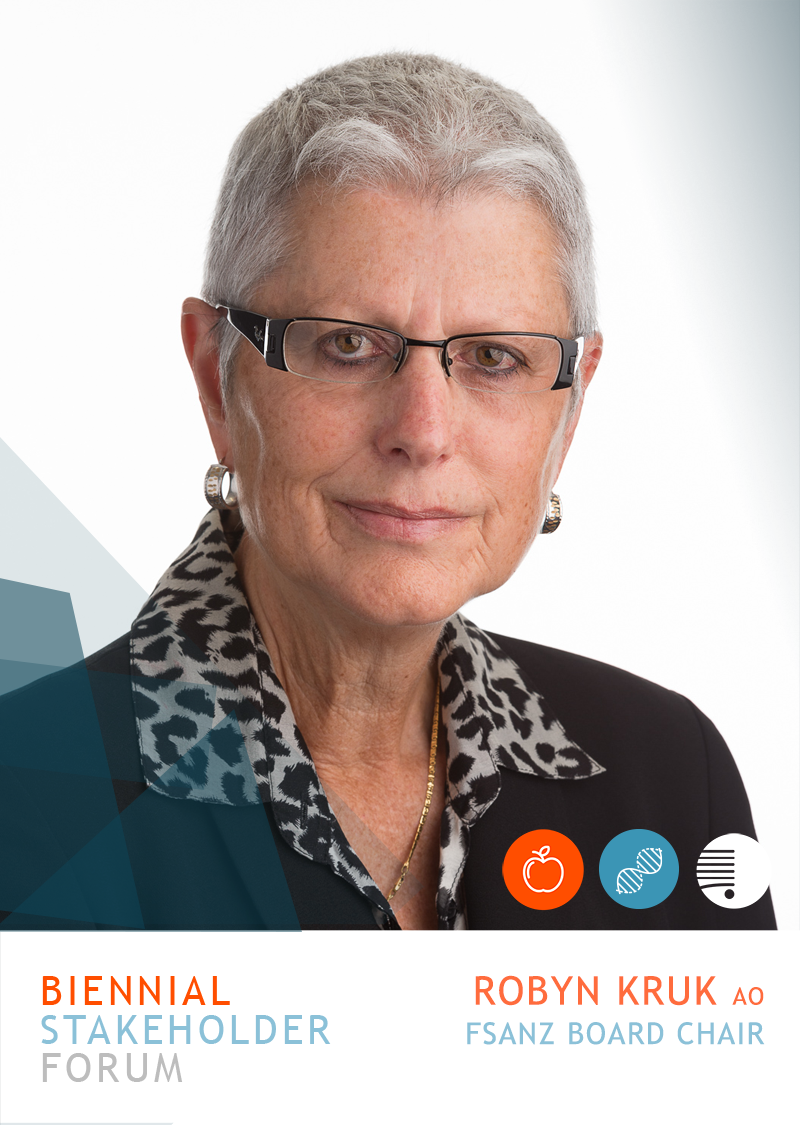 Ms Robyn Kruk AO
FSANZ Board Chair
Ms Robyn Kruk AO has extensive experience as Chief Executive of national and state policy, regulatory and service delivery agencies, including NSW Health, NSW Premier and Cabinet and national and state environment agencies.She established and served as inaugural CEO/Commissioner of the National Mental Health Commission. Ms Kruk is currently Chair, Board Director or member of international, national and state statutory, non-government and private entities in health, disability, aged care, emergency services, food standards, environment/planning and mental health.
​Dr Lisa Szabo
Lisa joined the New South Wales Food Authority as its Chief Scientist in January 2006 and became its Chief Executive Officer in 2015. The Food Authority is a statutory authority within the NSW Department of Industry's Division of Primary Industries and is responsible for food regulation across the food supply chain.
Prior to joining the NSW Food Authority, Lisa worked at the Commonwealth Scientific and Industrial Research Organisation (CSIRO) for 11 years. There she led and managed long-term research projects for various food industry sectors.
Lisa has a Bachelor of Science degree with Honours from the University of Queensland and was awarded a Doctor of Philosophy degree in microbiology from the same university. She had post-doctoral research experiences in the United Kingdom and Germany. She has been an expert advisor or member on several national and state government inquires and committees. Lisa represents the interests of NSW on the Food Regulation Standing Committee.
Professor Martin Cole
Martin Cole is the Director of Food and Nutrition Flagship at Australia's Commonwealth Scientific and Industrial Research Organisation (CSIRO). Prior to joining CSIRO, Martin was the Director of the US National Centre for Food Safety and Technology (NCFST), one of the US Federal Drug Administration (FDA) Centres for Excellence and Research Professor of Biology at Illinois Institute of Technology (IIT), Chicago, Illinois.
With many years of experience in food policy and the development of international food safety standards, Martin has frequently been called upon as an expert by organisations such the World Health Organization (WHO), the Food and Agriculture Organization (FAO) as well as the US House of Representatives. He has received numerous awards including election as a fellow of the International Academy of Food Science & Technology. Martin currently chairs the International Commission on the Microbiological Specifications for Food and serves on the boards of Institute of Food Technology and Food Standards Australia and New Zealand.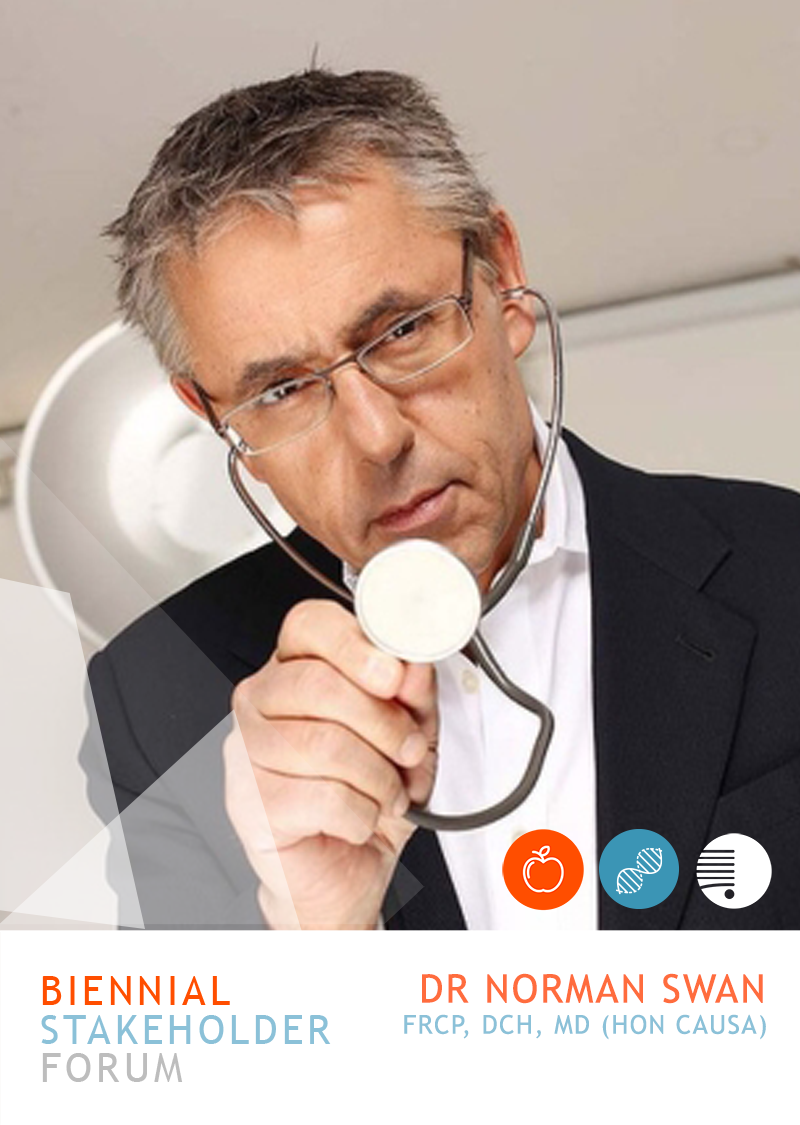 Dr Norman Swan
FRCP, DCH, MD (Hon Causa)
Dr Norman Swan hosts The Health Report on the ABC's Radio National, and Tonic on ABC News24 (Television). The Health Report is the world's longest running health programme in the English speaking world and Norman has won many awards for his work including Australia's top prize for journalism, the Gold Walkley. He was only the third person to be awarded the prestigious medal of the Australian Academy of Science and was given an honorary MD by the University of Sydney on its 150th anniversary.
Norman trained in medicine in Scotland and paediatrics in London and Sydney before joining the ABC and has hosted many other programmes on radio and television. He was the medical host on Channel Ten's Biggest Loser for six seasons and in September 2015 made a Four Corners on waste in the healthcare system. Norman created, wrote and narrated Invisible Enemies, a four part series on disease and civilisation for Channel 4 UK and broadcast in 27 countries.He has consulted to the World Health Organisation and co chaired a global meeting of health ministers in Bamako West Africa focused on evidence based policy and priorities in health research. He has been the Australian correspondent for both the Journal of the American Medical Association (JAMA) and the British Medical Journal (BMJ).
Norman is also co-founder of Tonic Health Media, an integrated health television channel and production company which has over 15 million viewers per month.
Mr Alan Kirkland
Alan Kirkland is CEO of Choice. Before joining CHOICE in 2012 Alan was involved in campaigning on issues as diverse as education funding, homelessness and public transport. He has also worked on the other side of the fence, in government. As CEO of Legal Aid NSW during the global financial crisis, Alan saw the human impact of poor lending practices, which sparked his passion for consumer rights.
These days, Alan sees his job as making sure that CHOICE stays relevant to the needs of Australia's consumers, all while having a little fun along the way.
​Ms Tanya Barden
Tanya Barden is the Chief Executive Officer at the Australian Food and Grocery Council, which is Australia's peak industry body representing food, beverage and grocery manufacturers. Tanya brings tremendous experience and proven success at senior executive levels in both the public and private sectors, with a career spanning the public service and business. Previously the AFGC Director of Economics, Trade and Sustainability, Tanya has strong experience with the $126 billion food and grocery sector, led the secretariat's work on international market access and non-tariff barriers to international trade, as well as a range of issues relating to the competitiveness and environmental sustainability of the industry.
Tanya comes to the position with a strong background in competition, energy and economics policy and regulation having worked in various roles at the Australian Competition and Consumer Commission. Subsequent to this she worked for energy retailer ActewAGL and ran her own on-line food retail business.

Tanya holds Bachelor of Economics/ Bachelor of Arts degrees and is a Graduate of the Australian Institute of Company Directors.
Professor Tapsell
Professor Tapsell is a leading academic in the discipline of Nutrition and Dietetics. She holds an undergraduate qualification in Science (Biochemistry and Pharmacology), post graduate qualifications in Dietetics and in Medical Education and a PhD in Nutrition and Public Health. Previously she has served as Director the ARC Key Centre for Smart Foods and the National Centre of Excellence in Functional Foods; as well as a discipline expert for NHMRC grant review panels, the Australia India Strategic Research Fund, and the Medical and Health Sciences panel of Excellence in Research Australia (ERA). She has contributed significantly to nutrition research translation including a 2010 PMSEIC report, Australia and Food Security in a Changing World, and the NHMRC/DoHA Australian Dietary Guidelines 2012. She is now on the Advisory Committee currently reviewing the Nutrient Reference Values for Australians and continues to serve on several international science advisory committees. She is a long standing member of the American Society of Nutrition, a Fellow of the Dietitians Association of Australia and Editor / chief author of the textbook Food, Nutrition and Health (Oxford University Press).
Professor Tapsell experienced 15 years working in health services before becoming an academic, and is Editor in Chief of the Journal Nutrition and Dietetics. She has a strong track record in dietary trials addressing lifestyle and chronic disease risk and to date has supervised 18 successful PhD students. She has attracted over $15M in research funding including category 1 grants, and has over 170 publications in scientific journals.


Dr Trevor Webb
Dr Webb is the Section Manager of the Behavioural and Regulatory Analysis Section at FSANZ. He is also FSANZ's Principal Social Scientist with a keen interest in consumer perceptions, attitudes and behaviour in relation to food. He has experience in quantitative and qualitative measurements of public perceptions, attitudes and behavioural intent and the application of social and behavioural research findings to public policy.


Barry Sterland PSM
Barry Sterland heads up a review looking at the interaction between the food regulation system and the growing demand for Australian food exports. The review team is made up of officials from the Departments of Agriculture and Water Resources, Health, Industry, Innovation and Science. Barry is on secondment from the Department of the Prime Minister and Cabinet, where he was responsible for oversight of industry and infrastructure policy issues. Between 2014 and 2017 he worked in Washington DC as Executive Director on the board of the International Monetary Fund, and as a visiting fellow at the Brookings Institution.
Previously, Barry was Deputy Secretary in charge of international economic engagement at The Treasury including leadership of the G20 Finance Deputies group during Australia's Presidency of the G20 in 2014. He formerly held Senior Executive roles in the Australian Government leading work in the areas of climate and budget policy, and Cabinet governance.
For more information about speakers at the event, visit:
www.foodstandards.gov.au/Pages/First-Biennial-Stakeholder-Forum.aspx