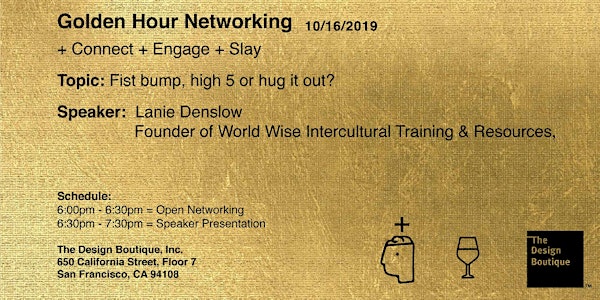 Fist bump, high 5 or hug it out? How to effectively greet and exit a meetin...
Event Information
Location
The Design Boutique, Inc.
650 California Street
7th Floor
San Francisco, CA 94108
Description
How to effectively greet and exit a meeting or a meal to support your sales
In today's complex, diverse, fast-moving business environment even selecting a greeting requires careful consideration. Is the best choice a Fist bump, High 5, Traditional handshake, Air kiss, Hug or no physical contact? The answer: It Depends.
Discussions about appropriate greetings often focus on one's need to make a good impression in 7 seconds or less. That perspective ignores the most import aspect of a greeting. Whatever form you choose, the purpose is to build a connection with the other person, to communicate that you recognize and are interested in them. It's a powerful message that when done thoughtfully makes an impact, helping create a successful business relationship.
Join us for this interactive session and take a deep dive into the world of greetings and speaking with your eyes, smiles, hands and where you stand.
At the conclusion of the program participants will:
Be able to translate the varied messages of traditional handshakes.

Recognize five key components of non-verbal communication.

Know the risks of talking with your hands.

Feel confident selecting an appropriate greeting.
Schedule:
6:00pm - 6:30pm = Open Networking (nibbles will be served)
6:30pm - 7:30pm = Speaker Presentation
Golden Hour Networking is a monthly networking event held on the 3rd Wednesday of every month. RSVP required to gain access to the building. You must be on the list to attend. Bring valid ID to gain access to the building.
Lanie Denslow is the Founder of World Wise Intercultural Training & Resources, a company dedicated to expanding awareness of how culture and protocol shape business practices around the world.
Ms. Denslow has conducted seminars for global business leaders and organizations in the US, China, Germany, Russia and England. She recently spoke at the International Etiquette Training & Education conference in Shanghai, China.
Her clients include the Port of Los Angeles, U.S. Department of Commerce, UK Trade & Investment, International Visitors Council of Los Angeles, Otsuka America Inc., the Trade Commission of Australia, Peterbilt Corporation, Arent Fox LLP, Tucker Ellis LLP, Hoge-Fenton and Spott, Lucey & Wall, Inc.
Lanie also served as the Director of International Affairs for The Fashion Institute of Design & Merchandising (FIDM) and is the immediate Past President of Protocol & Diplomacy International a global organization of over 300 protocol professionals representing thirty countries.
She is the author of World Wise: What to Know Before You Go (Fairchild Publications) and co -author of Working With Americans (Prentice Hall Business) both internationally recognized for their practical insights regarding how culture influences business.
Lanie is a graduate of the Protocol School of Washington and holds a BS degree from Antioch University and both a Masters of International Business and an MBA from Pepperdine University.
Date and time
Location
The Design Boutique, Inc.
650 California Street
7th Floor
San Francisco, CA 94108
Refund policy