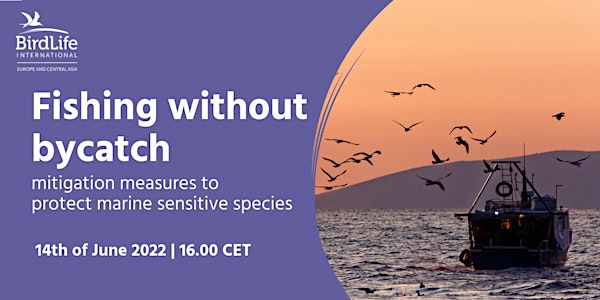 Fishing without bycatch – mitigation measures to protect sensitive species
Location
ACE events
22 Avenue d'Auderghem
1040 Bruxelles
Belgium
Join our event to learn about the different solutions available to reduce bycatch in Europe.
About this event
Follow the event online here: https://www.youtube.com/watch?v=TqP9oI1_Tyw
The ocean plays an integral role in the survival of our planet, but the climate crisis, overfishing, habitat destruction, and pollution have joined forces to push nature at sea to the brink.
One of these threats to marine species is bycatch - when fishers unintentionally catch species such as seabirds, sea turtle, marine mammals, sharks & rays in their fishing gears. More than 200,000 seabirds, and more than 44,000 sea turtles, are needlessly killed this way in in Europe annually.
Vulnerable marine species are not the only ones to suffer from it. For fishers, bycatch means damaged equipment, lost bait, lost fish, and precious time wasted removing unintentional catch from nets, lines, and hooks.
But this is an issue that can be tackled!
Join our event to learn about the different solutions available to reduce bycatch in Europe. Refreshment will be provided in the networking session after the event 🥂
Introduction by Martin Harper, Regional Director, BirdLife Europe & Central Asia
Presentation by
Dr Anis Zarrouk, Project Manager, UNEP/MAP-SPA/RAC
Ana Almeida, Marine Conservation Technician, Portuguese Society for the Study of Birds (SPEA)
Brian O'Riordan, Executive Secretary, Low Impact Fishers of Europe (LIFE Platform)
Pannel discussion & Q&A with:
Dr Anis Zarrouk, Project Manager, UNEP/MAP-SPA/RAC
Ana Almeida, Marine Conservation Technician, Portuguese Society for the Study of Birds (SPEA)
Brian O'Riordan, Executive Secretary, Low Impact Fishers of Europe (LIFE Platform)
Francisco Guerreiro, MEP (Greens/EFA)
Humberto DELGADO ROSA, Director for Natural Capita, DG ENVI
Rafael Centenera Ulecia, Technical advisor on marine biodiversity, Spanish Ministry for Ecological Transition and the Demographic Challenge