FIRSTLADIES HIGH LEVEL FORUM@THE UNGA73 SESSION
Description
INTERNATIONAL DAY OF PEACE - FIRST LADIES HIGH LEVEL FORUM
Annual Awards Dinner
September 21, 2018 @ 4:00PM — 10:00PM
Held annually during the week of the United Nations General Assembly,the First Ladies High Level Forum Annual Peace Award Dinner is one of the most anticipated women in executive leadeship-focused events in New York City. The event brings together distinguished guests including First Ladies of UN Member States and diplomats, international and senior government officials, business and civil society leaders, educators, journalists, philanthropists and other prominent figures who are working towards advancing gender,peace and security progress across the world. The First Ladies High Level Forum at United Nations General Assembly began in 2013 as a forum to share the work of the office of the wives of the Presidents of the UN Member states on the UN Agenda. The Forum is an initiative to address SDGs 3 and 16 with their targets on women and girls through learning from the office of the First Ladies on the efforts towards the concerns of women and girls in their various countries during the United Nations General Assembly each year.
This year we are joining the global community to mark the International Day of Peace ("Peace Day") established in 1981 by unanimous United Nations resolution on 21 September. , Peace Day provides a globally shared date for all humanity to commit to Peace above all differences and to contribute to building a Culture of Peace.d around the world each year on 21 September.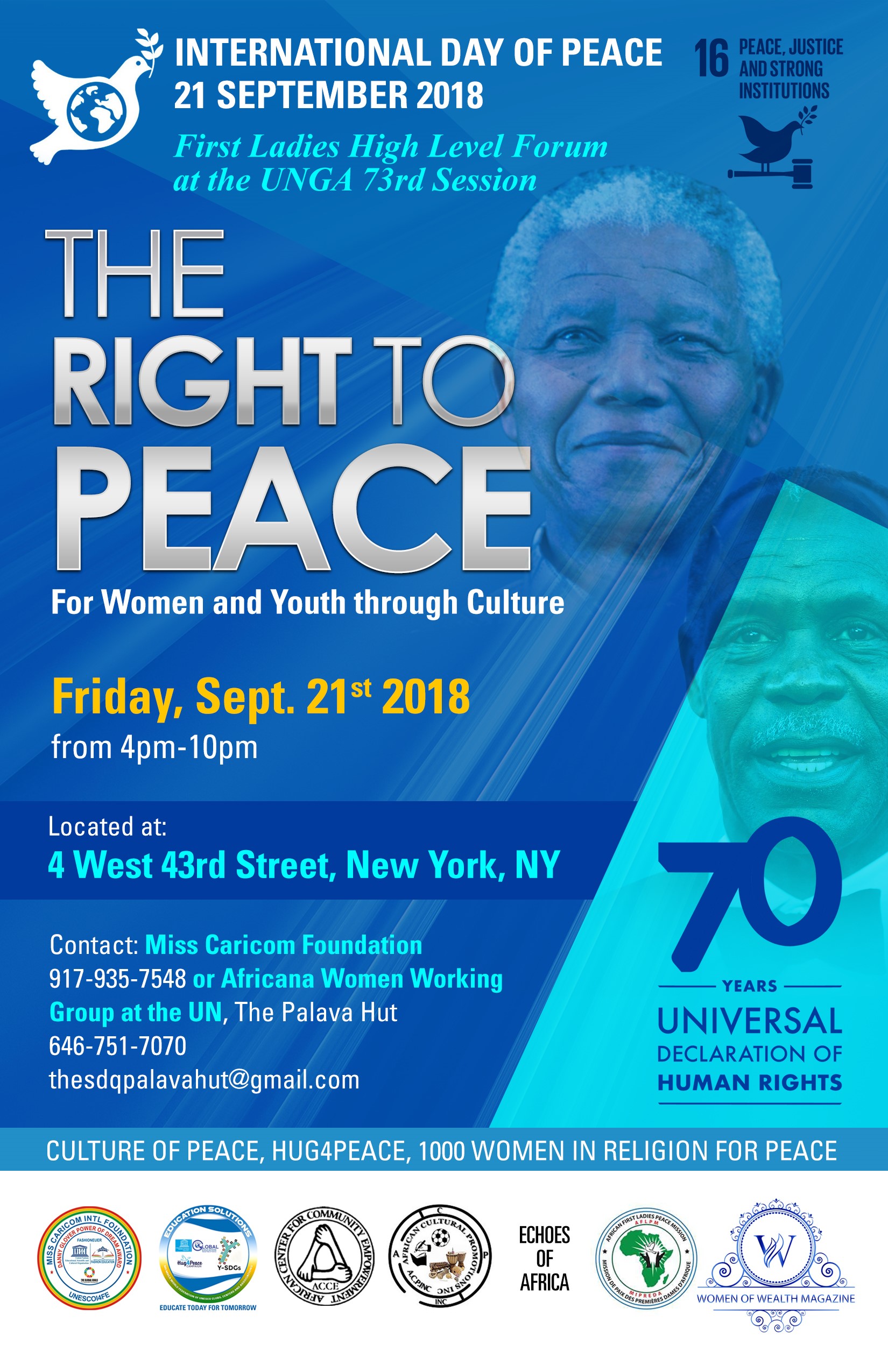 The First Ladies High Level Peace Forum at the UNGA session is an important opportunity for global community, peace agencies, civil society, including NGO's, media, and the private sector, and all other relevant stakeholders to have conversation with Fiirst Ladies of the UN Member States that will propose a call to action on ways to build and promote global peace and implement the SDG 16 and targets from global to grassroots communities. The Forum will again highlight emerging trends and policies that can significantly impact the implementation of SDG 16 and Targets in addressing world peace.