FIRST® Wisconsin Regional Robotics Competition MARCH 24th & 25th, 2017 - Jo...
Actions and Detail Panel
FIRST® Wisconsin Regional Robotics Competition MARCH 24th & 25th, 2017 - Jo...
Fri, Mar 24, 2017, 8:30 AM – Sat, Mar 25, 2017, 7:30 PM CDT
Description
Watch student built robots compete in the ultimate Sport for the Mind!

It's Awesome!
It's open to Families, Kids, & Adults!
It's FREE! Please join us as an Invited Guest for the FIRST STEAMworks 2017 Robotics Competition.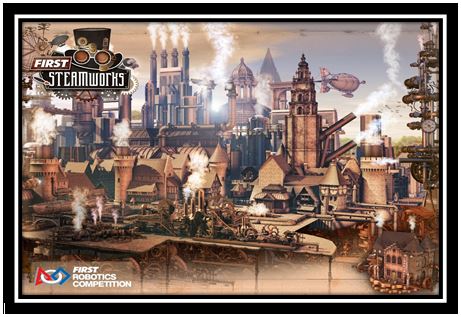 Over a thousand students will be representing 60 high school robotics teams from around Wisconsin, Illinois, Minnesota, and Iowa, along with hundreds of teachers, industry and college mentors, families and 6,500 pounds of metal, gears and electronics will compete at the annual Wisconsin Regional FIRST Robotics Competition (FRC) at the UW-Milwaukee Panthers Arena, Friday and Saturday, March 24th & 25th.
The Wisconsin Regional FIRST Robotics Competition offers students an opportunity to win regional recognition for design excellence, sportsmanship, teamwork, and more, and advance to the FIRST Championship competitioin in St. Louis, MO in April. Come catch the excitement of this gear grinding Sport for the Mind, cheer on teams, and learn how you can be part of the action!
The 2017 FIRST Robotics Competition game is called FIRST STEAMWorks - a steampunk themed engineering challenge that requires teams of high school students that invite two adventure clubs - represented by alliance teams - from an era in which technology relied on steam power to prepare their airships for the ultimate long distance race. Teams have to score "fuel" in "boilers", power rotors and climb aboard their airships.
Qualifying matches are held on Friday and finals matches on Saturday. The event runs from 8:30 a.m. until the end of matches each day around 7 p.m. Admission for both days is FREE! Pop in for a quick visit or stay all day. Invited Guest ticket holders can enjoy behind the scenes pit tours to see teams and their robots! (Closed toed shoes required for pit tours.)
We look forward to seeing you there, as it's full STEAM ahead !
{STEAM - Science Technology Engineering Arts & Math}