First Time Seattle Homebuyers 2hr Course > Multiple May 2017 dates Bell&Sea

Tuesday, May 23, 2017 from 6:00 PM to 8:00 PM (PDT)
Event Details
Still Renting? Thinking About Owning a Home?
Whether this is your first home purchase or you're an experienced home buyer you will find this class invaluable in your efforts moving forward. Our events are casual in feel with consistent discussion throughout, covering a wide variety of topics along the roadmap of purchasing a home. Refreshments provided, easy parking, RSVP for a free event today!
We'll cover The Entire Real Estate and Mortgage Process from Start to Finish!
See dates & more info: HomeBuyingWithConfidence.com
New Homebuyer Crash Course Sessions / Power 2-hour class 
MAY CLASS DATES register here for any of these dates
May 17th (Weds) >

 

Bellevue

 

> 6:00pm

,

 2-hr premium class 
w/Julian Michael & Keith Pitsch of Absolute Mortgage
May 20th (Sat) >

 

South Lake Union, Seattle

 > 10:30am

,

 2-hr premium class 
w/Julian Michael & April Connell of Caliber Home Loans
May 23rd (Tues) >

 South Lake Union, Seattle 

>

 6:00pm, 2-hr Class
w/Julian Michael & Paul Hoeffer of Directors Mortgage
May 24th (Weds) >

 

Bellevue

 

>

 6:00pm, 2hr Class

 
w/Julian Michael & Keith Pitsch of Absolute Mortgage
About these classes: These classes are specially designed 'power hour' events designed to satisfy homebuyer curiosity while still recognizing we're all busy working professionals and attending a 5hr class (below) may not fit into your schedule. We'll cover a wide range of topics from start to finish, including some role playing, common scenarios, recent stories and truths/myths about the real estate market and how to come out a winner with the type of home you'd like for you and /or your family. 
Some Key Points We'll Address
- Your 'Buying Power' / i.e. Your lending and mortgage options, understanding which type of mortgage plan is best for you and why, and how you can take advantage of special programs potentially for first time homebuyers
- Current real estate market trends in your area and what that means for you and your Buying Power versus the market

- How to be 'Buyer Ready From Day One' as we say at John L. Scott: Maximizing your purchasing position

- Smart Home Searching: Why more isn't merrier and being "Selective-aggressive" is powerful. 

- About the Greater Seattle Areas and Neighborhoods: Identifying where you should be searching that makes the most sense for you and your needs or for your family

- What Renting vs Buying really entails and means from a Financial, Geographical and Situational standpoint.
WSHFC Sponsored New Homebuyer Education Seminars /  5-hour class
About these classes: These classes are longer in length but cover a more elaborate range of topics and many especially related to 'down payment assistance' programs from various counties, cities and the state, in addition to detailed knowledge about the mortgage/lending and real estate process. If you have the time we highly encourage you to register for this class versus the shorter version. 'WSHFC' stands for the 'Washington State Housing & Finance Commission' as part of Homebuyer Education provided by the State of Washington.
Both real estate and mortgage industry instructors are officially licencsed by the Washington State Housing & Finance Commission to teach these courses.
IMPORTANT / ABOUT EVENT LOCATION
We ask that you arrive between 10-15 minutes early so we can start our program on-time and for entry into secure building (when applicable / after hour events and on weekends). Upon registering for the Class you will receive specific instructions and a phone number to text or call for entry since this is a secure building including parking instructions and one of the event hosts will come down to let you in.
Your Event Host / HomebuyingWithConfidence.com Founder
Julian Michael, John L. Scott, 'Buying With Confidence' Residential Realtor

HOMEBUYINGWITHCONFIDENCE.COM / Learn more about Julian
Mortgage Industry Co-hosts 





What You'll Walk Away With
An Action Plan to get prepared to purchase your next home

Serious food for thought / just the facts with a little bit of optimism 

The option to get on the path to a pre-approval for a mortgage

Potentially a full stomach from the nibbles we'll have on-site

Peace of mind moving forward
Whether you decide to us or individually for your next home purchase is of course entirely up to you. We host these style classes - both formal and informal - because we share a love for education and teaching in general and both know how tough it can be out there for those without proper advice and a strong agent and lender on their side. Hope to see you there!!
We will be providing homebuyer certificates as granted through the WSHFC. Julian and his mortgage industry co-hosts are both licensed to teach WSHFC-sponsored homebuyer education classes that are needed for various down payment assistance programs. This program is a 5-hour program with breaks and covers a wider range of topics and special programs available for down payment assistance.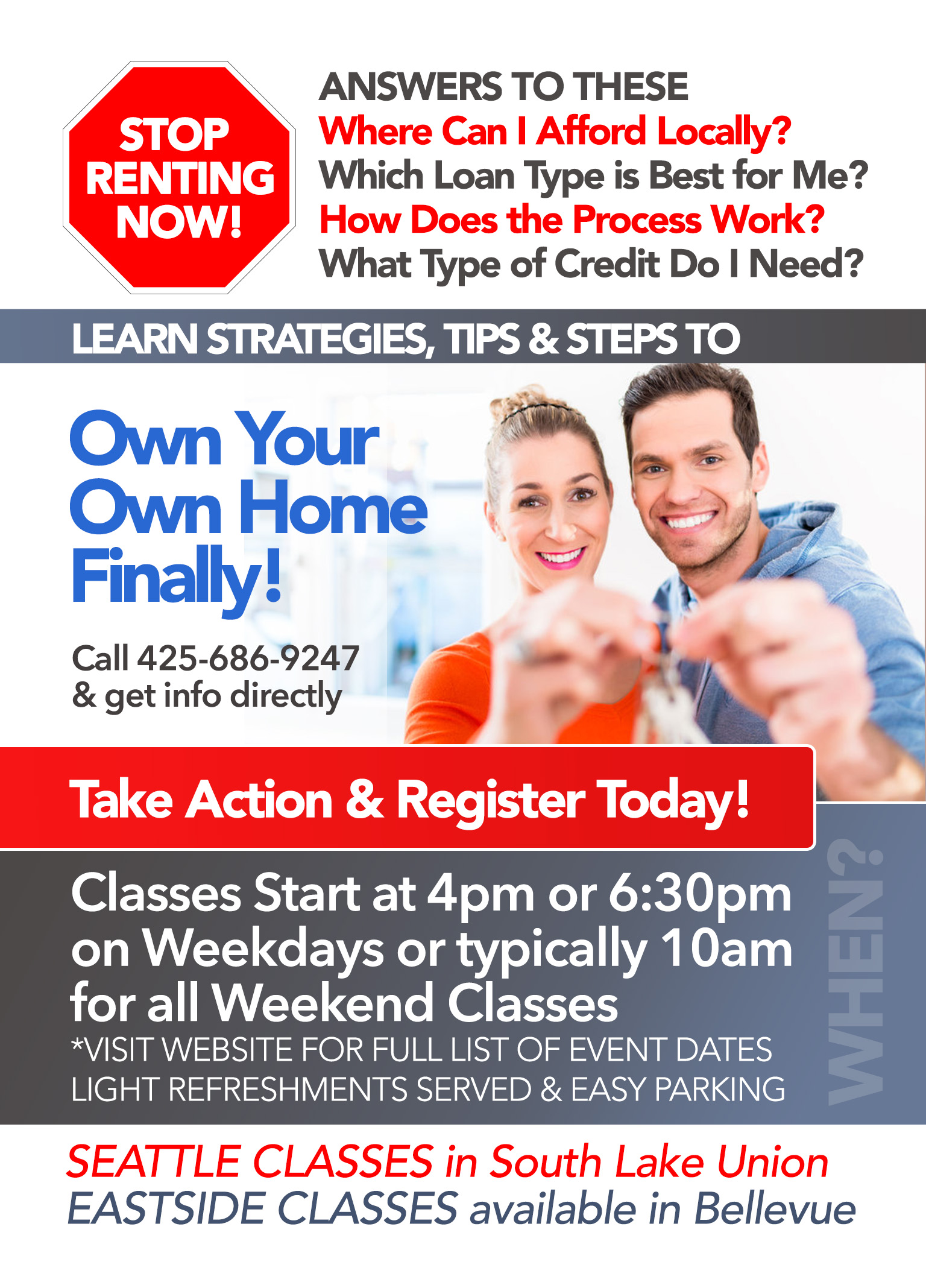 When & Where

Stackhouse Apartments
1280 Harrison St
Seattle, WA 98109


Tuesday, May 23, 2017 from 6:00 PM to 8:00 PM (PDT)
Add to my calendar
Organizer
Julian Michael, Residential Realtor, John L. Scott & Preferred Lender Co-host
Providing First Class Personal Service, Integrity and Knowledge to home buyers and sellers within their real estate experience. Today's market is highly efficient and full of resources, thus it's vital to have an intelligent and candid professional on your side for every transaction to gain an advantage. (Julian)  
First Time Seattle Homebuyers 2hr Course > Multiple May 2017 dates Bell&Sea