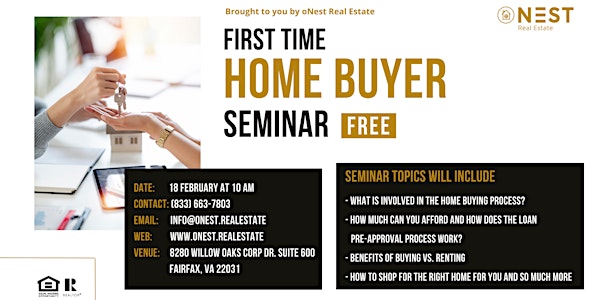 FIRST TIME HOMEBUYER SEMINAR- FAIRFAX
Join our first-time home buyer seminar and gain valuable insights on the home buying process & get prepared for Homeownership.
Date and time
Saturday, February 18 · 10am - 12pm EST
Location
8280 Willow Oaks Corporate Dr 8280 Willow Oaks Corporate Drive Fairfax, VA 22031
About this event
This home-buying seminar is brought to you by oNest Real Estate presented by Suresh Sapkota, Supervising Broker.
The workshop will focus on first-time home buyers and will provide extensive information on the home-buying process.
If you are thinking about buying your first home, don't know where to start, and are not sure if the time is right for you to take the leap, please join us!
Seminar Topics will include:
✅ 𝐖𝐡𝐚𝐭 𝐢𝐬 𝐢𝐧𝐯𝐨𝐥𝐯𝐞𝐝 𝐢𝐧 𝐭𝐡𝐞 𝐇𝐨𝐦𝐞 𝐁𝐮𝐲𝐢𝐧𝐠 𝐏𝐫𝐨𝐜𝐞𝐬𝐬?
✅ 𝐇𝐨𝐰 𝐦𝐮𝐜𝐡 𝐜𝐚𝐧 𝐲𝐨𝐮 𝐚𝐟𝐟𝐨𝐫𝐝 𝐚𝐧𝐝 𝐡𝐨𝐰 𝐝𝐨𝐞𝐬 𝐭𝐡𝐞 𝐥𝐨𝐚𝐧 𝐩𝐫𝐞-𝐚𝐩𝐩𝐫𝐨𝐯𝐚𝐥 𝐩𝐫𝐨𝐜𝐞𝐬𝐬 𝐰𝐨𝐫𝐤?
✅ 𝐁𝐞𝐧𝐞𝐟𝐢𝐭𝐬 𝐨𝐟 𝐁𝐮𝐲𝐢𝐧𝐠 𝐯𝐬. 𝐑𝐞𝐧𝐭𝐢𝐧𝐠
✅ 𝐇𝐨𝐰 𝐭𝐨 𝐬𝐡𝐨𝐩 𝐟𝐨𝐫 𝐭𝐡𝐞 𝐫𝐢𝐠𝐡𝐭 𝐡𝐨𝐦𝐞 𝐟𝐨𝐫 𝐲𝐨𝐮, 𝐚𝐧𝐝 𝐬𝐨 𝐦𝐮𝐜𝐡 𝐦𝐨𝐫𝐞!
With this informative seminar, you will be equipped with the knowledge you will need to take the next step in your home ownership journey.
Light refreshments will be served.