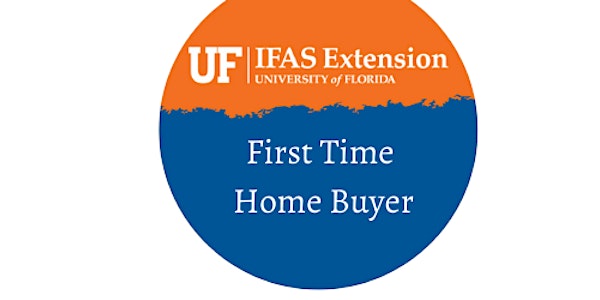 First Time Home Buyer Workshop, Online, Sessions 1 & 2, June 3 & 10
Online HUD-approved 8-hour pre-purchase homebuyer workshop. Learn the steps to home ownership & how to obtain an affordable mortgage.
About this event
This class is offered online via TEAMS. UF/IFAS Extension is a HUD-Approved Housing Counseling agency. The homebuyer workshop meets the education requirements for down payment assistance programs. You must complete sessions 1 and 2 to receive the certificate of completion. Participants will be emailed a certificate of completion at the end of the workshop after all class requirements are completed.
PLEASE READ BEFORE ORDERING TICKETS! The cost of the class is $10.00 for an individual or a couple. Scholarships are available upon request for households below 50% of the area median income.
To purchase the RIGHT TYPE of Ticket select from the options below:
Select Individual ticket type if you are attending the workshop by yourself.
Select Couples ticket type if someone else will be attending the program with you AND if you plan on sharing course material. Purchase 2 tickets for a couple for a fee of $10.00.
Be sure to fill out all required information under the ordering section to ensure your registration is complete.
For more information, please contact Patricia Caradonna at 386-822-5778 or email at pcaradonna@volusia.org.
Home Buyer Education Frequently Asked Questions
What is down payment assistance? Down Payment Assistance (DPA) programs provide funds to assist qualified buyers with down payment and closing costs to purchase a home. The funds are provided in the form of a no-cost or low-cost second mortgage. One requirement to qualify is completion of a HUD-approved home buyer education course. UF/IFAS Extension is a HUD-approved Housing Counseling Agency that provides home buyer education. The certificate of completion is viable for up to 24 months for SHIP and up to 12 months for the Florida Housing Finance Corporation Florida Bond program.
Does my spouse need to attend the class? Attendance requirements are specific to each county. Please ask your Extension Agent for your county.
Do I need to attend the Home Buyer Education class in the county where I will purchase a home? No. The certificate of completion is nationally recognized and can be used in any state, county, or city in the United States.
When does the certificate expire? Certificates of completion of the Home Buyer Education course are in effect for up to 24 months for most DPA programs. The certificate expires 12 months after the date of completion for the Florida Housing Financial Corporation Bond program.
How do I know if I am eligible for down payment assistance? How much funding is available to me? Eligibility requirements and the amount of assistance available varies by county. Instructors will cover this information during the class.
The Institute of Food and Agricultural Sciences (IFAS) is an Equal Opportunity Institution authorized to provide research, educational information and other services only to individuals and institutions that function with non-discrimination with respect to race, creed, color, religion, age, disability, sex, sexual orientation, marital status, national origin, political opinions or affiliations. For more information on obtaining other UF/IFAS Extension publications, contact your county's UF/IFAS Extension office or visit https://sfyl.ifas.ufl.edu/.