Description
EVENT IS SOLD OUT!!! - NO DOOR SALES
WE APOLOGIZE FOR ANY INCONVENIENCE &
HOPE TO SEE YOU AT OUR NEXT EVENT
FOLLOW US ON WWW.THEARTSOIREE.COM & WWW.FB.COM/ARTSOIREE
Just in time for the inauguration weekend
ART SOIREE presents:
3rd Annual Cartoonist Exhibit
FIRST-TERM RETROSPECTIVE
a journey back through Obama's first-term in the office through the eyes of the world's most respected contemporary editorial cartoonists.
IT'S NOT ABOUT POLITICAL IDEOLOGIES, NOR PARTY LINES.
IT'S NOT LEFT, IT'S NOT RIGHT.
IT'S AN ARTISTIC COMMENTARY ON THE NEWS, POLITICS AND EVENTS AROUND THE WORLD OVER THE PAST FOUR YEARS;
A CREATIVE TAKE ON THE ISSUES OF THE TIME AND ESSENCE BY
KAL (The Economist), DARYL CAGLE (MSNBC), TOM TOLES (Washington Post), MIKE KEEFE (Denver Post), JIMMY MARGULIES (The Record, Time, Newsweek, New York Times, USA Today), ANN TELNAES (The Washington Post), SIGNE WILKINSON (Philadelphia Daily News ), CHRISTO KOMARNITSKI (Sega, Sturshel), DAMIEN GLEZ(La Monde, Courrier International, La Gazette)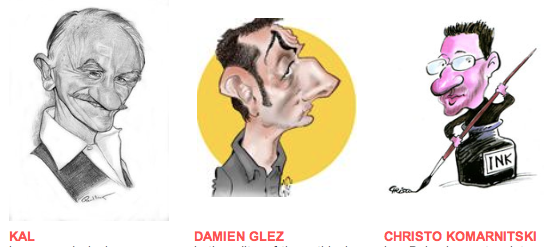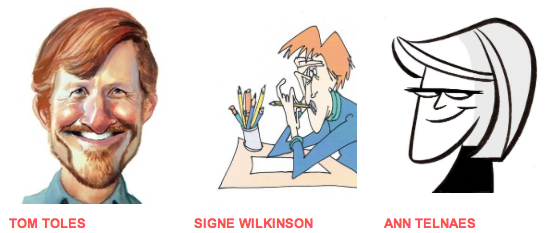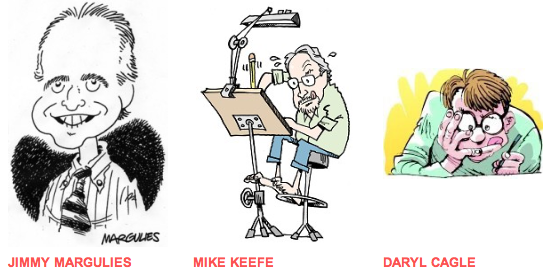 Join in for a unique night as we bring together the best published political cartoons of 2009, 2010, 2011 and 2012 in a unique exhibition, which will document the highs and lows of those years. They will provide an insightful record in the US history during Obama's presidency, commenting on politics, society, economy, education, human rights, presidential elections, war, republican and democratic political figures, and more.
EXPLORE THE CARTOONS ON DISPLAY
MEET THE ARTISTS BEHIND THE ARTWORK
ENJOY LIVE PERFORMANCE BY "JOURNO BAND" SUSPICIOUS PACKAGE

& SAVOR COMPLIMENTARY APPETIZERS COURTESY OF MALMAISON
SPECIALTY COCKTAILS, WINE & BEER AVAILABLE FOR PURCHASE
Editorial cartoons are unlike any other form of commentary. For over 500 years the art of political cartoons has been used to convey social and political messages through the use of images familiar to all of the people in a society.
Visual in nature, cartoons highlight minute details to make a specific point. With simple pen strokes, they provide a commentary in ways that eludes written or spoken reporting, a truly unique historical perspective—entertaining, yet clever, and insightful. In US, this powerful form of art has always reflected key moments in history.
DRESS CODE: Cocktail attire
From the family that brought you Cafe Bonaparte (2003) and Napoleon Bistro (2007), brings you yet another culinary journey...Located in the heart of Georgetown along the Potomac River, Mamaison will be opening early 2013. Details to come www.facebook.com/malmaisondc
---
Stay connected: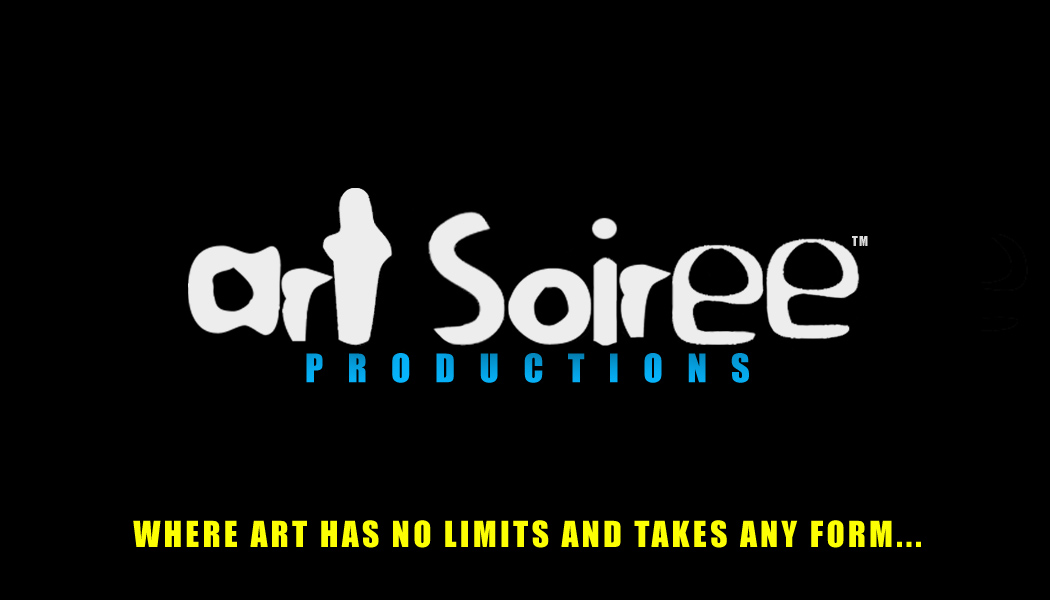 http://www.twitter.com/artsoiree
http://www.facebook.com/artsoiree
http://www.youtube.com/artsoiree
As for any other events tickets are non-refundable unless the event is cancelled.
Please make sure to print your ticket or have available on your phone at the door.