First Sunday Jazz Showcase and Brunch_October 7

Sunday, October 7, 2018 from 2:00 PM to 4:00 PM (EDT)
Event Details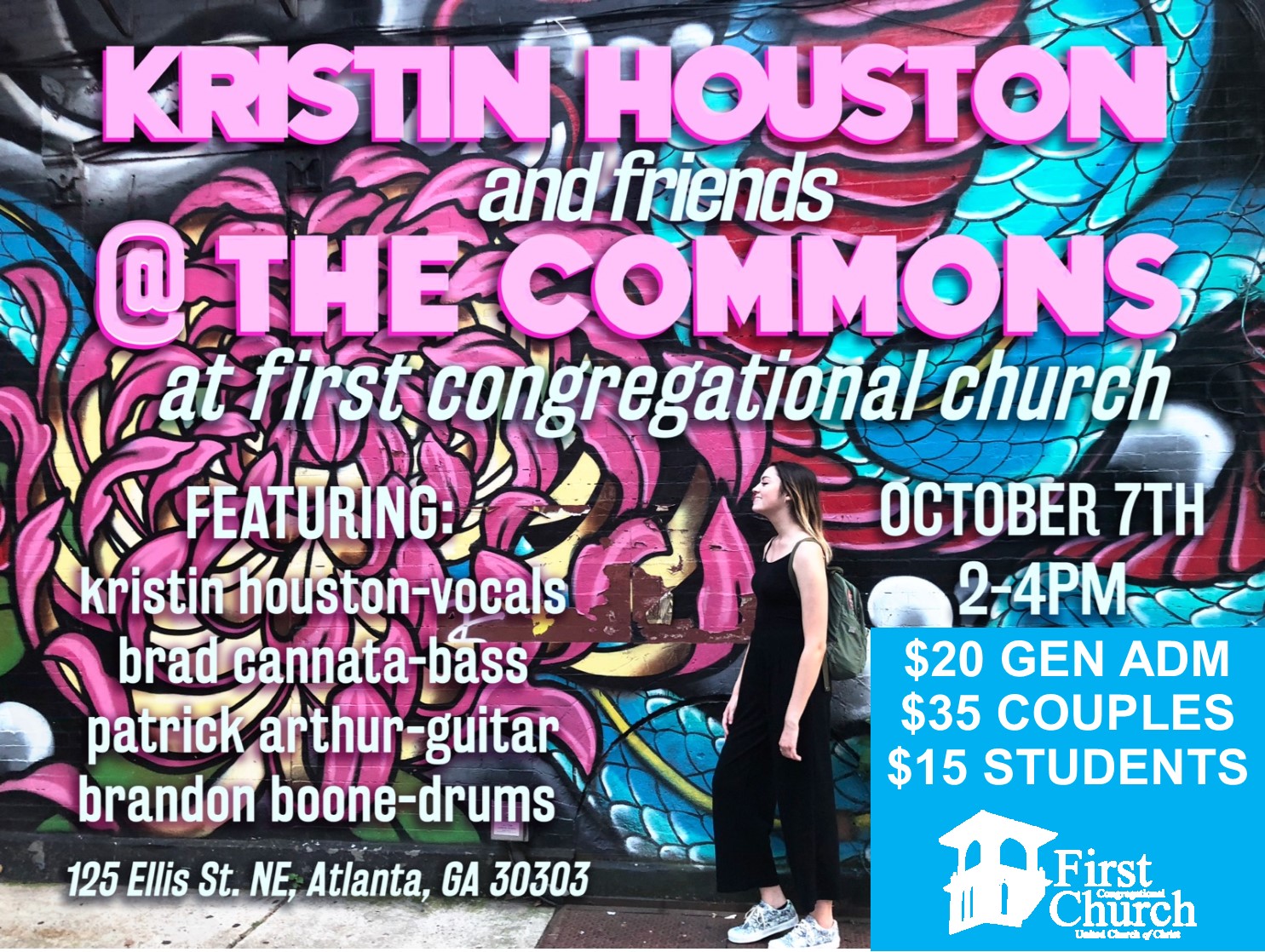 Sunday Afternoon Jazz Brunch, a brand-new addition to the First Congregational Church Jazz Ministry, showcases "Kristin & Friends" on stage at the Commons on Sunday, October 7th
Join us when First Congregational Church welcomes back a new component of its famous jazz ministry to jazz lovers in Atlanta. It's Sunday Afternoon Jazz Brunch at First Church. Featured artists for October are Kristin Houston and Friends, a four-piece jazz band of talented musicians which includes smooth vocals from Kristin Houston; bass guitarist is Brad Cannata; lead guitarist is Patrick Arthur; and drums is Brandon Boone.  These marvelous musicians come from Kennesaw State University where each of them is studying many forms of music to broaden their proficiency in the art of music.
Do we dare call them millennials who specialize in multi-tasking in all that they do – music being no exception; but what we can brag about is their extraordinary talent which includes composing, performing, music theory, and more. Kristin Houston takes lead vocals and works out on the piano.  She is studying jazz, music theory, and the business of music. She performs in Atlanta's Velvet Note and Church Hill Grounds Pop Up.  Patrick Arthur is the friend in the group who performs on lead guitar.  Patrick is busy writing new/experimental music and sometimes works out with Grut. Brad Cannata is a bass guitarist and is studying his trade with a passion.  He has shared the stage with some of the finest musicians such as Tyrone Jackson, Wycliffe Gordon, and others. And Brandon Boone, also a bassist, lends his talents to the group in many musical genres such as jazz, rock, hip-hop, funk, and fusion.  He has performing and recording credits with Rodney Whitaker, Yonrico Scott, and more.  He was a part of the Disneyland 2016 All-American College Band.
 Come for Brunch and Live Entertainment!
Parking is Free in the First Church parking lot at 105 Courtland St., NE. Atlanta, GA 30303
When & Where

The Commons at First Church
125 Ellis St., NE
Atanta, GA 30303


Sunday, October 7, 2018 from 2:00 PM to 4:00 PM (EDT)
Add to my calendar