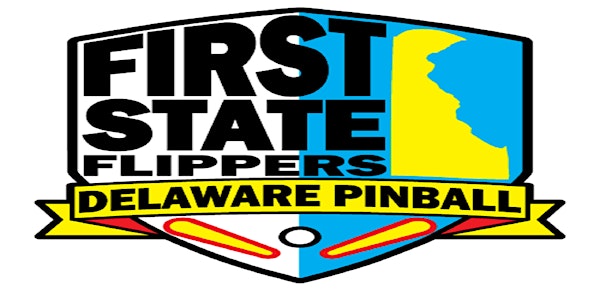 First State Flippers Presents - The 2022 Legacy of the Beast 24-Hour Battle
Reserve your spot for the 2022 Legacy of the Beast 24-Hour Battle on 10/1/22 being held at the lavish Delaware Pinball Collective!
When and where
Location
Delaware Pinball Collective 1100 First State Blvd, Second Floor Wilmington Delaware 19804 Wilmington, DE 19804
About this event
**** NEW REGISTRATION DATE - 8/22 at 8pm eastern ****
NOTE - This event requires pre-registration. NO WALK INS ALLOWED
When: 10/1/22
Where: 1100 First State Blvd, Second Floor, Wilmington DE 19804
Time: 11AM SHARP START TIME (practice from 10:00am to 10:45am)
Cost: $80 for MEMBERS, $100 for NON-MEMBERS.
Must be paid in full within 48 hours using Paypal's Friends & Family. Send all payments to firststateflippers@gmail.com
Players: Capped at 80 players (open to anyone)
Registration (8/14 EDIT): All registration is handled through Eventbrite. Tickets go on sale 8/22 at 8:00pm est. When registering on Eventbrite you are allowed to buy up to 2 tickets at once. Registration closes on 9/30 at 5pm est. If you do not pay your entry fee within 48 hours, and we have a waitlist, your name will be removed from the player list and placed at the bottom of the waitlist. NOTE - When signing up for the waitlist, you can only sign up one person at a time.
https://2022legacyofthebeastbattle.eventbrite.com
FORMAT: Group Match Play for the entire event. No Finals. 3/2/1/0 scoring. Each round will consist of a 2 game bank (one modern and one classic). The banks may end up changing to random games, depending on the number of games that happen to die on us during the tournament. The first round will be a complete random pairing of groups, after that we will use Swiss pairing for all remaining rounds. We will play as many rounds as we can in the 24 hour block.
FINALS FORMAT: No Finals
**Full Refunds will be available until 9/4. After 9/4 we will still issue full refunds as long as we can fill your spot, otherwise 50% refund after 9/4 up until September 18th. 25% Refund until 9/25. No refunds after that.
*We will break for 1 hour around 8pm for dinner. Pizza will be delivered and provided by the Delaware Pinball Collective.
*Bottled water will be provided for free courtesy of the Delaware Pinball Collective.
*In addition to the pizza & water provided, we highly recommend that participants bring a cooler with food and beverages for the duration of the event. We do NOT have any freezer/fridge space. NOTE - I am in talks with a few local food trucks and as soon as I have confirmation I will let everyone know.
*Sodas & Coffee will cost $1 each. We may have energy drinks for sale at this event, price to be determined.
*We do not have our liquor license at this time, unless that changes before 10/1, you are allowed to bring your own adult beverages.
*We have SOME chairs and SOME tables. We encourage people to bring folding type chairs for additional seating as well as pillows/blankets should you need to find a place to catch a quick nap while waiting for the next round to start.
PRIZES AND PAYOUTS BASED ON 80 PLAYERS AND A $4000 PRIZE POOL***(subject to change):
*There are trophies for the top 4 finishers and cash prizes will be given to the top 4 competitors of the tournament.
***Finishing the 24 hour marathon will yield cash prizes to the winner of each 4-player group in the final round! The higher the ranking of your final group, the higher the prize purse for the final round. Any ties for the final round will be broken on a randomly drawn classic.
*Beating the Beast on Iron Maiden will win you $100
*Finally, every player who plays for all 24 hours and never sits out a round will be awarded a "First State Flippers Legacy of the Beast Battle" completion medallion, just like finishing a marathon.
Final Round Payouts:
Group 20 - $40
Group 19 - $45
Group 18 - $50
Group 17 - $55
Group 16 - $60
Group 15 - $65
Group 14 - $70
Group 13 - $75
Group 12 - $80
Group 11 - $85
Group 10 - $90
Group 9 - $95
Group 8 - $100
Group 7 - $105
Group 6 - $110
Group 5 - $115
Group 4 - $120
Group 3 - $125
Group 2 - $130
Group 1 - $135
OVERALL TOP 4 PRIZES:
1st - $1200 plus trophy
2nd - $600 plus trophy
3rd - $300 plus trophy
4th - $150 plus trophy
TENTATIVE GAME LIST (always subject to change):
Aerosmith Premium
Attack From Mars Remake LE
Avengers Infinity Quest Premium
Bank Shot (EM)
Baywatch
Beatles
Black Jack
Bobby Orr's Power Play
Cactus Canyon SE
Comet
Conquest 200 (EM)
Dialed In LE
Eight Ball (with powerball)
Flight 2000
Future Spa
Getaway: High Speed 2
Godzilla PREMIUM
Grand Prix (EM)
Guardians of the Galaxy PRO
Harlem Globetrotters
Hot Shot (EM)
Iron Maiden PRO
Iron Man
Jet Spin
Joker Poker (SS)
Jurassic Park PRO
Meteor
Monster Bash Remake SE
NBA Fastbreak (x2)
Night Moves
Nitro Ground Shaker
Pro-Football (EM)
Rollergames (tournament ROM)
Rush PRO
Space Shuttle
Spirit of 76 (EM)
Star Trek PRO
Star Wars Comic PRO
TMNT Pro
Theatre of Magic (tournament ROM)
Tron
Whirlwind
White Water
Wild Fyre
World Cup Soccer 94
Wrestlemania
LODGING: Here are all the hotels located 3-4 miles from the Delaware Pinball Collective.
Red Roof PLUS+ Wilmington (2 star hotel) - 415 Stanton Christiana Rd, Newark, DE 19713 - (302) 292-2870
Days Inn by Wyndham Newark Wilmington (2 star hotel) - 900 Churchmans Rd, Newark, DE 19713 - (302) 368-2400
Hilton Wilmington/Christiana (4 star hotel) - 100 Continental Dr, Newark, DE 19713 - (302) 454-1500
Extended Stay America - Newark - Christiana - Wilmington (2 star hotel) - 333 Continental Dr, Newark, DE 19713 - (302) 283-0800
Sonesta Select Newark (3 star hotel) - 48 Geoffrey Dr, Newark, DE 19713 - (302) 456-3800
Quality Inn (2 Star Hotel) - 65 Geoffrey Dr, Newark, DE 19713 - (302) 292-1500
Follow us on Facebook for more details:
https://www.facebook.com/1ststateflippers/