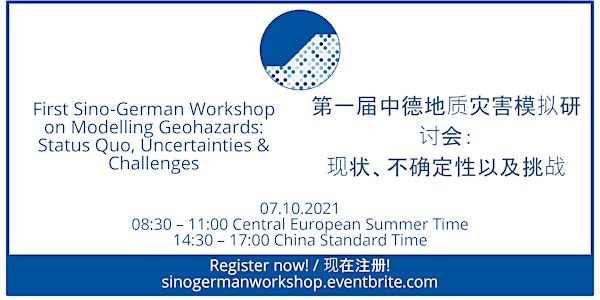 First Sino-German Workshop on Modelling Geohazards
First Sino-German Workshop on Modelling Geohazards: Status Quo, Uncertainties & Challenges
About this event
We are glad to welcome you virtually to the "First Sino-German Workshop on Modelling Geohazards: Status Quo, Uncertainties & Challenges".
This event is organised as a joint workshop by research groups of Prof. Julia Kowalski from RWTH Aachen University (Germany) and Prof. Yu Huang from Tongji University (China) within the framework of Sino-German Mobility Programme "Probabilistic simulation and uncertainty quantification for natural landslides under extreme conditions".
Date:
07.10.2021
Time:
08:30 - 11:00 Central European Summer Time
14:30 - 17:00 China Standard Time
Programme*:
08:30 - 08:40 Welcome address
08:40 - 09:05 Prof. Martin Mergili (Uni Graz / Austria)
09:05 - 09:30 Prof. Chong Xu (National Institute of Natural Hazards / China)
09:30 - 09:55 Dr. Jordan Aaron (WSL / Switzerland)
09:55 - 10:20 Prof. Yu Huang (Tongji University / China)
10:20 - 10:45 Prof. Julia Kowalski (RWTH Aachen / Germany)
10:45 - 11:00 Closing remarks
* All times are given in Central European Summer Time
Organisation committee:
Dr. Anil Yildiz, Ann-Kathrin Edrich, Dr. Suran Wang, Hu Zhao, Prof. Julia Kowalski
Event details:
The event will be run as a Zoom Meeting. A registration for a Zoom account is not necessary. You can join the meeting in listen and view-only mode by using a link that will be shared with you before the event. You will not be able to use your camera or microphone. However, you can communicate with the host of the event or the speakers using the Chat function. Because we want to make parts of the webinar available online after the workshop, there will be no audio-visual recording of attendees other than speakers.
Privacy policy:
Please click here to read our privacy policy.